Silver Up and Stand Out
SILVER UP AND STAND OUT
Holiday Sparkle & Shine
Your holiday attire doesn't have to be red or green — and for the love, let's not be trite this year. Express that you are feeling festive with low-sheen sparkles and dazzles.
Our holiday collection is saturated with deep mulberry and warm grey and luxurious velvet. We have worked in patchwork (which started in our Wildcatter collection with Bunkhouse Blanket Jackets) in an elevated and elegant way (like the velvet Patch Skirt). But the star of the show? Subtle silver. From shimmery short dresses to silvery shortie boots, we have incorporated muted metallics in a way that feels show-stopping, but not eye-popping.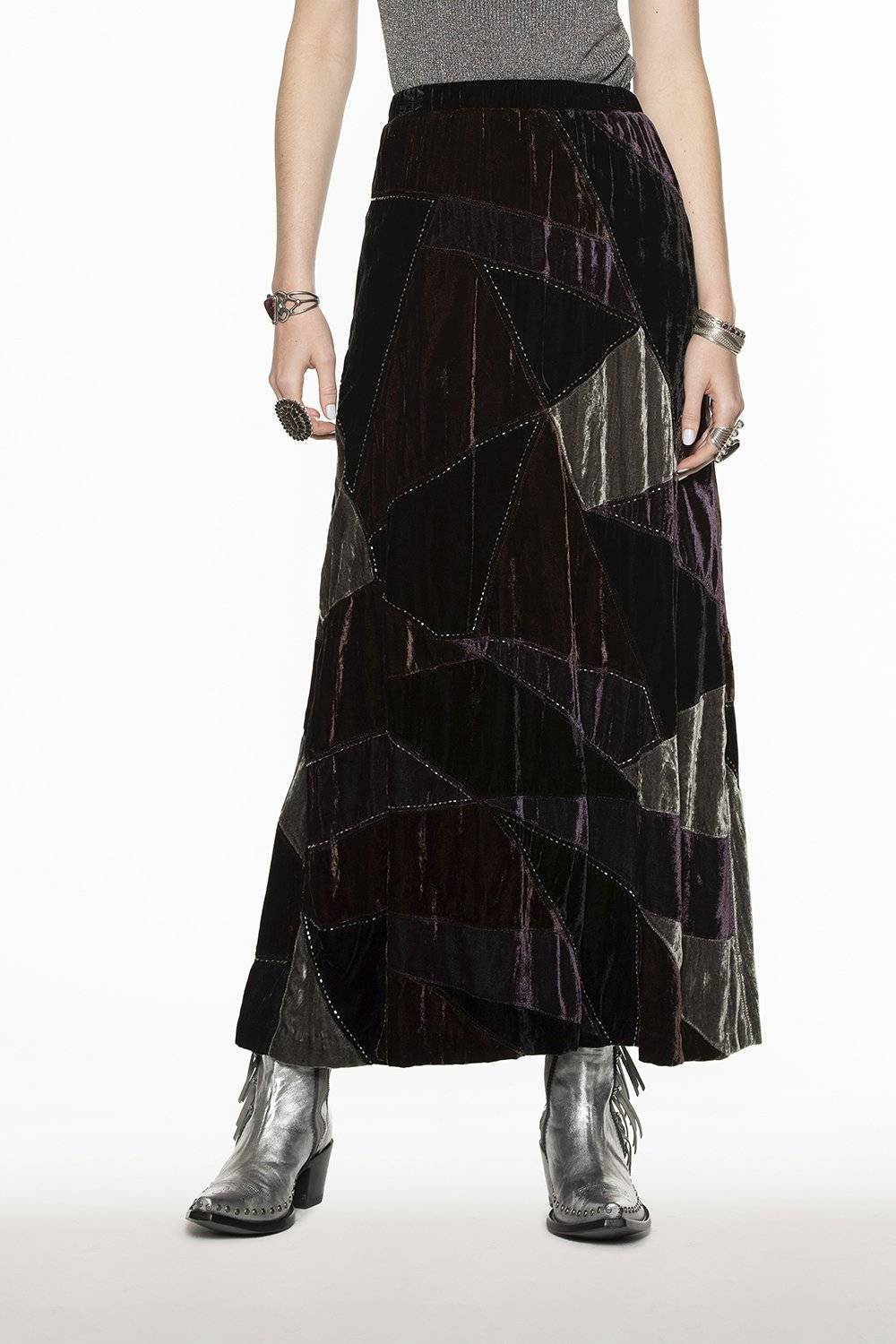 Of all the footwear we've made over the decades, this is our first boot made in a metallic leather -- and we were lucky to get them crafted in time for this collection! This trend is exploding on runways and destined to last for a decade or longer, and then they'll no doubt be coveted pieces of vintage wear. They're the perfect punctuation to everything from skinny jeans to shift dresses, to make a statement that you're both fashionable and  festive.
"Oh, shimmer is huge right now," said DDR Designer Cheryl McMullen. "It's big this year, and it's going to be big again next year. I've been watching trend reports and this one is not going anywhere ANY time soon."
And we are absolutely here for it! It was a no-brainer to incorporate it into our Baron's Ball holiday collection. Not only does it embody the spirit of the season, it's the perfect counterpart to brighten up the collection in contrast to the deep aubergines.
Think you can't pull it off? Think again. We've got some style tips for rocking some of our favorite shimmers this season.
We're not gonna lie, you're going to turn some heads in this dress. But it's easier to wear than you might expect; the shift silhouette is flattering and forgiving, and you can always pair it with tights if you prefer to be a little more covered. You can dress it down by adding in a denim jacket and some boots, or give it an extra edge with a leather biker and studded booties!
Made of the same shimmery knit as the dress, this beautiful button-down is still going to give you that "wow" factor -- especially with that dazzling beaded fringe! -- but it's a slightly more conservative option. You can decide just how flashy you want to go with it: you can dress it down with dark denim, you can really shine by pairing it with metallic skinnies, or you can really max out the sparkly-sexy by rocking it with a leather mini. However you choose to wear it, rock it with confidence, 'cause you're gonna look FABULOUS!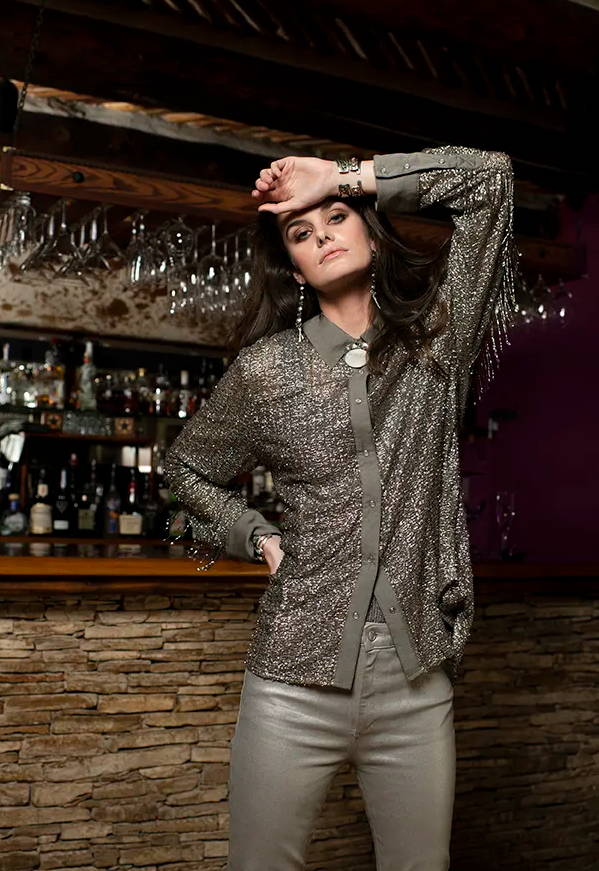 Not sure you're ready to go full sparkle just yet? That's fine! You can dip your toe into the trend in the silver version of the Apache Kid Boots you already know and love. We love these little booties with the velvet Senorita Dress or Patch Skirt, and they're equally as eye-catching with a solid pair of skinnies. You can slip them on with pretty much any outfit and you're sure to razzle-dazzle 'em with your fancy footwear!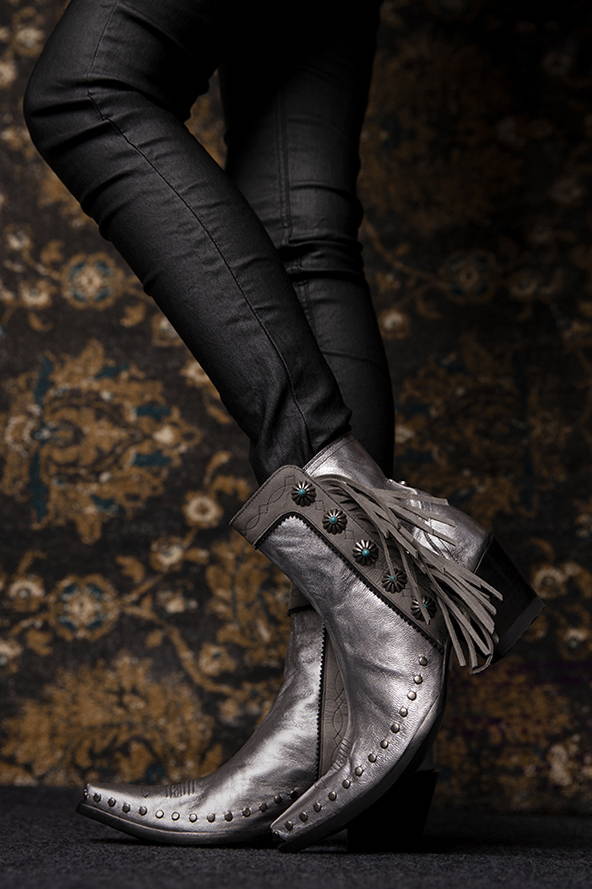 And, of course, the easiest way to incorporate the trend is to add it a little *extra* sparkle where you already expect it: in your jewelry. The Whiskey River Earrings and Necklace are a striking length and consist of multiple strands of different metallic-hued beads, giving them fabulous movement and an almost an illusion of cascading color.
This year, do as a "Giant" would – silver up and stand out!
---
ADD Sparkle & Shine TO YOUR LOOK!