What's in a Name: The Evolution of Double D Ranch
What's in a Name:
The Evolution of Double D Ranch
We're the first to admit we are a perpetual work in progress. We are constantly reevaluating and reinventing our brand and our business; adapting, experimenting, evolving. In 30 years, we've tried a lot of things – some worked, some didn't – but even something as little as our labels makes us proud of how far we've come.
The original Double D Ranch label was a combination of curly script Ds and serif all caps font, and its creation, like the creation of the company, was a little bit frenzied and fortuitous.
"We had to have one to go to market that first time," Cheryl recalled. "We found someone that would make them for us, and he asked for our artwork, and were like, 'Uhhhh. We'll have to call you back.' So first we had to come up with a name. We decided 'Double D Ranch', for Doug and daughters, thinking, 'We're not gonna do this forever, we just need something so we can sell these coats.' And then, just pure luck, this guy happened to drop into the office looking for a job. I told him we didn't have a job for him, but could he draw? So, he designed our very first logo, in a square version and a horizontal version, and we had them woven and went to market! To this day, I don't know who that man was, never saw him again. Craziest thing."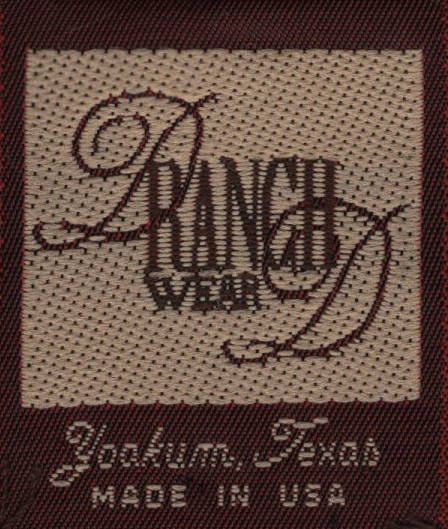 So we had a name and we had a label, we were feeling pretty official, even though at that point, we were just trying to sell that one batch and earn enough money to go on another ski trip. We weren't even thinking about making anything else. Spoiler alert: We kept making stuff.
A few years down the line, when we started to realize that this little endeavor was actually a thing, we teamed up with a guy out of Dallas to rework our label design.
"He designed us this really cool label, with these neat fonts and design elements, and 'true brand' on it, and 'registered trademark' and all that," Cheryl said. "We actually loved the label itself, but it was really, really similar to another brand that was popular at that same time, so we didn't use it long."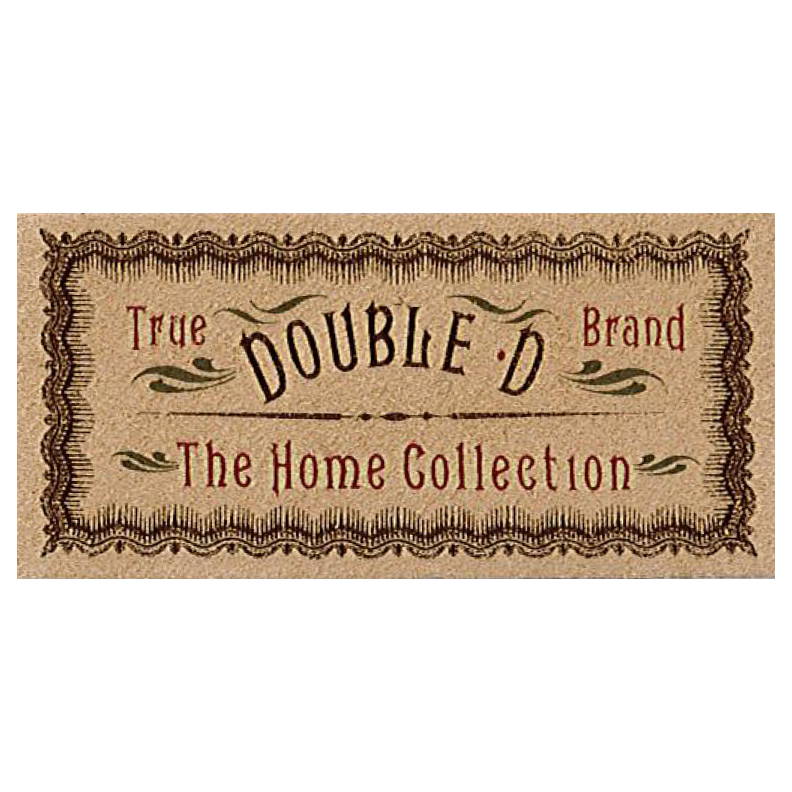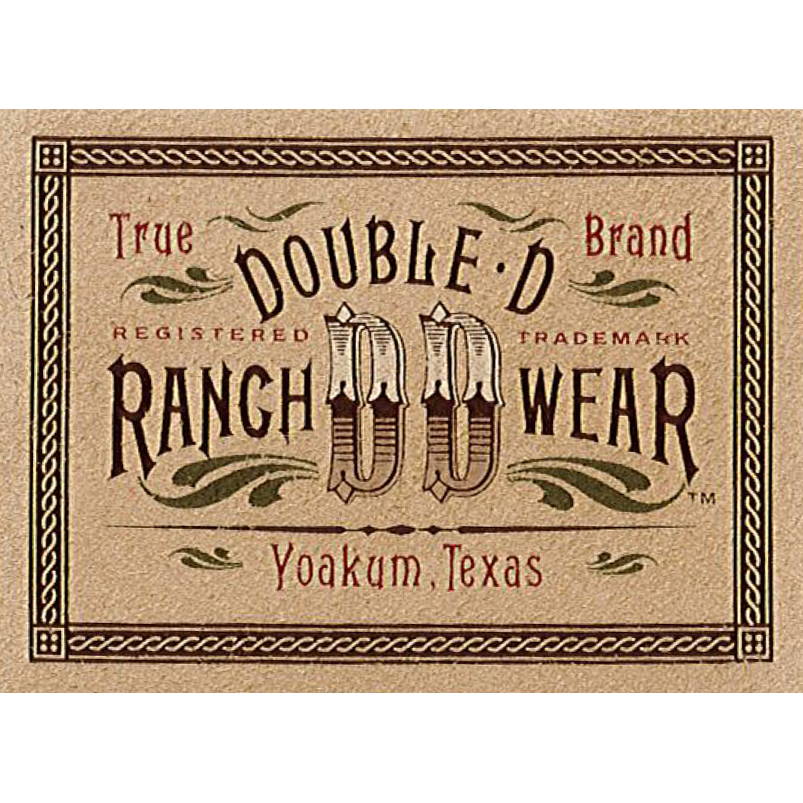 Then in 2000, as the company was entering its 10th year and the world was entering a whole new millennium, we made some choices and some changes.
"We'd been doing this for a decade, and I think it finally sunk in that, 'Ok, this isn't a flash in the pan, this is what we do now. This is our career, this is how we're going to make our living indefinitely.'" Cheryl laughed. "And so we had to start looking at the company in terms of longevity, and we decided to totally rebrand ourselves. That's when we dropped 'wear' in favor of just Double D Ranch, because we wanted to open it up to a wider possibility of products, and we also redesigned the logo into the circle we use now. We wanted something just really clean, classic, and timeless; something with a longer shelf life, but also that applied to a variety of products and appealed to a variety of customers. And we've stuck with it for 20 years so far."


But that's not to say we just got it right and that was that and we never tried another label that didn't work out again. Surely y'all know us better than that by now.
"Oh yeah, we definitely had some label designs that didn't last long! Hell, we had entire lines that didn't last long!" Cheryl laughed.
For starters, Yoakum by Double D Ranch.
"Yoakum was a line we did for HSN," she explained. "They approached us to design a collection for them. It was right after 9/11, everyone was hurting, and we were thrilled to have the business, but at the same time, we didn't want to diminish the brand in any way, because once you're on HSN, you kind of get categorized as that. So, my compromise was Yoakum. We sent them designs and colors and they manufactured them. Oh, and we were experimenting with some early shoe designs. They hurt like hell."
That partnership worked fine for a couple of years, but it wasn't a long-term fit for us.

Then of course, there we created a different label for Doug, the men's line we designed and named after Daddy, around 2011. That also lasted only about a year or two.
And there was Ranchwear by Double D Ranch, a sort of sub-DDR with a lower price point and simpler designs, that was clearly pretty forgettable because Cheryl didn't even recognize it. ("I've never seen this in my life. I don't know what this is. *over her shoulder* Hey, Audie! Did we make a line called Ranchwear?" "Yes, Cheryl. Remember? We were knocking ourselves off before anybody else could.")
And there was D by Double D Ranch, our attempt at city chic. Sort of.
"Remember Hairston Roberson suits? You can google them," Cheryl said. "They were kind of a more tailored, city, business-y kind of look, but embroidered. We were sort of similar, but different. The same stores carried both of our brands, but we had a different end consumer. Well, when she went out of business, we created D by Double D Ranch, with the thought that if we designed a line closer to her style, we would steal all her customers. We didn't."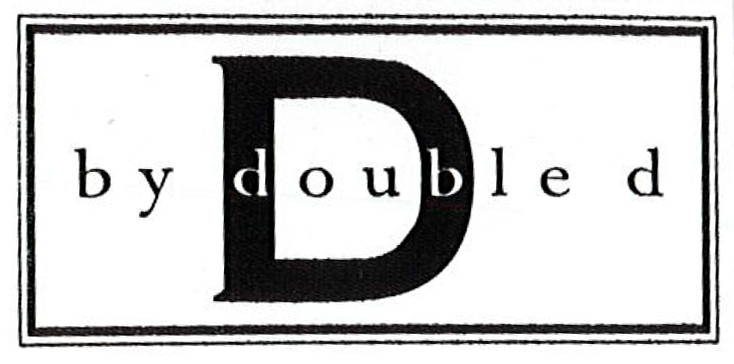 But for all the lines and labels that didn't last, the one that did is the only one that matters. It's the line that stayed true to ourselves and true to our customers. It's the line that is celebrating 30 wild and wonderful years of dressing the most incredible group of women we know.