WARDROBE REVOLUTION: PAINT THE TOWN RED
WARDROBE REVOLUTION: PAINT THE TOWN RED
Recently, we got a wild hair in the warehouse and started playing dress up in some of the inventory, mixing and matching pieces from different collections, and we ended up with some out-of-the-box looks we were loving – and a lightbulb went off. "You know what we should do? We should have a little style shoot!" Well, you know us – when we get an idea, we tend to run with it. So, we pulled some pieces and put together looks that are styled differently than we presented in the catalogs, in hopes that it would inspire you to see some of your favorites in a new light and breathe a little fresh-and-funky into your wardrobe. We hope you have as much fun with it as we did.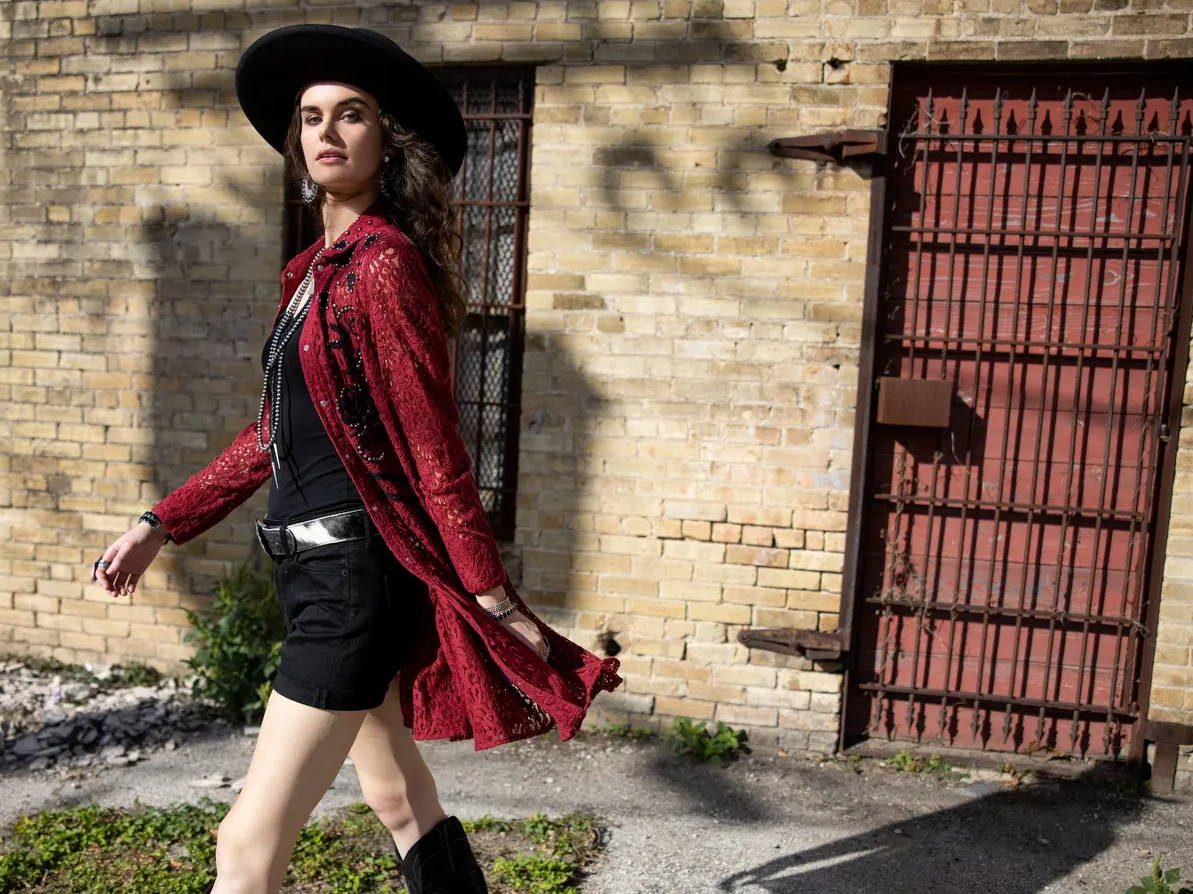 ROCK THAT RED
Red is an undeniable power color. It's strong and striking, and it gets your attention -- it's no secret how we feel about it, and we believe there's no wrong way to wear red. But in these instances, we let red be THE color. We styled it in a way that it was the statement piece, the eye-catcher, and the rest of the look consisted of basics – either black, white, or denim – which acts almost as an amplifier of the scarlet shade.
But when it comes to freshening up your look and adding a little edge to your outfit, the HOW is just as (if not more) important than the what. We got creative with unconventional ways to wear some of the rock'n'roll red pieces from Nashville.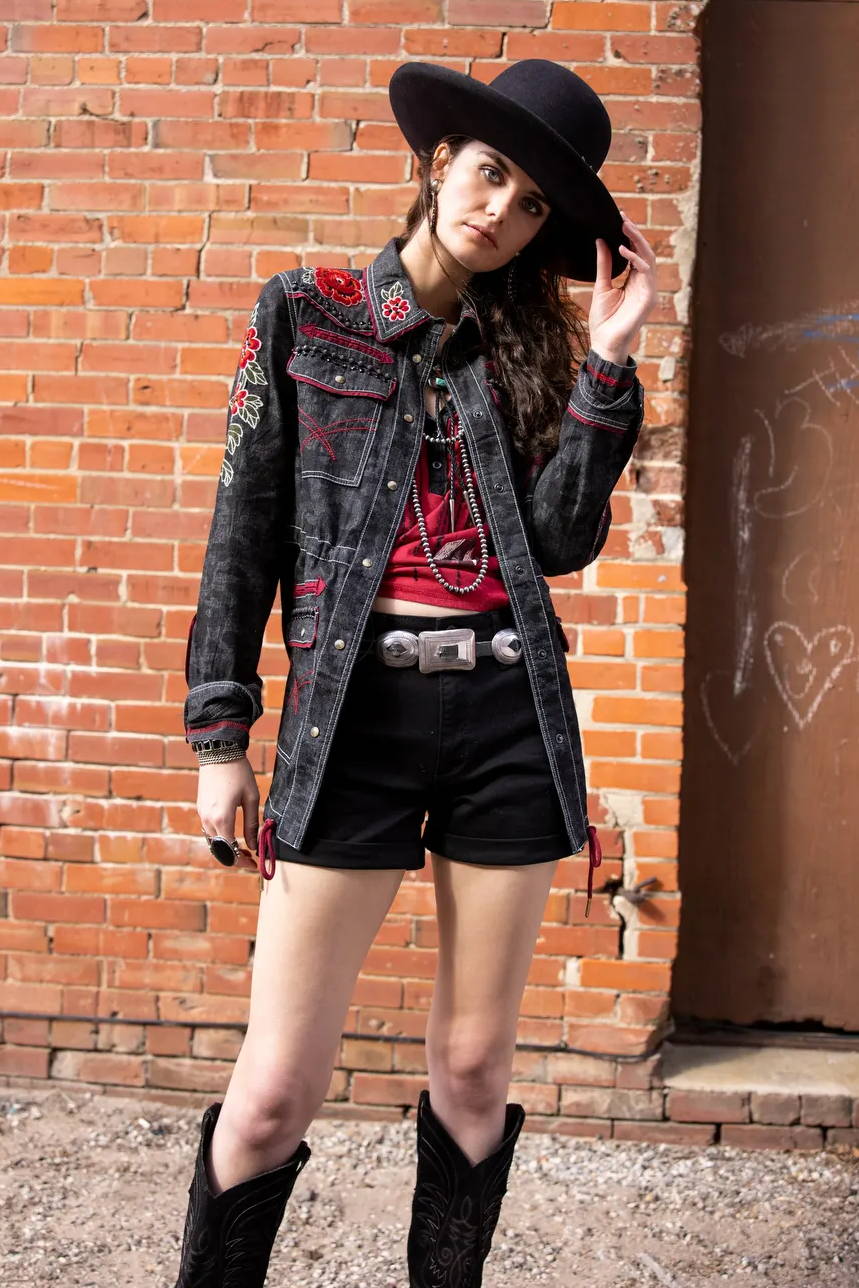 JACKET'N'JORTS
It's that weird time of year where the weather can't seem to make up its mind – especially if you live in Texas! Is it winter? Is it spring? Is it going to be both in one day? (Hint: Probably.) That's what is great about this combo; it's layered, but not "heavy". The tall boots paired with short shorts is not only super sexy, but also reduces the exposure of the leg a little for an in-between level of coverage for those waxing and waning temps. But it's the jacket that gives this outfit its edge. Sure, layering a lightweight jacket is practical for cutting the morning and evening chill, but the way the Everything Goes Jacket hits almost exactly at the hemline of the shorts is very street chic. And the whole look is a little bit punk rock, in a good way!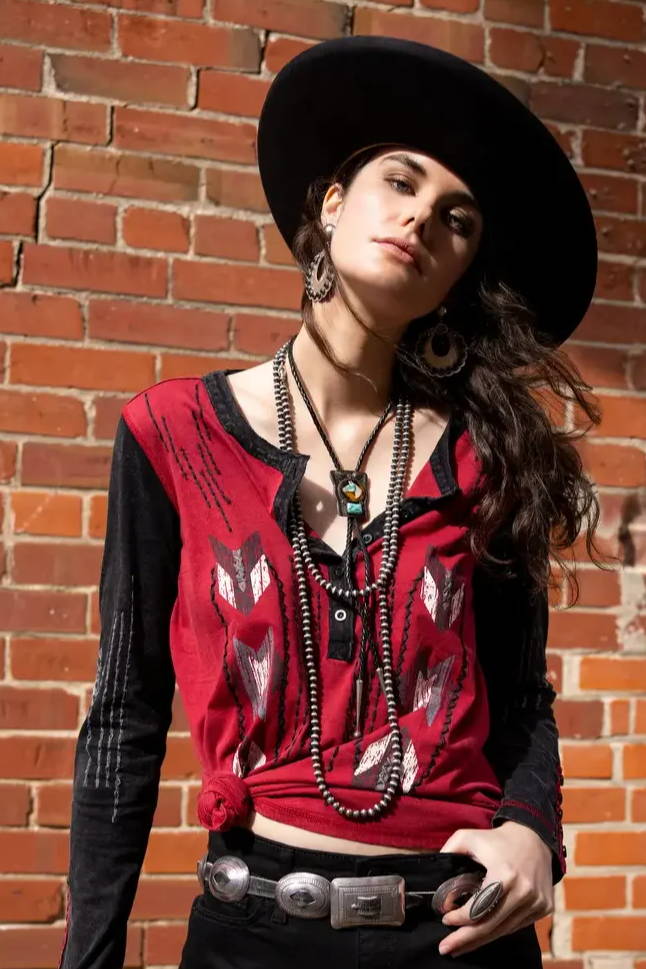 FORGET ME KNOT
Lend some shape to a slouchy silhouette by tying a simple side-knot in your top or tee. It can show off your belt, it can show off your figure, and it can effortlessly level-up your look. PRO TIP: Try it with tops that have a more relaxed fit and a little bit longer length; it gives you a little more room to work with and is more forgiving if you love the look but aren't into showing skin.
KIMONO-VER, BABY!
This one might be our absolute favorite from this session. It's one of those, "I never would have thought to do it, but now that I've seen it, I can't wait to try it" kind of looks. We took a Nashville fan favorite, the Honky Tonk Girl Dress, ditched the under layer, and wore it open like a kimono over a simple black tank and shorts. Ummm, hello, showstopper! First of all, the lace adds an element of sexiness that's impossible to ignore, and again, pairing this longer "top" with the shorts gives it that unexpected length disparity that exudes attitude and a savvy sense of style.
TIE ONE ON
We're not gonna lie, a buffalo check button-down walks a fine line – it can go from lovely to lumberjack in a New York minute! But we had fun experimenting with ways to keep it fresh, fun, and feminine, and we landed on this quintessential classic. From Daisy Duke to Kacey Musgraves, a tied-up pearl snap and cutoff jeans is a fail-proof go-to in a cowgirl's closet -- it's an outfit with undeniable attitude! We tempered it down just a little by adding a plain white mockneck underneath and wearing it open, but hey, button it up and wear it solo if you're feeling bold! Add a classic concho belt, and you're the queen of yeehaw couture.
---
Alright, gals – go do some digging and see what's in your wardrobe that's waiting to be worn in a whole new way. Share pics of your updated outfits to Instagram and tag #DoubleDRanch, we can't wait to see how you style them!
Check back in next week's Double Dose – and your Tuesday/Thursday emails – for more unique ideas for making the most of your DDR favorites.