COCKTAILS, CONVOS, & COLLECTIONS: WHAT'S NEW FOR 2021 LINE LAUNCHES
COCKTAILS, CONVOS, & COLLECTIONS: WHAT'S NEW FOR 2021 LINE LAUNCHES
New year, new us? Eh… still too early to tell. New format for launching upcoming collections, at least. First up: Maria!
Normally, we would just barely hint at what's to come, and save it all for the live launch, but this time we're giving you a Cheryl-style spill of the beans! This week's Dose is full of sneak peeks and spoilers of what you can look forward to in the Maria Collection, and a little insight into the inspiration behind it and the Cowgirl Closets concept as a whole, but believe me, there's still a whole lot left to see that's worth tuning in for.
Guess what else is new for Spring/Summer 2021? We're pairing each collection with its own signature cocktail and hosting a 30-minute virtual happy hour prior to every Facebook Live line launch of the Cowgirl Closets. (Does this make us… closet drinkers?)
For Maria, our bossy little bandida, what better than a Sassy Sangria? (Scroll down for the super-easy recipe we're whipping up that we found on Delish.com.) Make yourself a batch (or a mocktail, if you prefer), and join us in the Double D Addiction Facebook group Tuesday, January 19th, at 7:00 p.m. CDT for a lighthearted half hour of cocktails and conversation with Audrey and Cheryl! You can tune in as a spectator just like you would any other line launch, but we're also trying something new that will allow y'all the opportunity to engage with the happy hour! Mitchell will share a link at the time of the event and if you're using a device with a camera (like your phone, laptop, or a web cam), clicking the link will let him know you'd like to join and he will randomly select folks to pop on to the screen and say hi or a ask a question. Keep in mind -- we WILL be able to see you, so take this opportunity to get dolled up in your DDR and have a drink with us!
Then, at 7:30, we'll transition into a Facebook Live line launch of the Maria Collection with all the commentary and comedy you've come to expect from the McMullen sisters! Don't forget to RSVP to the Facebook event to be entered in the drawing to win all sorts of Double D goodies and make sure you tune in because you MUST BE PRESENT TO WIN! See y'all then!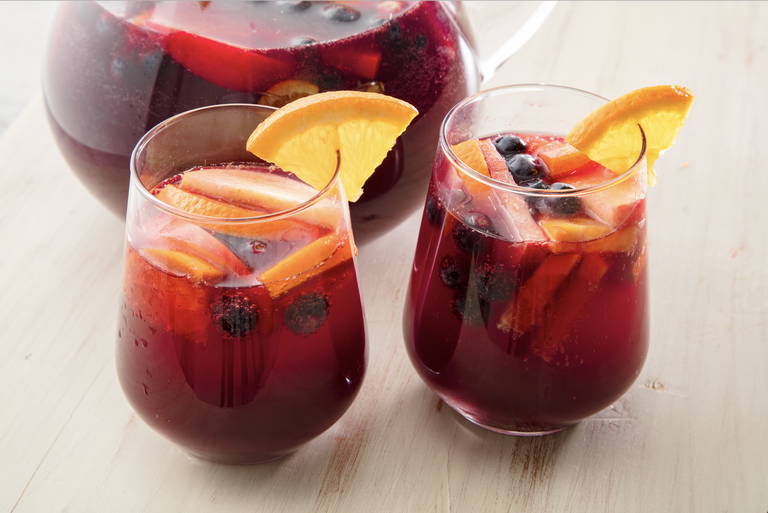 Photo by Parker Feierbach
INGREDIENTS
1 (750-mL.) bottle red wine

1 c. orange juice

1/2 c. brandy

1/4 c. granulated sugar

1 orange, sliced

1 apple, sliced

1 c. blueberries

1 c. sliced strawberries

1 (12-oz.) can seltzer [We prefer Topo Chico Twist of Lime.]
DIRECTIONS
In a large pitcher, mix together wine, orange juice, brandy, and sugar then stir in oranges, apples, blueberries, and strawberries.

Refrigerate until ready to serve, preferably 2 hours. Top off with seltzer before serving.