Unusual Inlay: What's the Story?
Unusual Inlay: What's the Story?
If it were up to Cheryl (and if we had the time), we would write a story about every single piece of vintage jewelry she finds. Truly. No one is more dedicated to the origin of and the story behind a piece, and if we can find it, the history of the artist. (And she stores it in an almost encyclopedic manner in her brain. This is why she can't find her Chapstick, her brain is full.)
And then there are the pieces, like these, that keep her up at night.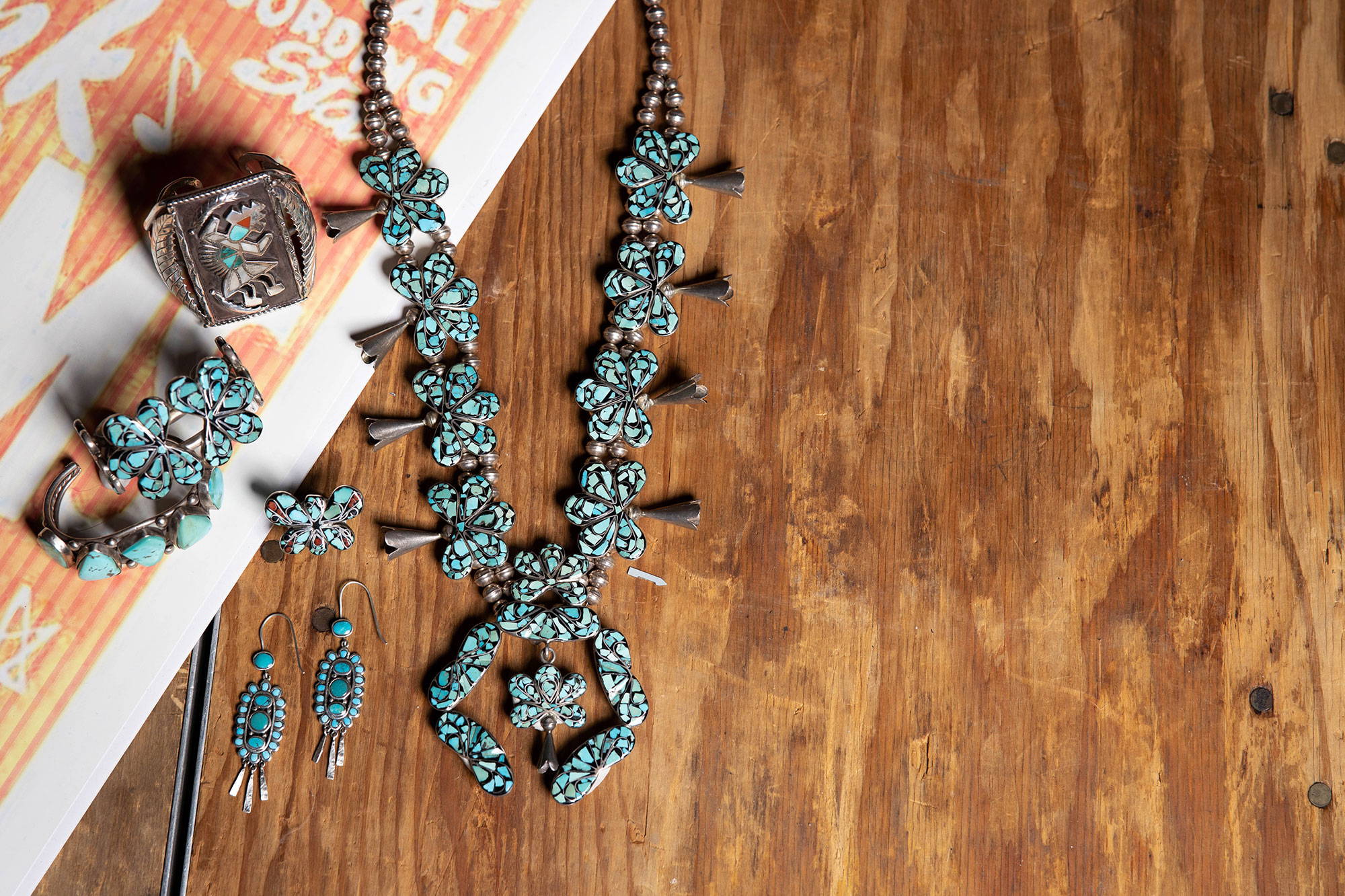 "There HAS to be a story behind these pieces!" she exclaimed. "Have you ever seen a chip inlay squash blossom? I've been doing this a long, long time, and I really don't recall ever seeing one like this. I mean, I've yet to meet a squash blossom necklace I didn't love, but this one is really unique. You normally see nugget turquoise or coral in a squash, you don't expect inlay. Think about the time it took to set each of those tiny chips of turquoise. And if you look closely, you'll see that there is really thin, intricate silverwork within each petal of the clover. This was a really meticulously made work of art, and it shows." 
The squash blossom necklace is seemingly part of a trio of pieces by the same artisan. The same chip inlay style in that same clover-like design appears on a beautiful two-bar cuff. Additionally, there is a ring composed of turquoise and red coral in that same distinct style of inlay, and while it complements the clover design it seems itself to be more of a butterfly. Still, the signatures of it indicate that all three of these pieces were handcrafted at the same bench.
Here's what we DO know about the pieces: 1) they were originally acquired circa the 1970s around the Gallup, New Mexico area and have been beautifully maintained by the collector for the subsequent 50 years – they are in excellent condition for their age; 2) they can't possibly be more than 60 years old because the chips are set in epoxy, which was invented in the 1960s by the Singer family.
Here's what we can infer – or at least provide an educated guess – about this trio: the artisan/origin is likely Navajo. The art of chip inlay is largely credited to Tommy Singer and the Singer family, who were mid-century jewelry artisans in the Navajo tribe, and as they developed and perfected the craft, they shared the technique with their fellow members. In the many decades since, the technique has spread and been adopted by artisans of other affiliations, but considering this piece was acquired in the '70s (early on in the lifespan of chip inlay) it can be fairly assumed that this artisan was part of the original community.
Here's what we're dying to know: 1) above all, who the artisan was – their story, their background, who taught them their craft, where they are now – it's all endlessly fascinating to us; and 2) what is the significance of these clovers to them (and the butterfly) – are they of family importance, are they merely for luck as we interpret clovers today, do the five petals represent something?
We can speculate and wonder to infinity (and we probably will) and probably never have the answers. But, as with any work of art, the greatest honor to the artist is admiration, and that, we have in abundance.  
(By the way, we know the mosaic pieces are mesmerizing, but you'd be remiss to overlook the other beauties in this spread -- that turquoise nugget cuff is a jewelry-lover's dream and those dangles are to die for!)