The Tobacco Salesman
American folk art is a strong source of inspiration for the aesthetic of Double D Ranch. And it has been since the beginning.
When we started designing for the 30th anniversary collection, there was a lot of conversation and deliberation about whether we should bring back some pieces from the past three decades and create somewhat of a "best of" compilation of all-time favorites. We ultimately decided against that direction with the collection, but rather to include updated, modern nods to some of our signature silhouettes and prints. The Tobacco Salesman is one of those prints.
The imagery on this print is reminiscent of the antique carved wooden statues that stood outside cigar shops, dating back as far as the 17th century, to indicate that tobacco was sold inside. Back when much of the population was illiterate, certain types of businesses used universally recognized figures or structures to indicate what sort of goods or services they provided. (Think, red-white-and-blue poles outside the barber shop.) The American Indian became associated with tobacco because they introduced it to the Europeans, and thus these figures were created in their likeness and became sidewalk advertisements for the product.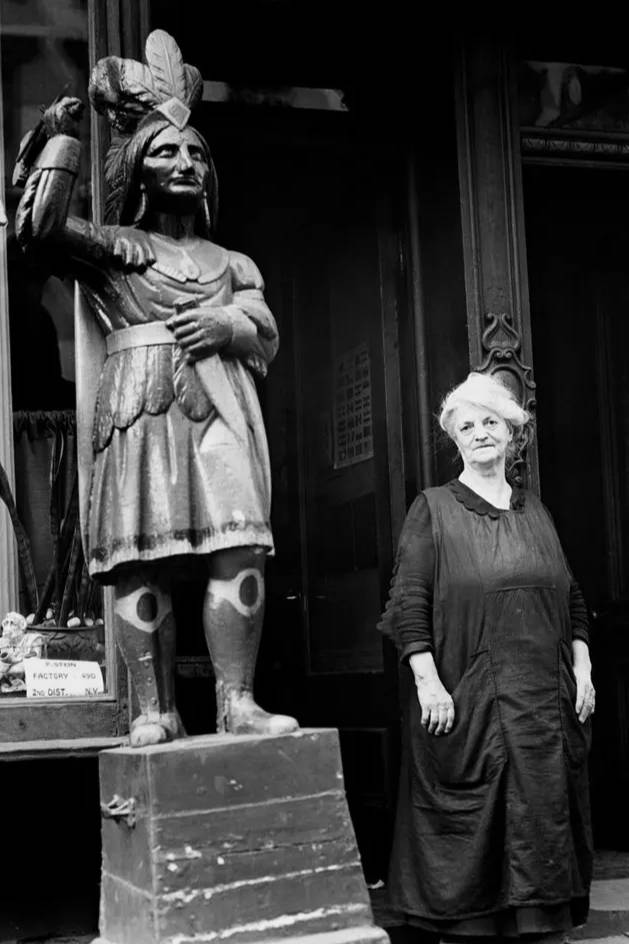 Left credit: Pinterest. Right credit: archives.nyc
Our first iteration of the image was early on in Double D Ranch history, appearing in the fall 1992 collection. It had a nostalgic tie for us because it was around this time that we had been in business a couple of years and started to realize, "Hey, we may actually have a future in this industry…" So, when it came time to reimagine significant pieces for our 30th anniversary, the Tobacco Salesman was on that list. It is a more visually dimensional print for our Cody collection.