The Jackets of Matagorda
Don't get us wrong, we love designing every piece that goes in a collection, but c'mon, how can we not admit that the signature jackets of each season are a little bit our favorite? And Matagorda was extra fun, because we put a little of history in them; the jackets have a story.
---
As far as this season's biker jackets go, this little beauty is the apple of our eye. Not only are we enamored with the aesthetic – the beautiful bright florals on the bold black, the unique contrast of the two-tone leathers, the majestic eagle on the back, and the horseshoe hinting to Daddy Doug – but it's the jacket that really commemorates the kickoff of our 30th anniversary collections; the embroidered scripted scrolls on the sleeves bear our name, our mantra, and our date of establishment. It's an instant collector.
---
Here at Double D Ranch, we have a bit of a reputation for being just a touch over-the-top – embellishments, embroidery, colors, patterns, prints, fringe, beading, pretty much anything we can add to a jacket to make it stand out, we're on it! (If you can't see it from across the street, what's the point in wearing it, right?) Well, we went a little rogue with the Southern Nights Jacket. We don't usually come at a biker jacket with a less-is-more approach, but with this one, we steered toward standing out by being sleek and chic. The hints of neon piping really pop against the black leather and are lined with double rows of metal studs, and it's got an asymmetrical front zipper for a little extra edge. It's got contrast, it's got color, it's got attitude. We're obsessed.
---
We've gotta say, putting ledger art on leather might be one of the more beautiful things we've ever done. It's hard to pinpoint exactly what's so alluring about it, but that crackled aged-looking leather paired with that antiqued artwork is just such an appealing combination, and the colors are simply stunning. Plus, that gorgeous suede collar with the colorful hand-beading gives it an elevated, upscale edge that just feels luxurious.
---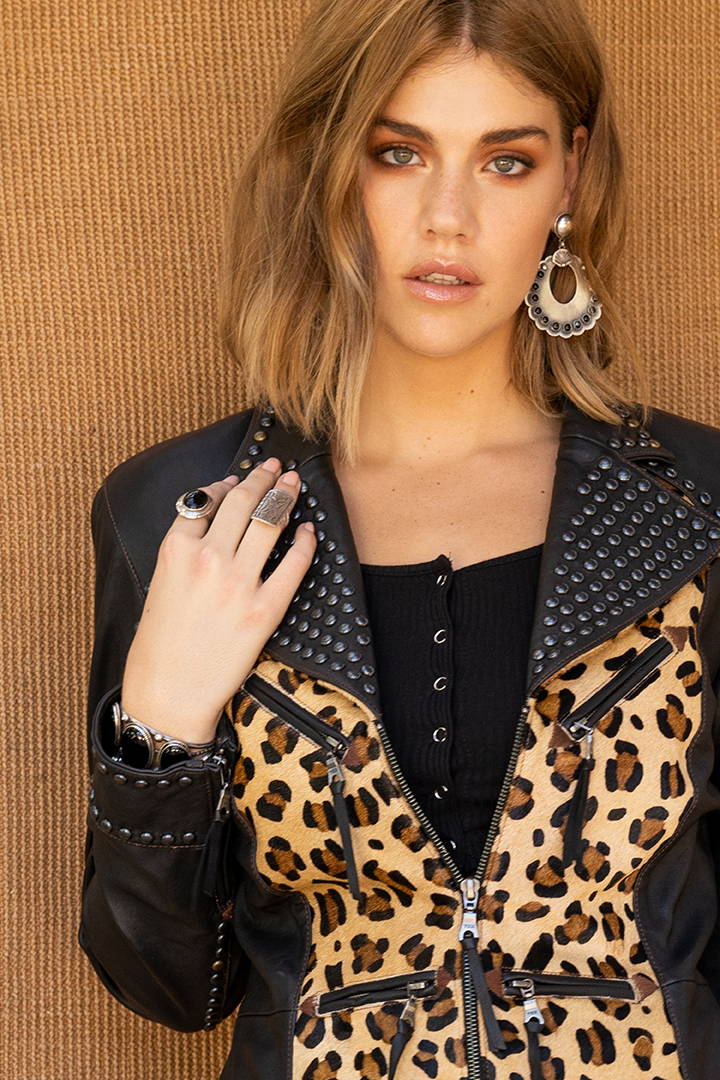 This jacket is awesome on its own merit – what is more classic biker badass than leopard leather and black? Throw in some subtle tonal studwork and some angled zipper pockets, and you're ready to rock from the road to the rodeo. But what we'll always think of when we see this jacket is its namesake. "Nilla" is a disgusting, discarded vanilla air freshener, a real treasure that we mined from a filthy parking lot at the horse track while we waited for Daddy to finish talking shop (or more likely, rounding up a stranger to adopt) when we were kids. It became our ragged little pretend pet. Cheryl named this jacket Nilla because, for all these years, she's believed Nilla was a cat. Hedy, on the other hand, insists that Nilla is – and always has been – a dog. (Sometimes we could swear these two lived entirely different childhoods, based on their recollections.) And honestly, we've got to defer to Hedy as the authority on this one, because uh… she STILL. HAS. IT. That's right, dirty ol' Nilla sits on her desk to this very day.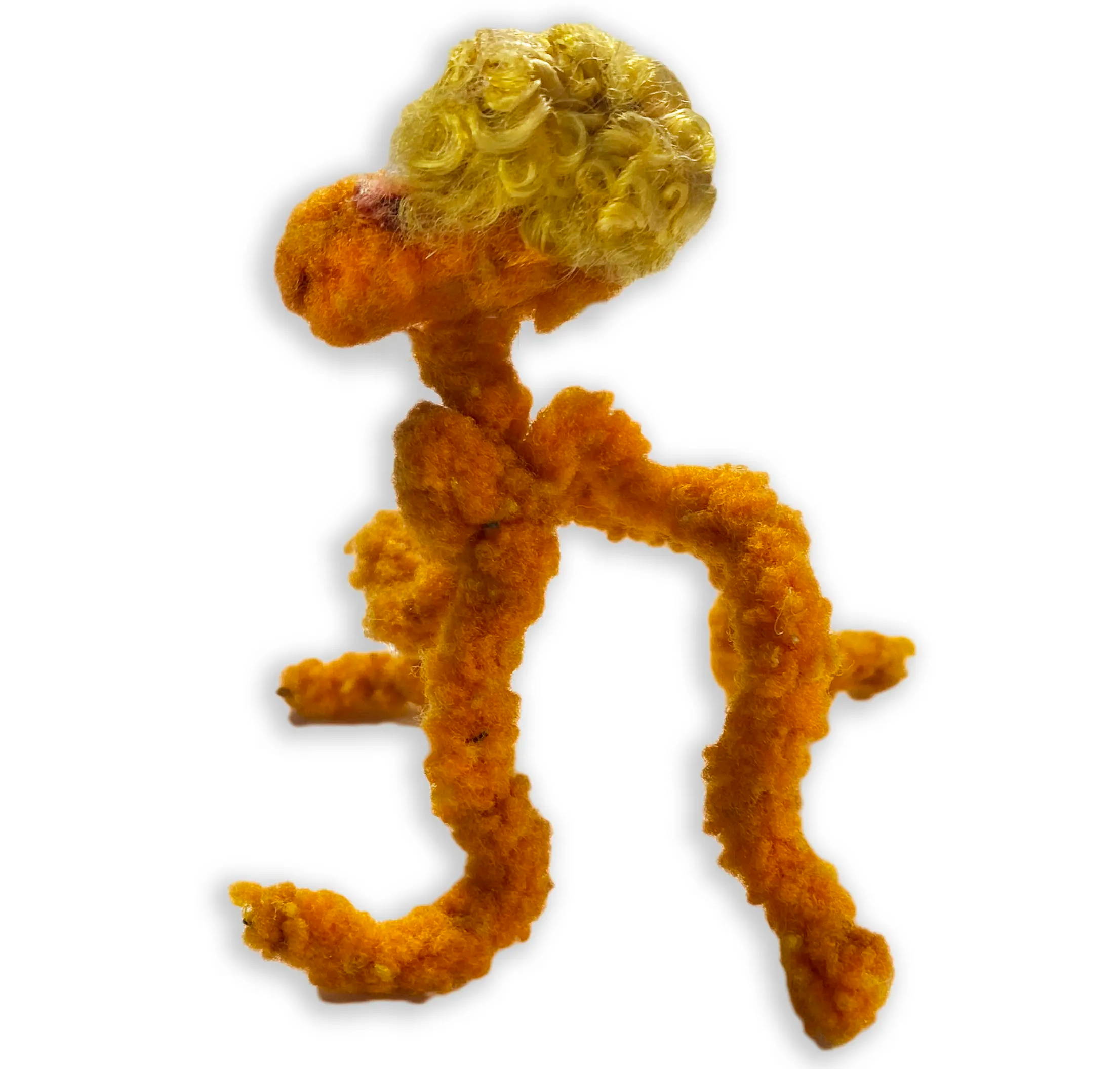 ---
Ok, it doesn't really fit in the biker/leather category with the rest of the jackets mentioned, but we're admittedly partial to this one. It's a nod to the old FFA jackets, which is something that played a fairly significant role in our upbringing. Hedy was active in it, showing animals and whatnot, and so was Cheryl's high school boyfriend, and Audrey was FFA Sweetheart (because of course, she was). So, we mimicked that silhouette in a deep blue corduroy with the large sideways pockets and embroidered it with Rodeo Sweetheart. We just love it. (And from what we've seen in orders, y'all love it, too. So if you've been "thinking" about getting it, but haven't… you might wanna go ahead and "add to cart" before they're gone.)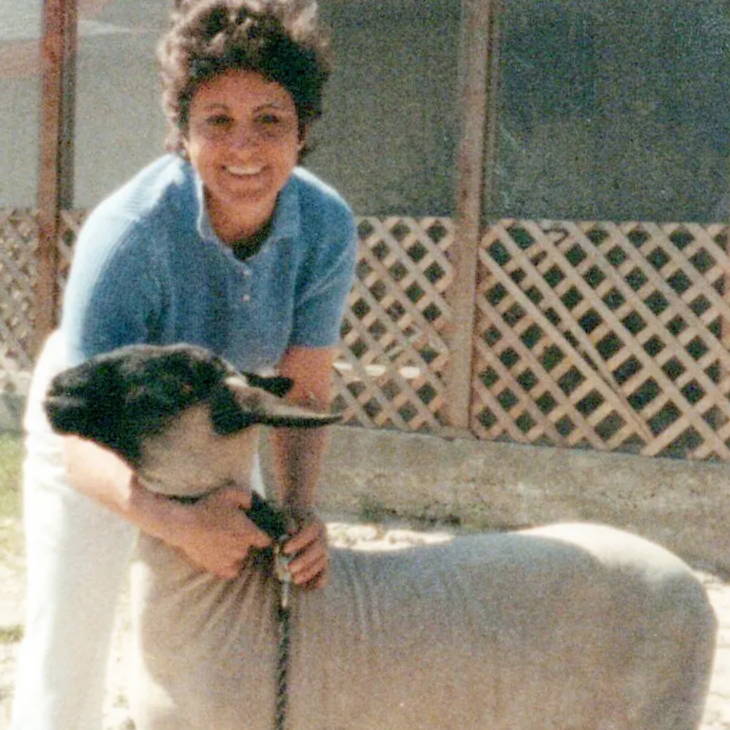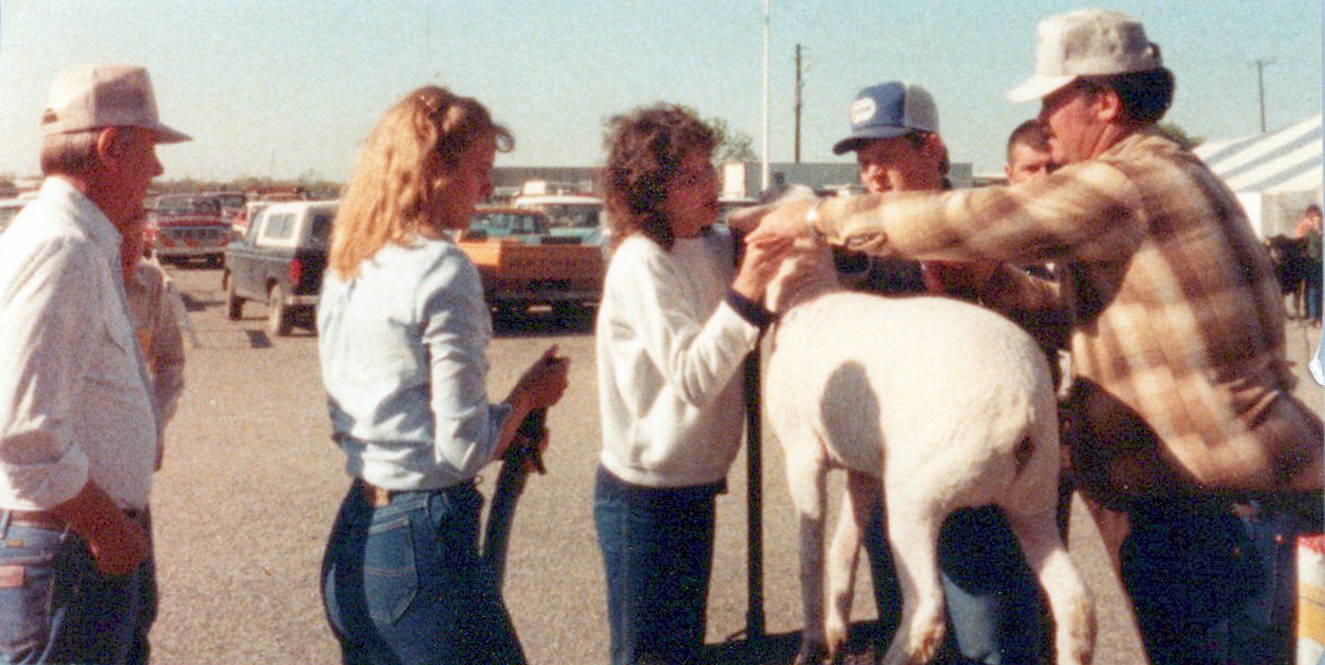 P.S. If you want a good giggle, get the McMullen sisters talking about their FFA animals; who actually took care of theirs, whose won, whose got sold, who got theirs back from the slaughter truck with some big ol' crocodile tears. You can ask three different sisters and get three different stories, and they're all hilarious.