Six Signature Looks You Don't Want to Miss
6 SIGNATURE LOOKS YOU DON'T WANT TO MISS
It's almost midnight, Cinderella! If you want to be the belle of the ball in Midnight Cowboy, now's the time to "add to cart"! This collection had some standout signature looks you really don't want to miss!
---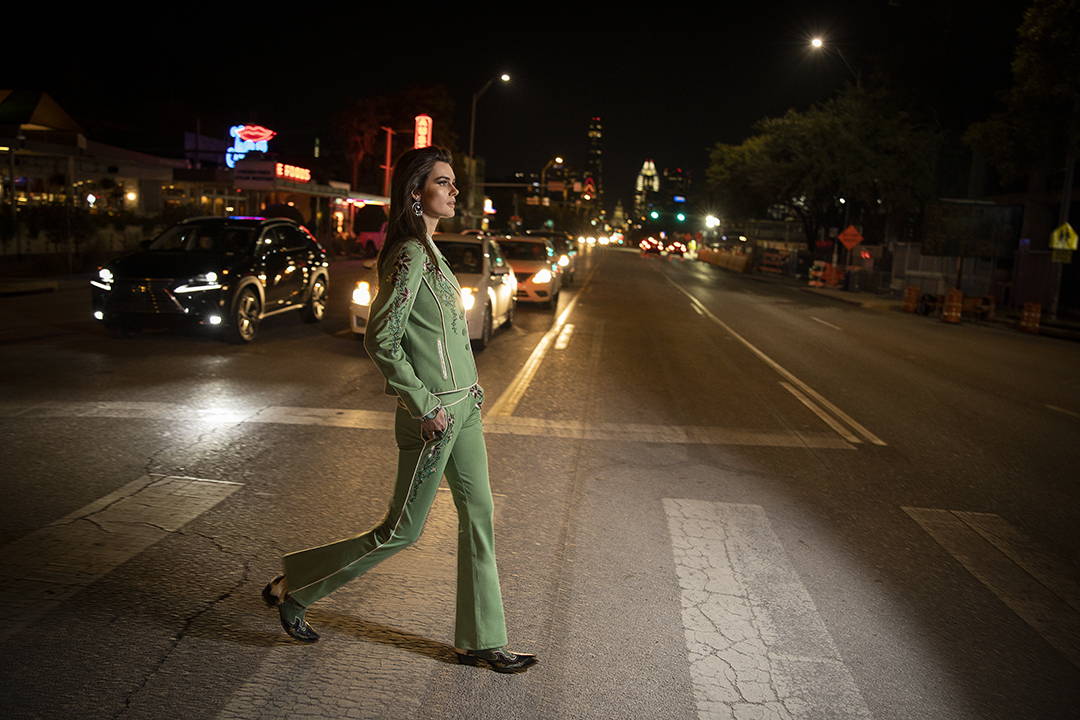 Warhol's Suit
If there is a piece that screams "Midnight Cowboy", this is it. It's got that Nudie Cohn feel, with the flared leg and sleeves and bold embellishments, which is the retro-Western twang that this collection is all about. Plus, it's got all the signature colors. It's gorgeous and it's impossible to ignore! (Seriously, this is one of those "strangers stop you on the street" kind of outfits.) Decades from now, people will see this suit and immediately identify it as Midnight Cowboy.
Alley Cat Dress with Midtown Hustle Jacket
Definitely one of our favorite pairings of the collection.* We've always been a fan of leopard and leather. The simplicity of the color blocking on the Midtown Hustle Jacket perfectly complements the busy leopard print, and of course the coloring ties together beautifully with the embroidery.
Nothing makes looking good seem effortless like a cool casual jacket. It's cotton and lightweight -- perfect for transitioning from whatever this wild weather is we're having now, into real actual spring -- and the combination of camo, leopard, and colorful embroidery is just the right balance of country and chic. Throw on the Jungle Jim Jacket when you want to be best dressed without feeling overdressed!
Colossal Collection
"That is one colossal shirt!" Ratso Rizzo wasn't mincing words about Joe Buck's style, and we kind of loved it. We reimagined the signature shirt into a feminine version, as well as a beautiful dress, made of lovely lace and featuring gorgeous hand-embroidered accents of florals and statement stitching in all the signature colors of Midnight Cowboy. It's a signature piece, specific to this collection, so you won't be seeing it again -- if you love it, you'd better hurry up and get it, girl!
TV Cowboys Dress with Jungle Jim Boot
*And this is our other favorite pairing from Midnight Cowboy. Don't get us wrong, we love the pieces individually, and they're both super-versatile and would look great in several different combinations from this collection, but you've gotta admit -- this dress and these boots look pretty dang stellar together!
I don't know how many more times we can say it: if you want to be en vogue this season, YOU. NEED. PONY PRINT. Don't believe us? Hop on our Instagram. The Stockyards Top alone was heart-ed by more than 1100 people. It may just now be trickling on to your scene, but it's about to be BIG, so stock up on the Stockyards and be a trendsetter!