Dressed Up Denim
Over the years, we've played with denim in every way imaginable. It's a staple in every cowgirl's wardrobe, and it's so versatile that it's a great canvas for creativity. For Midnight Cowboy, we incorporated the twangy feel of the collection and added a little "WOW" factor.
The Wow Cow Baby pieces are the result of us taking all the key elements of the Midnight Cowboy collection -- animal prints, cool colors, retro Western twang -- and applying them to classic denim pieces that are wardrobe staples: a jacket, a workshirt, and a skirt.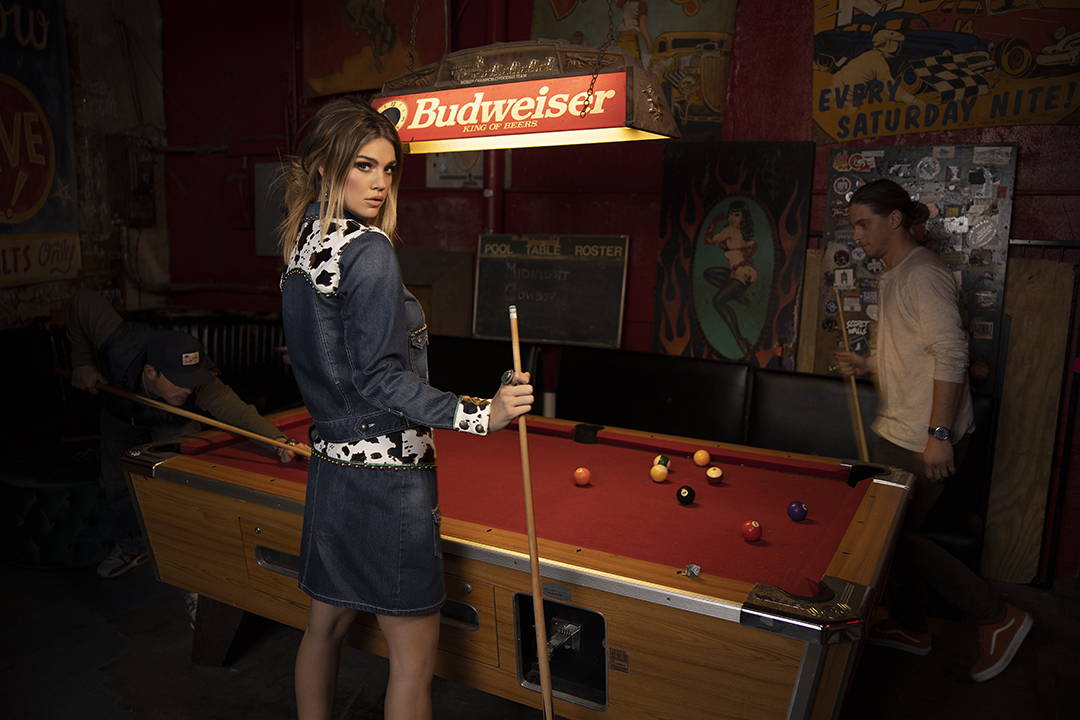 As you've likely noticed, animal print is playing a big role in cowgirl couture right now, whether it's leopard, pony, or cowhide. We've incorporated a little of all three in Midnight Cowboy. In these particular garments, we went with a look that could pass for pony but leans toward cowhide (hence the name). While we did do some pieces entirely in hair-on hide, with the Wow Cow Baby we wanted to stick to accenting, so that the denim was still the canvas and the print serves as the statement, almost like an accessory.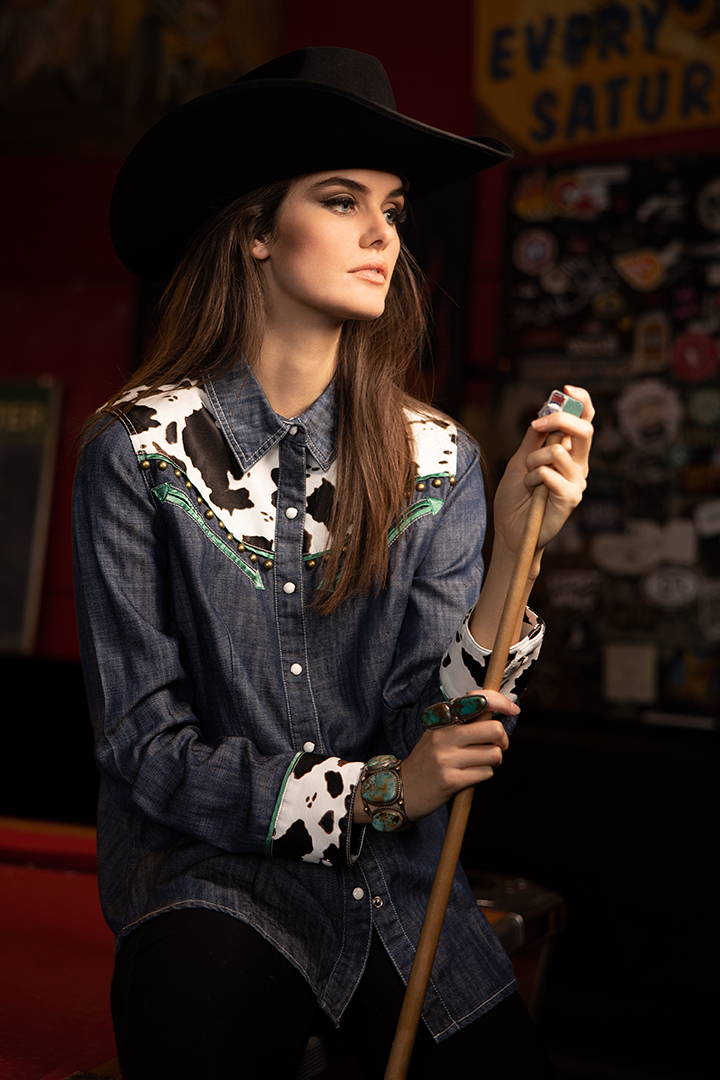 Additionally, we worked in one of the signature colors of Midnight Cowboy to really tie it into the collection. We trimmed the animal print appliques with that cool green that falls somewhere between a mint and a lime and a turquoise -- it's called "celedon", if we're getting technical. Not only did it add a pop of color, it makes the Wow Cow pieces pair really, really well with turquoise jewelry. (I mean, just take a look at Kaylin in that workshirt chalkin' that pool cue -- her cuff and statement ring are perfection with that top!)
And of course, they had to have a little of that retro-Western twang we've carried throughout the collection. We added in some Western "smiley" welt pockets, some pearl snaps, and some concho buttons, and the Wow Cow Babies fit right in!
While these pieces are a little bit "extra", they're also extremely wearable. Like we've said before, the print may be bold, but the coloring almost works as a neutral. And denim, of course, is a staple that goes with everything. Throw the workshirt on with some black skinnies and boots, and boom – you're dressed to kill. The jacket is just as versatile as any other in your closet – you can wear it with pretty much anything. Hell, you could even pair the skirt with a plain white tee and look like a million bucks!