SHOPS WE LOVE: THE SPARKLING SPUR
SHOPS WE LOVE: THE SPARKLING SPUR
Ask Tiffiany Johnson if the Sparkling Spur in Mandaree, North Dakota is a western store and she will tell you no way. She defines the store (and her style) as a mix between western, rocker, biker, and classy. She gets her inspiration from stores in New York to the NFR. Thanks to her website, she serves a clientele of local women and ladies from all over the country.
This bubbly, talkative, and creative gal started selling jewelry, belts, and bags at trunk shows, never thinking it would grow into a real store and online shop. "I like making women feel beautiful and making them look and feel their absolute best for big events in their lives," Tiffiany said.
The business started to boom after a Cowboys & Indians rep encouraged Tiffiany to advertise in the magazine. That meant she had to come up with an ad and now enjoys creating them with customers from around the country as her models.
"I feel like my creativity really comes out. It all falls into place. The last ad I did paid homage to Double D Ranch, and the recent ad is all customers of mine from all across the country. I just fly with it. I can go with one piece and make a story of it."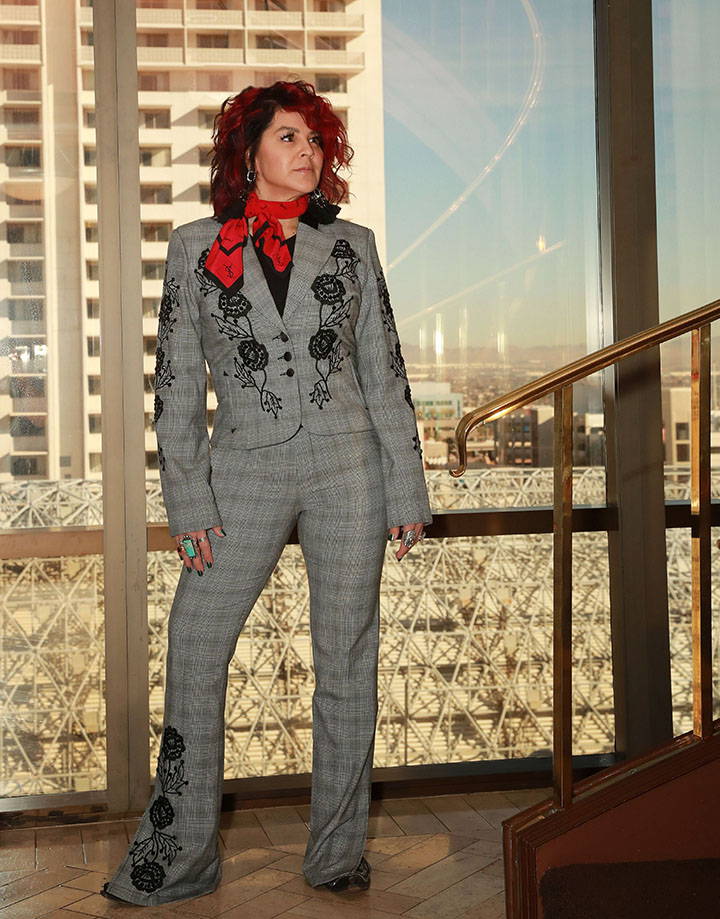 Tiffiany Johnson



THE SPARKLING SPUR
Tiffiany, who is a member of the Mandan, Hidatsa, and Arikara affiliated tribes started carrying Double D Ranch in 2009 and credits much of the growth to having our unique styles. Her favorite pieces by far are the jackets, which she loves to wear. "They are just timeless and you know they aren't too trendy, and you can wear them for a long time."  
Tiffiany has been eagerly awaiting Space Cowboy Collection. "The Space Cowboy Jacket has me going crazy."
TIFFIANY & THE SPARKLING SPUR's FAVORITES