Shops We Love: Ann's Turquoise
SHOPS WE LOVE: ANN'S TURQUOISE
Meet Ann and Todd May. This mother-son duo are the folks behind Ann's Turquoise. We got to chat with them from Vegas as they prepared for the mania that is NFR.
But a long-running, high-traffic event is nothing new to the May family.
"We've been traveling all over this country for about twenty years now," Todd said. "We do about 30 shows a year, and some of those are livestock shows and rodeos that are 23 days long, so we stay busy."
The family business, consisting of Ann and her husband Ron, and Todd and his wife who is also named Ann, is technically based out of Topeka, Kansas, but Ann's Turquoise operates exclusively online and at trade shows. And, as the name aptly implies, it all got started with Ann's love of Turquoise.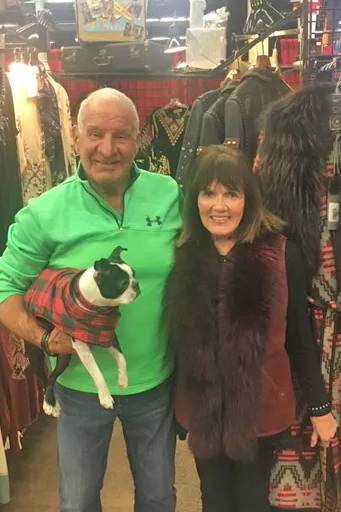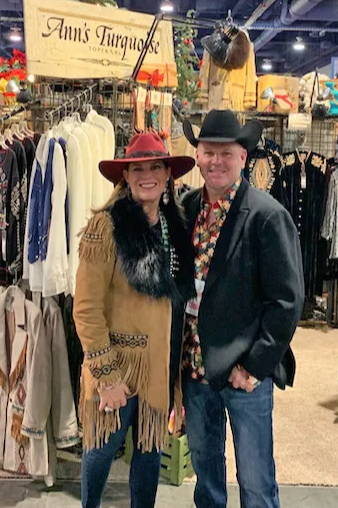 "We've actually been in business about 30 years," Todd said. "My mother, Ann, started this business back when she was a school teacher. We started with jewelry, because of her love of silver and turquoise. She loved the Southwest. When she would have two months off in the summer, she would venture down to Arizona and New Mexico and find little treasures and bring them back home. Then she would go back to her teaching job, and she really started by selling her stuff to her teacher friends."
"They couldn't WAIT for me to get home," Ann chimed in.
"So then we started thinking, you know, we may do a few little flea markets here and there," Todd said. "I was actually working another job at the time, but I had so many sick days piled up, I would call in sick on a Thursday night because I needed to be at a show Friday, Saturday, and Sunday. It just kind of evolved from there."
It didn't take them long until they were playing in the big leagues.
"I remember our first big show was NFR," Todd recalled. "And that's been twenty-something years ago. She was super excited and super nervous."
"I wasn't THAT nervous," Ann intervened.
"So we came out to Vegas and we did our first NFR, and we thought, 'Dang, there might be something to this,'" Todd continued. "And that's actually about when we got involved with Double D. I'll let her tell the story."
"It was really the best match for the jewelry, and really, for the lifestyle that I love," Ann said. "I had to search high and low to find that, but then I just kind of got addicted. It was just the perfect complement to, you know, the way I decorate my house, and the jewelry that I love, and my own personal style. I found them and the rest is history from that point."
As seems to happen with Double D Ranch, their relationship between the May family expanded beyond just retail.
"My daughter, Leslie, actually interned with Double D one summer when she was in college," Ann said.
"That's right," Todd added. "I think she even lived on the premises, maybe in a little apartment behind one of their houses. Audrey's, I think."
That sounds about right. Y'all know how the McMullens are: customers become friends and friends become family. The Mays seem to be that way themselves, and like the McMullens, they take pride in being a family business.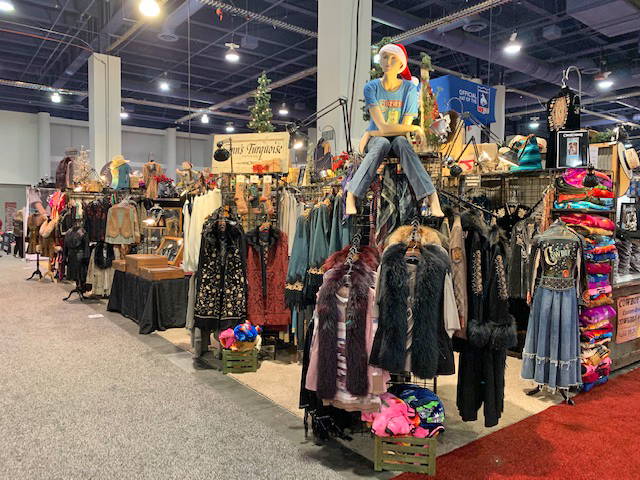 "We truly are a family-run business," Ann said. "It's just the four of us. We're traveling, doing the website, doing all the setup and break down. When you call or email Ann's Turquoise, you are talking to one of us."
From now until December 14th, you can find the May family working together to run their booth at Cowboy Christmas in the Las Vegas Convention Center, Booth 3531.
"We're right on the red carpet this year," Todd said. "We're a little further toward the back, but you can't miss us if you're walking straight down the middle of the show. We will have the new stuff, and we also always have a 50% off rack of pieces from past seasons that you can check out."
"And we carry XS through XXL, so we carry the extended size range for all the gals," Ann added. "Probably not all the vendors will have that."
Another unique thing about Ann's Turquoise is that, as far as clothing, they carry exclusively Double D Ranch.
So of all that DDR they carry, what are they currently loving?
"The Range Rider Jacket," Todd answered immediately and confidently. "It is such a cool, great little easy-to-wear jacket to throw on."
"The Hondo Vest," Ann said. "You can dress it up or dress it down, and it's great for all different climates. Oh, and I really love the scarves this year, too, I think they're really beautifully done. And of course, the socks are a great addition."
Well, we love that you're loving them, Ann, and we're wishing y'all the best of luck at NFR!
---