Santo Domingo Style
Our love and admiration for Native American jewelry is no secret and nothing new. From a very young age, we drooled over the gobs of silver and turquoise we saw on our trips to New Mexico, loaded on the ladies at the horse races, from the sheer beauty of it alone. As we got older, and more specifically, as Cheryl began to realize and really cultivate her interest in design, we really developed an appreciation of the intricacy and artisanship involved in all of these unique, hand-crafted pieces. And with that appreciation came an interest; in the history, in the distinction and signatures of the different tribes and peoples, in how to tell what's vintage, what's Old Pawn, what's Zuni and what's not. It's an inquisitiveness that has never stopped growing and will likely never be fully satisfied; the history of this art and trade are so long and so rich, there will always be something new to learn, some new tidbit that makes that cuff or squash blossom not only fabulous, but fascinating.
Currently, our objet d'art (and obsession) is Santo Domingo Pueblo jewelry. Specifically (and you'll see why in a minute), the mosaic inlay shell necklaces.
Because our curiosity is never-waning, and we know that we are far from experts on the subject (though Cheryl comes pretty close), we decided to reach out to some folks that are: our friends over at Shiprock Santa Fe in Santa Fe, New Mexico. So, we rang them up one afternoon, and asked them to tell us the story behind Santo Domingo Pueblo jewelry.
They could not have been more helpful or gracious. A lovely woman named Zoila answered the call, and without hesitation said, "Sure! What do you want to know?" and immediately hopped on our website to get a visual of the pieces. We responded, "Anything you can tell us."
Here's what we learned:
"These particular pieces are Santo Domingo Pueblo mosaic inlay necklaces," Zoila said. "It's sometimes called Kewa Pueblo, but they have a long, long tradition of jewelry-making and it usually consists primarily of bits of shell and turquoise."
She went on to give us a basic glimpse into the geography and culture of the people and the trade.
"Santo Domingo Pueblo is about half-an-hour from Santa Fe, which is nowhere near the ocean" she laughed. "But shells have been valuable trade goods for hundreds and hundreds of years, which is why you see them in jewelry in the middle of the desert."
We also learned what some Santo Domingo signatures are, what sets them apart from other Native American jewelers and how to identify their artisanship.
"They're known for their mosaic inlay," she said. "They developed a cost-effective way to use bits of turquoise and shell that were very small and otherwise unusable."
And their ingenuity goes beyond just salvaging scraps of semi-precious stones and shells and setting them into a "bigger picture" piece. They made the most of everyday items one would never expect to find in a piece of beautiful jewelry.
"They were known for being very innovative," Zoila told us. "There are some old Santo Domingo necklaces that have pieces of bone, gypsum. In the 1930s and '40s, they would even use car battery casings, vinyl records, plastic forks, and other just 'found' items. It was a time of great economic hardship, so they made this beautiful jewelry out of basically recycled materials."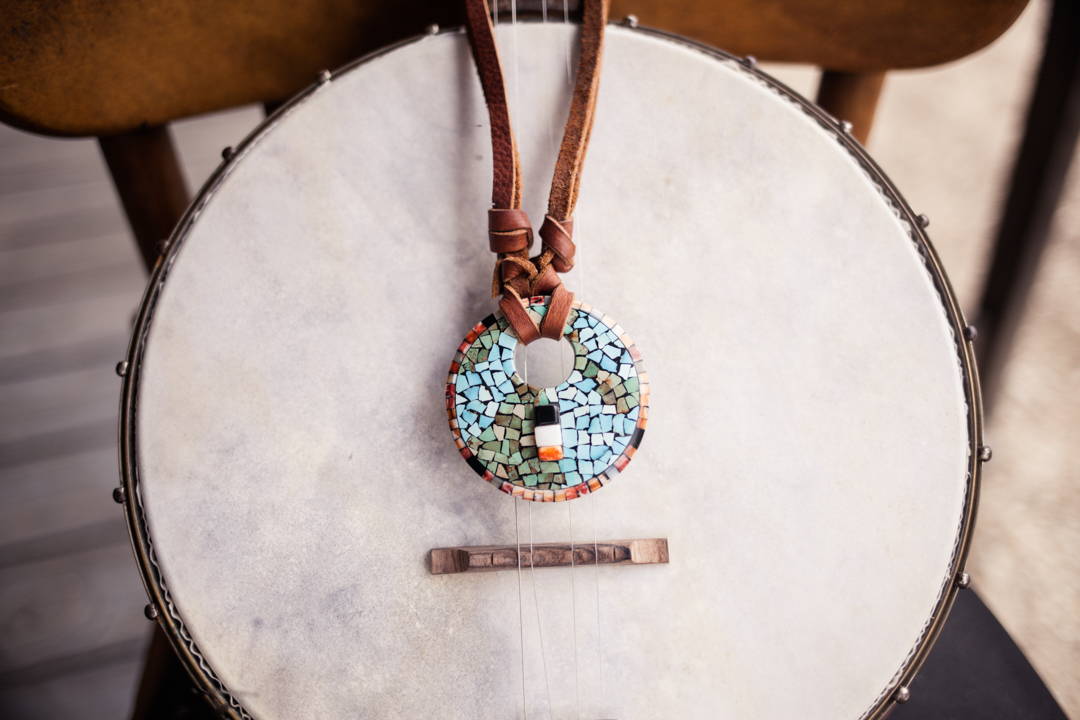 FORKS, y'all! And car batteries! Absolutely mind-blowing. Doesn't that make them even more beautiful somehow?
Beyond being eye-catching and unique and having a fascinating backstory, one of the great things about Santo Domingo mosaic inlay pieces is that they often incorporate a multitude of colors, which means they go with dang near anything and everything.
But what has them on our radar at the moment (told you we'd come back to this), is how absolutely beautifully they go with the Backwoods Barbie collection, and particularly the Chickasaw Basket pieces. We paired them with both the Workshirt and the Dress when we were photographing the catalog, and as we were watching the images pop up on the iPad, we could not stop repeating ourselves about how much we loved them together. (Unfortunately, we only have two of these necklaces in stock at the moment, so if you're loving the look as much as we do, might want to go ahead and hit that "add to cart"!)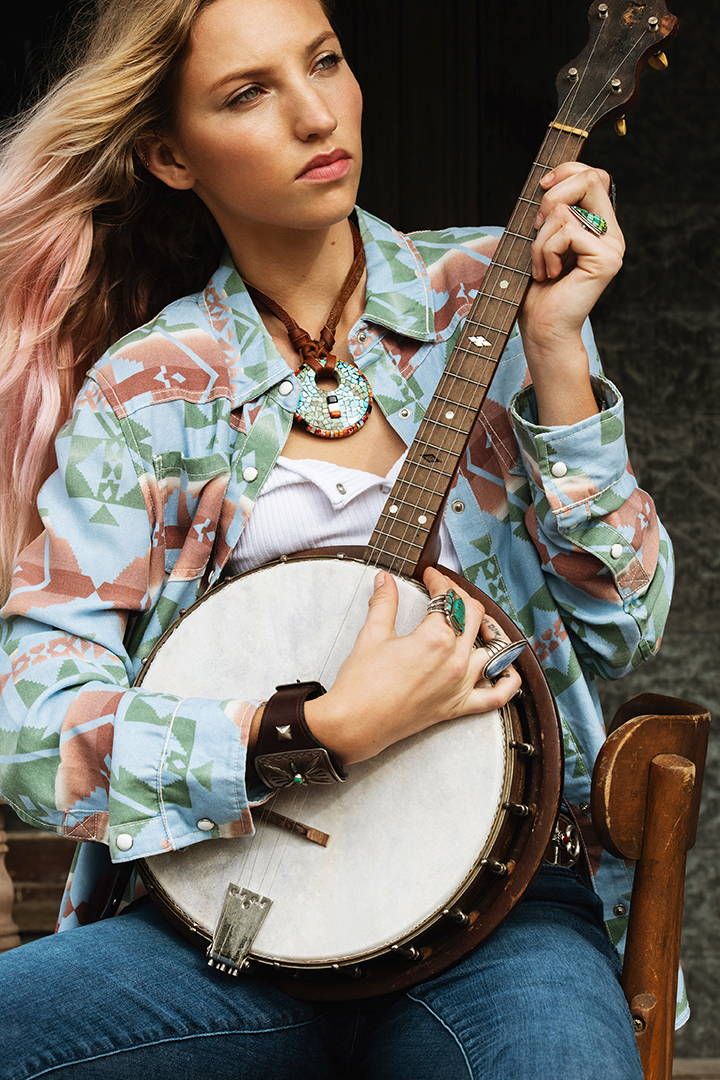 There is so, so much more history to the Santo Domingo Pueblo people and the craft than we could possibly get into here — we didn't even touch on the other beautiful pieces they make, like gorgeous mosaic dangle earrings (we've recently scored a couple pairs!) and the remarkable work they do with Heishi beads (that's a fascinating story all its own). El Palacio Magazine has a really great, informative article about Santo Domingo Pueblo jewelry if you're interested in learning more, but a huge thank you to Zoila and Shiprock Santa Fe for taking the time to speak with us and giving us a skim-the-surface crash course. If y'all are adventuring in Santa Fe anytime soon, stop in and see these fabulous folks!