Reliving the Grammy's with Tanya Tucker
RELIVING THE GRAMMY'S WITH TANYA TUCKER
Wow. What a ride. The last few weeks have been a rollercoaster. Every single gear in the Double D Ranch machine has been cranking overtime — from design to production to admin to marketing — in order to pull off the incredible feat that was the 2020 Grammy Awards.
We were glued to the Grammys from the first moment of the Premiere Ceremony until Song of the Year was announced (well, except for Cheryl's power nap, but can you blame her?!) and we felt every emotion imaginable: anxious, excited, overjoyed, ecstatic, moved, and oh so very proud — primarily of Tanya, but we must admit, also of how her outfits came together and how well she wore them.
But more than anything, we felt humbled.
After being completely absorbed in our own stresses and worries about everything we had to do, make, pack, fix, find and alter... we almost missed the forest for the trees. This was a monumental moment for us, for Double D Ranch as a whole, but it was a historic, life-changing moment for Tanya.
After nearly 50 years in the industry, and it not yet giving back to her what she had given to it, this was the day she might achieve that pinnacle goal of any musician: to win a Grammy Award. And she chose us , Double D Ranch, some country bumpkins outta Nowhere, Texas, to create the outfits that would be endlessly photographed and what would inevitably be the Grammy outfits that would live in posterity from one of the biggest days of her life.
So, yeah... we were deeply humbled. But not until we got a moment to process it. Before that, it was the opposite of the saying: there was the storm before the calm.
Photograph by Mitchell Franz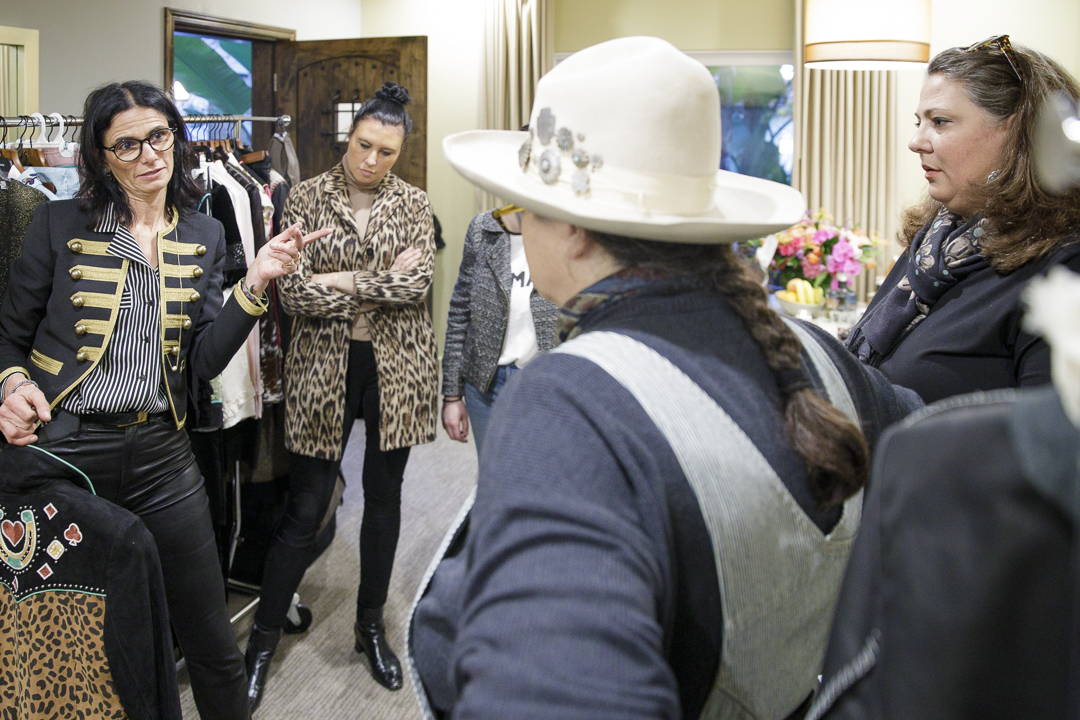 Photograph by Mitchell Franz
For starters, one of the suits we created to be an option for her Grammy performance — Bring My Flowers Now — didn't fit. And we didn't have any course of repair, because we didn't have extra fabric in that very specific shade of powder blue. So that was out. Now we're down to one.
Tanya tries on the second suit, Two Sparrows in a Hurricane. Same problem. Fortunately, this suit was black, so we weren't going to have trouble matching the hue, but we did have to alter it, and PRONTO. Stressful. (Fortunately, it turned out beautifully, and we're still so very pleased with how she looked on the Grammy stage.)
Luckily, everything else we brought fit like a charm. But that doesn't mean there weren't alterations. Decisions were changing by the moment — do we add beading, do we not? Crystals or no crystals? Ruffles or no ruffles? Every decision was a revolving door you might walk out of one moment and be asked to walk back in again moments later. And here's the thing: this is in no way a reflection on Tanya, this (we've learned) is just the nature of the beast at awards shows. Everyone has a full team of people weighing in and everything should be assumed as "tentative" until the moment of.
But we did it. We successfully outfitted Tanya for all three planned events and even one unplanned.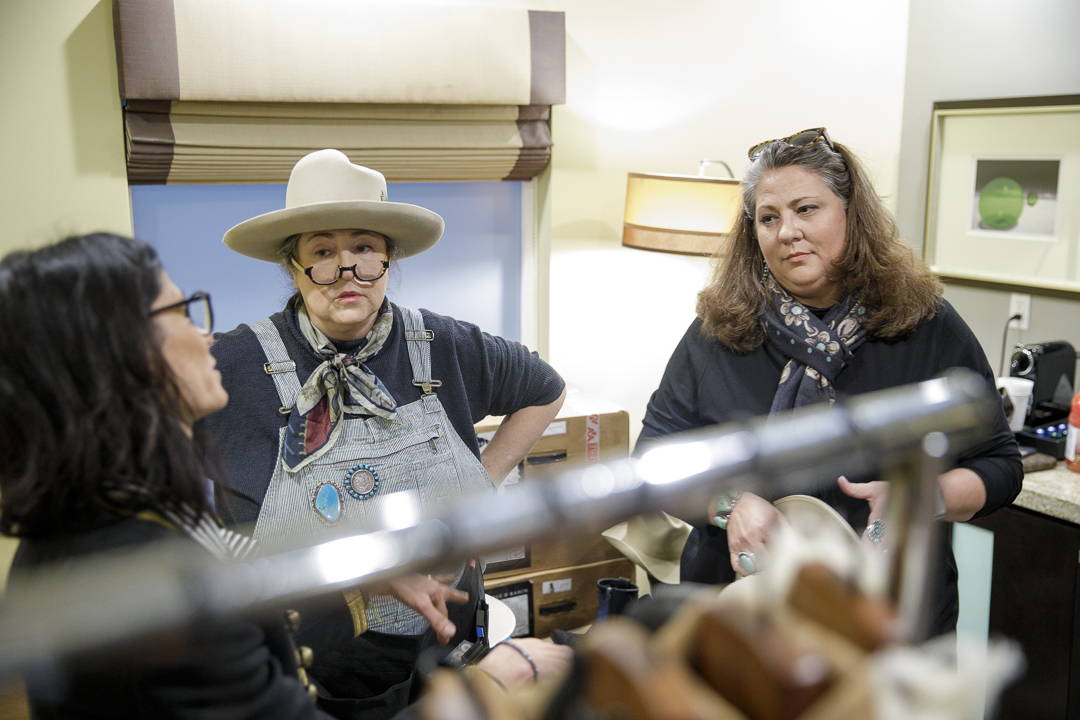 Photograph by Mitchell Franz
---
This was a bit of a curveball. We weren't exactly prepared to provide Tanya's outfit for this. It was the morning of Grammy day. So, we cobbled together what we still had on hand (that hadn't already been sent over to the staging room at the Staples Center) and she managed to walk out looking like a rockstar in the Jim's Pair-O-Dice leopard print pearl snap, untucked and belted with a vintage DDR belt, and completed her look with the Escalante Boot. (We even got to put a men's version of the Joe Buck Jacket on her squeeze, Craig Dillingham, who looked so ruggedly handsome in it he could've been straight out of a Ralph Lauren ad.)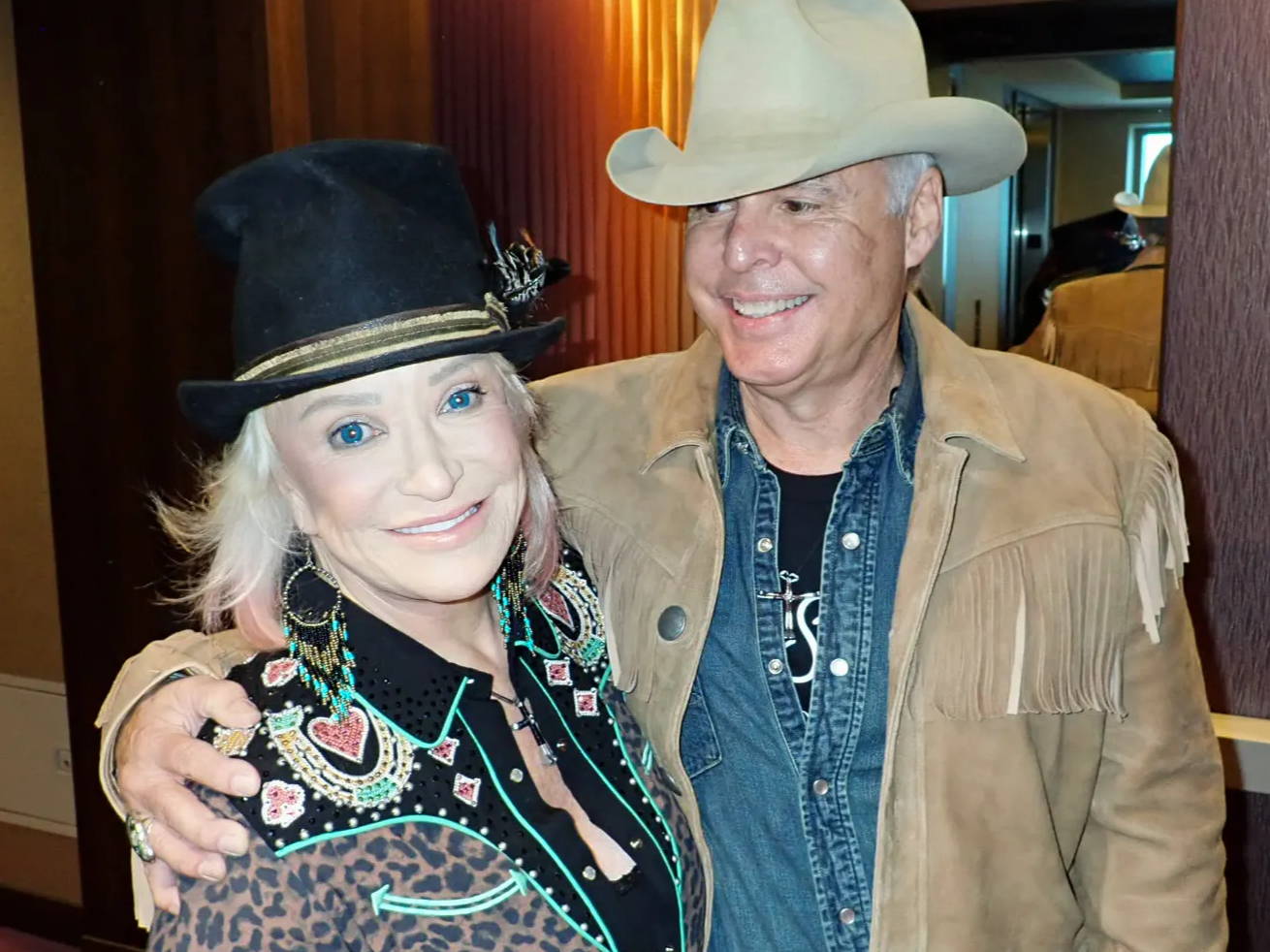 Photograph by Derrek Kupish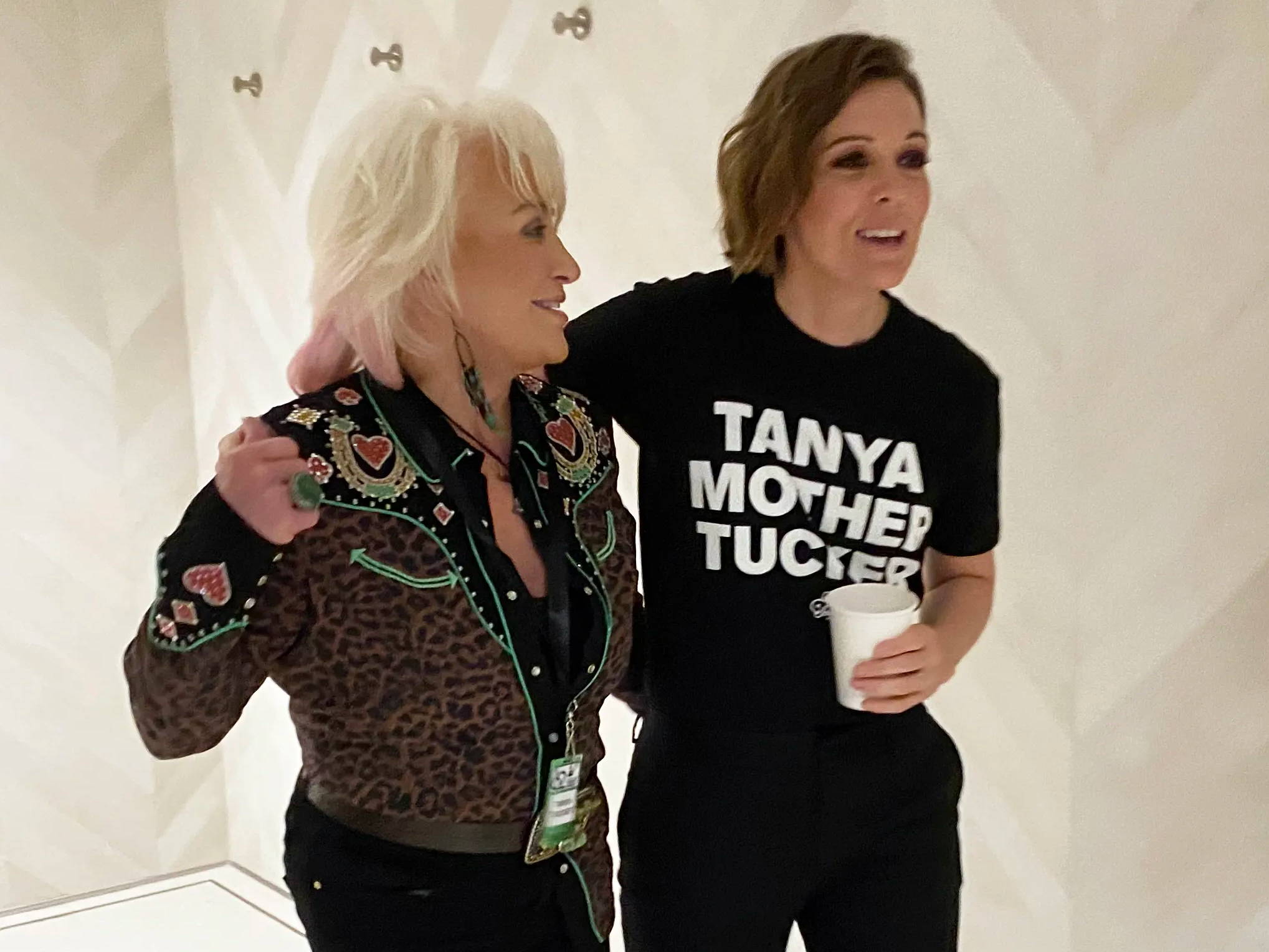 Photograph by Derrek Kupish
---
So, this is a ceremony that happens prior to the main event, where some of the categories are awarded due to limitations during primetime viewing. Seemingly, the country music genre awards get shafted to the Premiere Ceremony year after year. It's more casual in both feel and dress than the official ceremony. But it ended up being where our country music queen, Tanya Tucker, won her very first (and second!) Grammy Award. She took the stage wearing a hand-beaded Van Horn Jacket, a statement DDR trophy belt buckle, a fabulous turquoise cluster ring, some to-die-for Oscar Betz dangle earrings, and one of the most beautiful squash blossom necklaces DDR has ever had (sorry, that one's already sold!). She was officially a Grammy winner, she looked like a winner, and she spoke like a winner: "No matter how young or old you are, never stop following your dreams. Keep going."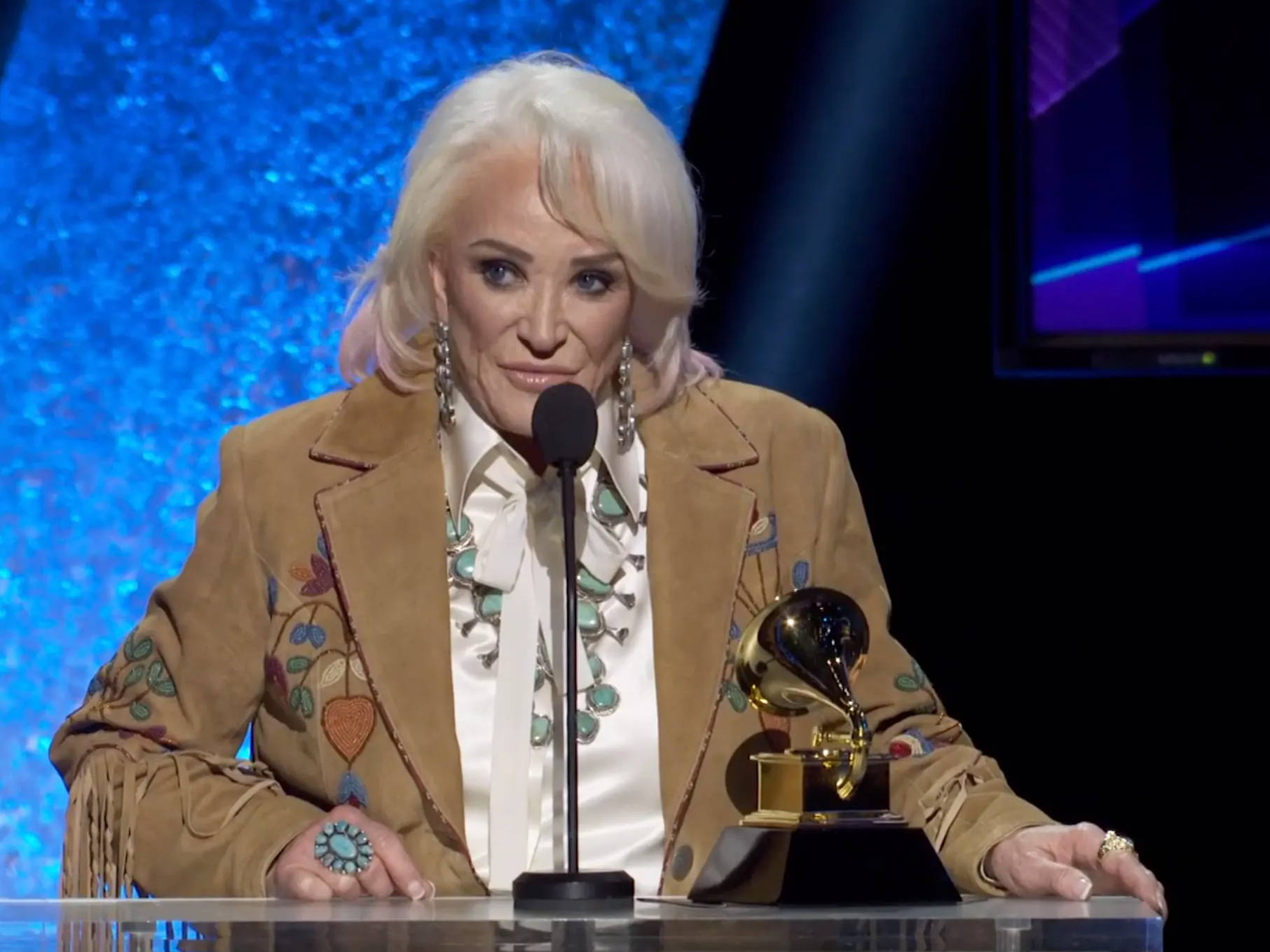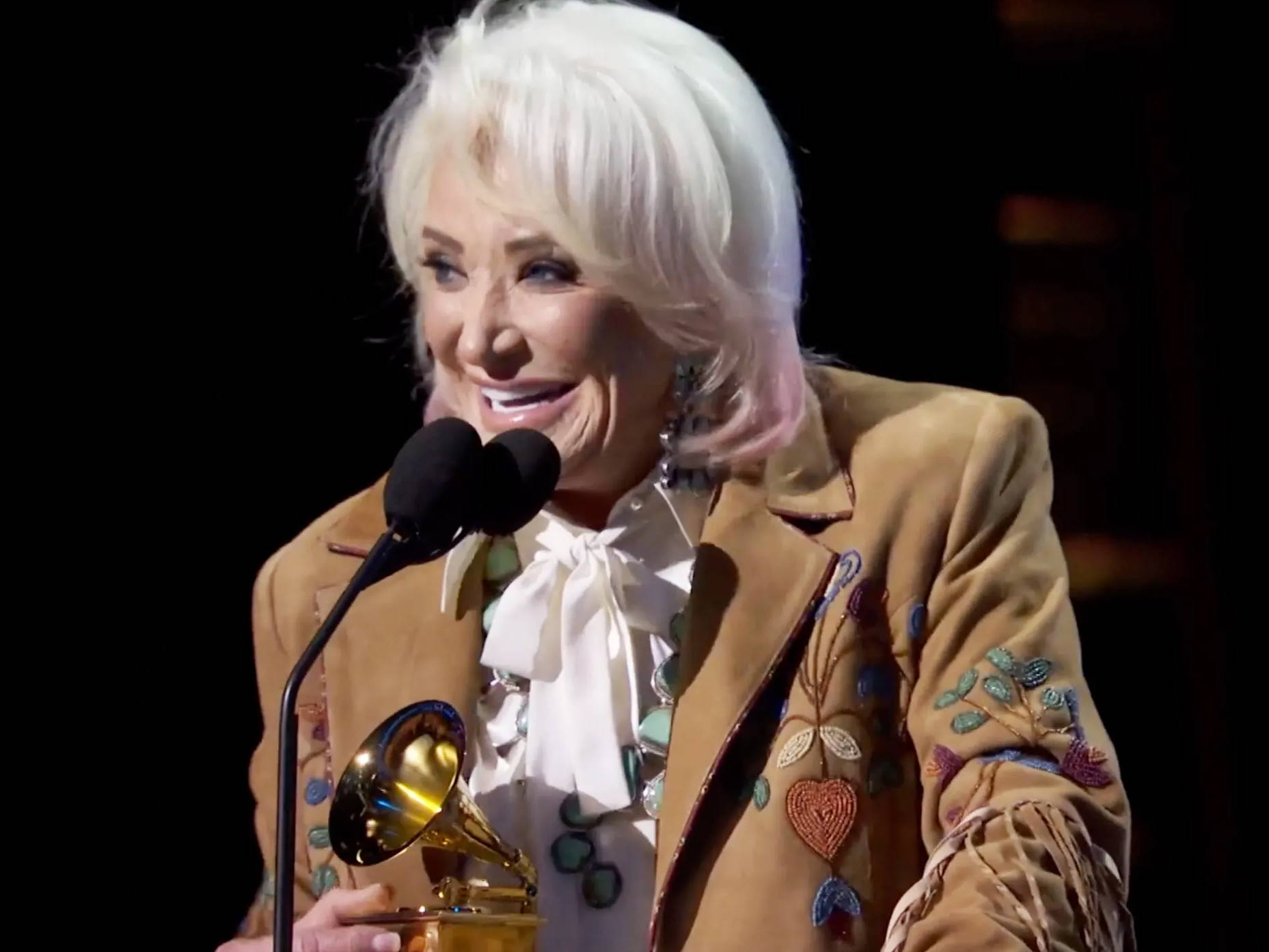 "No matter how young or old you are, never stop following your dreams. Keep going."
— Tanya Tucker accepting her GRAMMY
---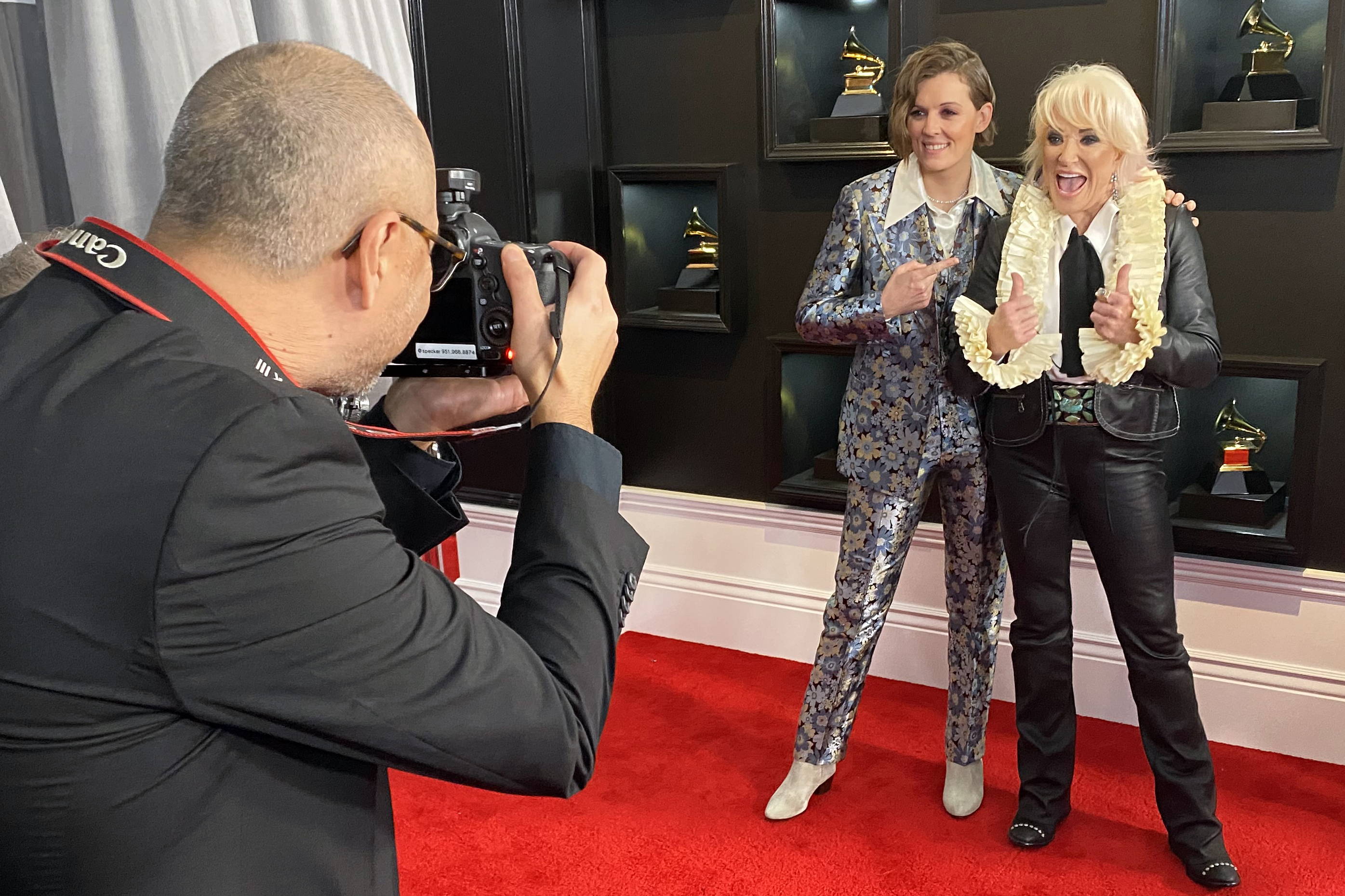 Photograph by Derrek Kupish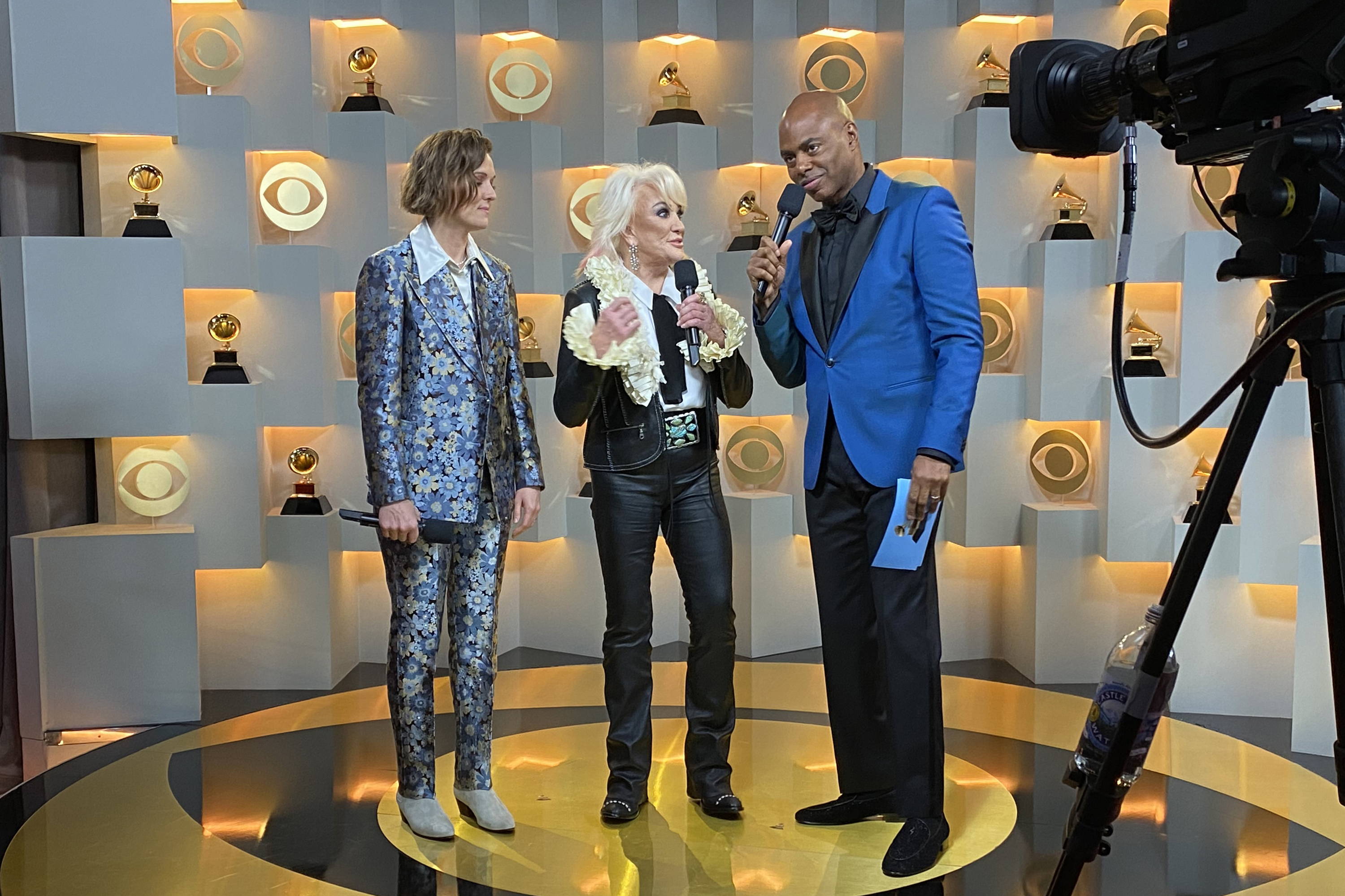 Photograph by Derrek Kupish
It's hard to believe Tanya Tucker hadn't walked this particular red carpet in more than two decades, because she commanded it so effortlessly. Perhaps it was that she already knew she was taking home two trophies. Perhaps it was her characteristic indifference to pomp and circumstance, undoubtedly exacerbated with age. Perhaps it just felt like coming home, walking a red carpet she first walked at 14 and has always known she deserved a place on. Whatever she was feeling, she looked beautiful — and happy — doing it. She wore a customized version of the Hand Me Down Jacket with long sleeves and added ruffled cuffs, black Tahoma Boots, and an enormous eye-catching vintage DDR turquoise belt buckle that was the perfect pop of color against her black and white ensemble.
---
It is not an exaggeration to say that heart and soul went into this suit. Cheryl sat beside Tanya (several members of her style team behind her and her sweetheart, Craig, at her shoulder) and talked through every detail of this suit, from the silhouette to the beading to the fringe. And the embroidery, the addition of "Beau & Juanita" to the sleeve, so that Tanya could take her parents to the Grammys. And we named it "Two Sparrows in a Hurricane". This conversation was January 9th, the Grammys were January 26th. Anyone who has ever manufactured anything knows we had to beg, plead, and promise, and call in every favor we were ever owed to turn this from a sketch to suit in time. Which we did. And it was worth it. Of course we're partial, but my God, Tanya shone on that stage.
---
And it didn't end there; Los Angeles still wasn't quite finished with us. The following day, Tanya, Brandi, and country music legacy, Shooter Jennings, were slated to perform on The Ellen Degeneres show, and of course, our girl needed something to wear. Her stylist Maryam found her a super-sparkly top and we topped it with the Head Over Wheels hand-embroidered goat suede vest from our upcoming Bakersfield collection, and accessorized with a statement vintage concho belt and the Almost Famous Boots in black. A little bit country, a little bit rock-and-roll — perfect for the trio's performance of "Hard Luck".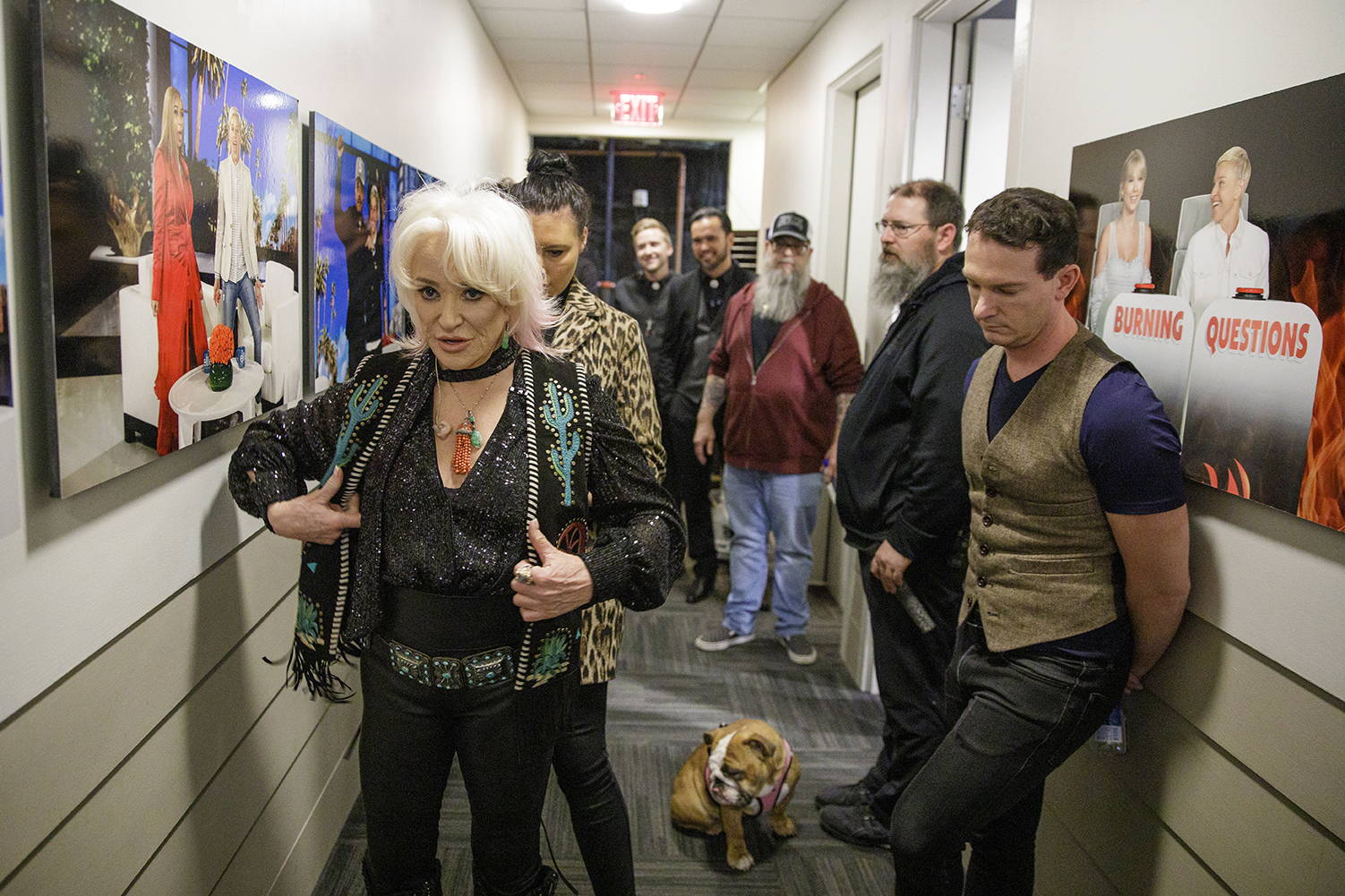 Photograph by Mitchell Franz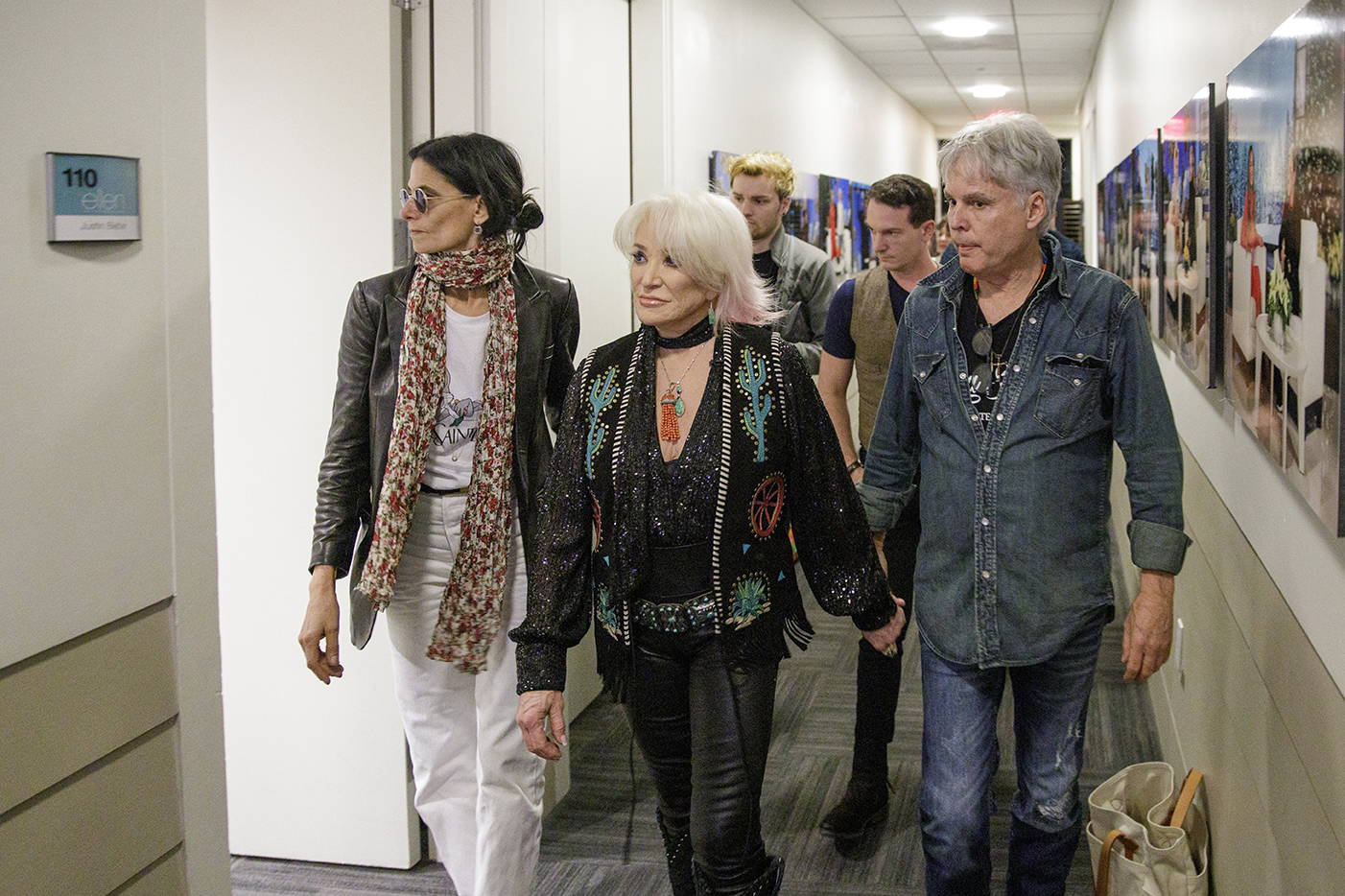 Photograph by Mitchell Franz
---
It's bittersweet that it's over. It's almost like a wedding; you spend so much time, energy, and focus on it, and then it's over in a day. But you don't regret a moment and you're glad for the memories.
But, God willing, we'll be right back here doing it all again before we can even blink. The days are long, but the years are lightning.