Millicent's Style: Concho Belts
Millicent's Style: Concho Belts
No one wore Southwestern jewelry quite as elegantly as Millicent Rogers. It can be argued that no one did more to bolster the advancement of the craft and Native American artisans than she did. It is not an understatement to say that you and I and the rest of mainstream America likely would not be so enamored by -- or even as aware of -- squash blossoms or ketohs or statement cuffs, if Millicent hadn't brought them to the forefront of fashion. She was truly a pioneer in that way. (There is a beautiful book that showcases her jewelry collection and museum; we highly recommend it.)
So much of the Taos collection is an homage to Millicent, and week by week we're celebrating her style in a series. (In case you missed the start of the series, you can read about Millicent's bracelets, how she perfected pins and statement rings, and how she popularized Native American necklaces.) This week, we're celebrating her collection for concho belts and exploring the different phases.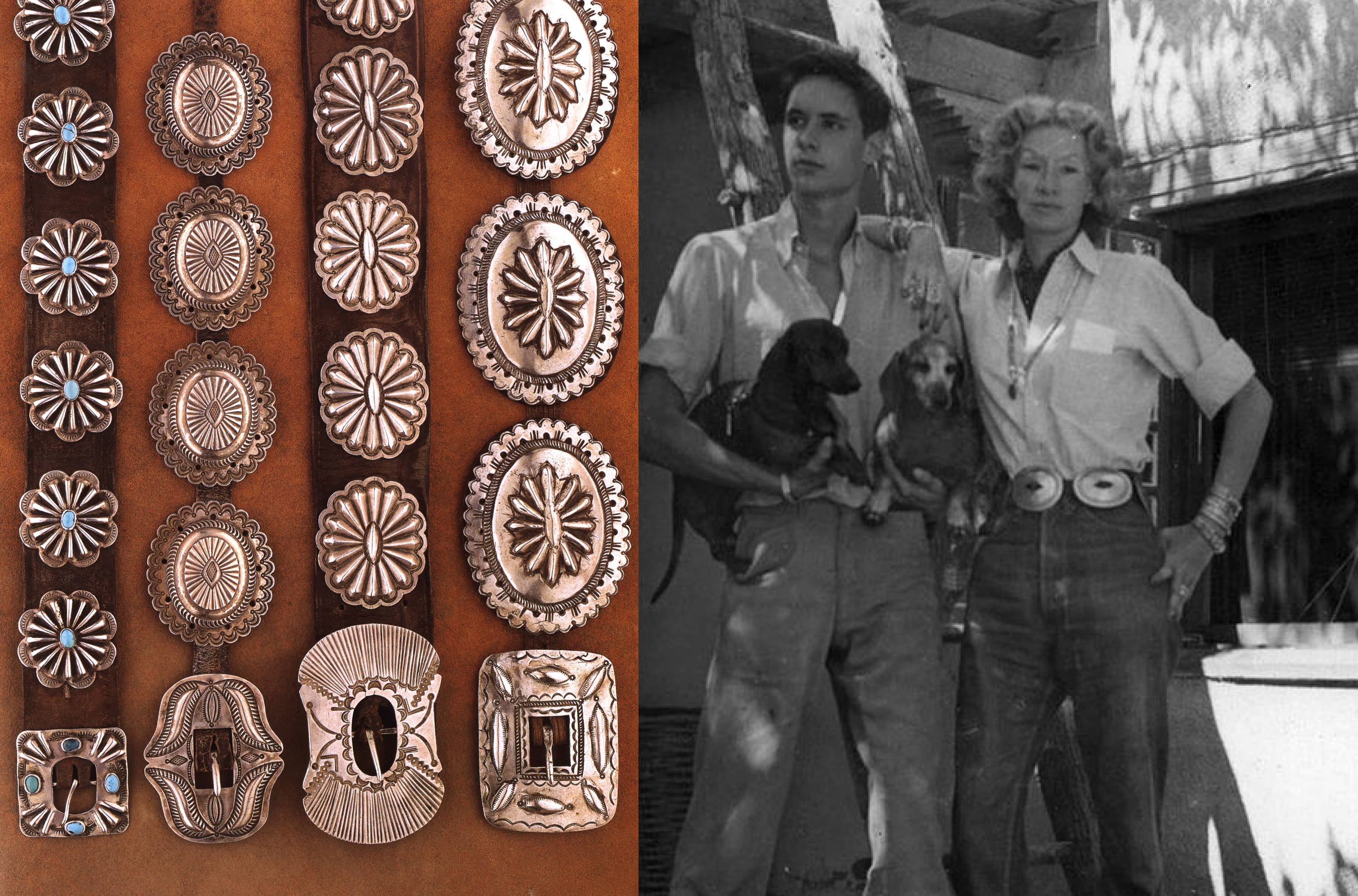 Truth be told, it's a little ironic that Millicent Rogers had such a strong affinity for statement-sized concho belts, considering she had such a teeny-tiny waist, but she rocked them nonetheless. Whether she sported it high-waisted with jeans or slung low across her hips with one of her signature velvet skirts, Millicent made the Southwestern style look stunningly chic.
We've never met a concho belt we didn't like – and they're among the most popular vintage pieces we sell – and it can be argued that we have Millicent Rogers to thank for that.
"I've always admired Millicent's style, for as far back as I can remember, actually," Cheryl said. "What she did for fashion -- specifically Southwestern style and jewelry -- is unrivaled. But it wasn't until well into adulthood that I had the chance to visit her museum in Taos. Needless to say, I was enthralled from start to finish, but I stopped in my tracks when I got to her concho belts. There were several hung side-by-side in a display, and it was so interesting and beautiful to see the variety -- sizes and shapes, silver and stone work, and the different phases of conchos. And I just had this moment of thinking, 'oh, these aren't just artifacts in a display case -- these actually hung in her closet and she would casually choose one to wear day to day.' It was very cool to imagine, to kind of put myself in her shoes. It felt like common ground."