Making Midnight Cowboy
There is no experience quite like a photo shoot. The days are long and the conditions can be unforgiving. There are a lot of moving parts, and a lot of things that have to align just right to get the shot. It's a lot of work, for a lot of people.
But still, there's a magic to it. There's a buzz, an energy, an excitement. There's something joyous and rewarding when Cheryl looks at the monitor and says, "You got it, Mitchell."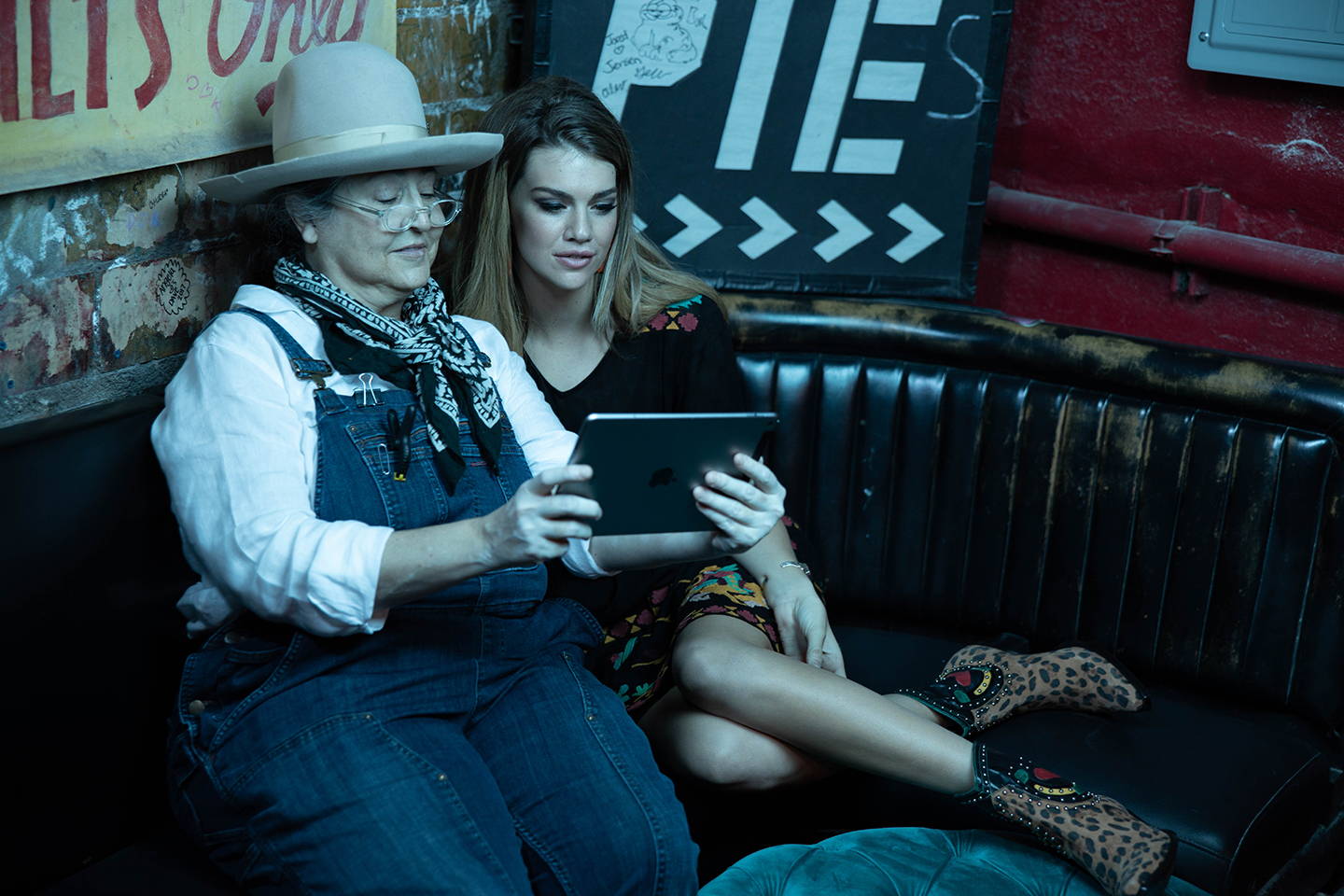 This probably goes without saying, but no two photo shoots are the same. Different settings can make it an entirely different experience. Here are a few things we thought you might find interesting or amusing from the Midnight Cowboy shoot, and photo shoots in general:
We shot the majority of the catalog inside the Continental Club in Austin, Texas. It's a very cool little bar and live music venue on S. Congress that we rented out for the day. We were amused at how many patrons attempted to come in for a drink at like, 2:30 p.m. on a Monday. How very #Austin.

Turns out, if you want to shoot some pool table action shots, you need to bring some money. (We had kind of forgotten that it requires coins… It's been a long time since our pool hall days.) Fortunately, Halley never cleans out her purse and was able to scrounge up some quarters. Then our only challenge was keeping our "background boys", Audrey's son Taylor and Cheryl's son Jack, from actually PLAYING pool and sinking all the balls before we could photograph them.
It truly takes a village. For every one model you see on the page, there are 10 people pulling clothes and jewelry, holding lights at awkward angles, touching up hair and makeup, stopping traffic, editing images, and grabbing lunch. It's truly all hands on deck. (At one point Hedy's phone rang, and without even glancing at it, she said "It's a robocall. Everyone I know is in this room.")

Everything fits everyone and nothing fits anyone. The samples are made before the models are cast, so everything is sized up and there is lots of clamping and pinning and swapping of boots that are two sizes too big.

DDR's longtime model Kaylin Rogers is absolutely lovely. To see her appear so sultry and smoldering in photographs is a true testament to her talent as a model, because she is adorably lighthearted and genial in real life.
There is always a curveball. Maybe a model gets sick. Maybe the wind kicks up on your outdoor shoot. Maybe you have no WiFi whatsoever. It's a good metaphor for life, really...

Lizzo is life. (*Warning* There is some language.) But the message is so empowering, so if you need to feel like your baddest raddest self, throw on "Truth Hurts" or "Good as Hell" and conquer the world. We even went out and bought a sound bar so we could jam it on set.

If given the chance (and permission) to write on the wall, we will always take it. Always. If you happen to be at the Continental Club in Austin anytime soon, keep your eye out for a little "DDR" and a "Play nice, be free."
---