Ladies We Love: Denece Boyd
LADIES WE LOVE: DENECE BOYD
She's the salt of the earth and tough as nails. This Dodge City cowgirl takes care of her farm and of her mother, all on her own, and she does it wearing Double D Ranch. Wolf Pack member Denece Boyd is a hard worker with a gravelly voice and a great laugh and an easygoing sense of humor. (We laughed through 90% of our conversation, so aside from the obviously somber statements, you can safely imagine every quote was accompanied by hearty laughter.)
While she grew up in a rural lifestyle, becoming a full-time farmer isn't exactly the life Denece pictured for herself.
"I grew up in Dodge, outside the city limits – the typical horses, motorcycles, all that fun stuff," she said. "Then I graduated high school in '78 and married in '79. I married a farmer. I never thought farming would be my life. I married him, and I worked at First National Bank in Dodge City for 10 years, and farmed after work. I took vacation one week during wheat harvest and one week during fall harvest. When I had my daughter, I didn't go back to work in town, I started farming full-time. And that's still what I do. My husband passed away over ten years ago, so I've been farming on my own."
Yeah, you read that right. Denece does all the farming herself these days. If you're even tangentially familiar with everything running a farm entails, you know that is no easy feat. And Denece doesn't deny that.
"No, it isn't. At all. It's every day, it's late nights, it's all the time," she admitted.
When you talk to Denece – her temperament, her affability, her positivity – you would never suspect the hand she's been dealt. Her husband passed away in 2010, at the same time she was slated to have a majorly invasive back surgery – rods, plates, the whole 9 yards – which they wouldn't reschedule. Her father just passed away in early March. In addition to the entire farm, Denece cares for her wheelchair-bound mother. Any one of those things on its own is a heavy load, and she carries them all with strength and grace and no complaint. (Even in our conversation, she only shared them to provide context and timelines, never in a "woe is me" kind of way.)
But that's just how Denece is. She stares down every curve ball life throws at her and swings for the fences, and she battles hardship with humor.
"It's been a busy first of the year, trying to get everything going," she said. "2020 has been horrible, hasn't it? I need a redo. Can we do a two-second reboot? Clear it out and do it again. That seems to be my story – if life can bring it, it just keeps a'coming! And it's just like, 'Ok, here we go!'"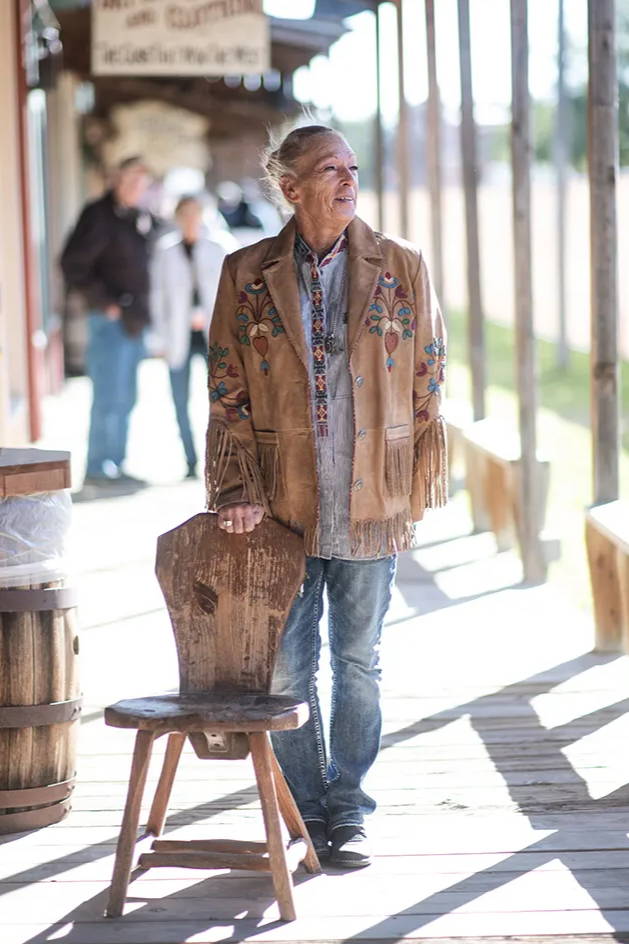 Sounds a lot like the Double D story, too. Maybe that's what drew us to her and her to us – kindred spirits in overcoming obstacles.
Or maybe it was just the clothes.
"Well, I had seen Double D because I was a heavy shopper in the 'big city' of Wichita," she said. "I had seen Double D Ranchwear, but I didn't REALLY know what it was. But I've always liked the westerny look, even when I was a kid, even in grade school, I liked the fancy rodeo girl type stuff. I always shop my jeans at The Buckle, and Jenny, who was the manager there, left and went to work for Cummings [Carousel]. And she called and said, 'Denece, I found it! You've gotta come in here, you've gotta come see this stuff.' I shopped some of the spring stuff, but it was kind of picked over by then, but then Lynita [Brown] came in and was showing fall stuff, I believe, and I ordered some of that."
Lynita has been one of our DDR Sales Reps for many, many years and she and Denece have established a rapport during her visits to Dodge City. When Lynita was temporarily unable to travel due to an injury, Audrey filled in for her on some of her sales appointments. Denece has a vivid – and comical – recollection of Audrey's visit to Cumming's Carousel.
"When Lynita had her wreck, that's when I met Audrey," Denece recalled. "And I had no idea she was one of THE family. I went in and I said 'I can't try anything on, because I'm fresh out of the field.' And that just cracked her up. So here I am, trying things on, and I'm just kinda tossing stuff at her – had no idea. When I learned who she was, I thought, 'Oh my god, she must think I'm such an idiot.'"
(We assure you, she doesn't.)
"And then all of them were here for the meetup at Cummings Carousel. I think between Lynita and Audrey, I guess Cheryl had heard about me before we met, because I came walking in and they were like, 'THIS is Denece'," she laughed. "And I was thinking, 'Oh god, WHAT did they tell her?! Is it good or is it bad?'"
Though we had heard about Denece before we met her, she still makes an impression. There's just something unexpected and impressive and genial about her. And it's fun to picture her running a combine in her Double D. Which she does.
"I think when I came in I had shorts on, 'cause that's what I prefer when I'm going to sit in a tractor all day, to be comfortable," she said. "But I know I had a Double D shirt on – and I know it was dirty! Sometimes they get dirty, sometimes I get grease on them, but I wear them. I don't wear them if I'm going to be doing fencing, because I don't want to get them snagged or caught on anything, but I cut in them. If I'm on the combine, I'll still have my Double D stuff on."
Does a person get any cooler than that? Taking life by the horns, and doing it in style. We love it, the juxtaposition of farming and fashion. And Denece humors our fascination with it.
"Cheryl said, 'I want a Green Acres picture!' and I told her, 'Oh, I can do that!'," she laughed.
And she did, she sent us a picture of her decked out in Double D standing next to her combine. She obviously belonged in our Wolf Pack.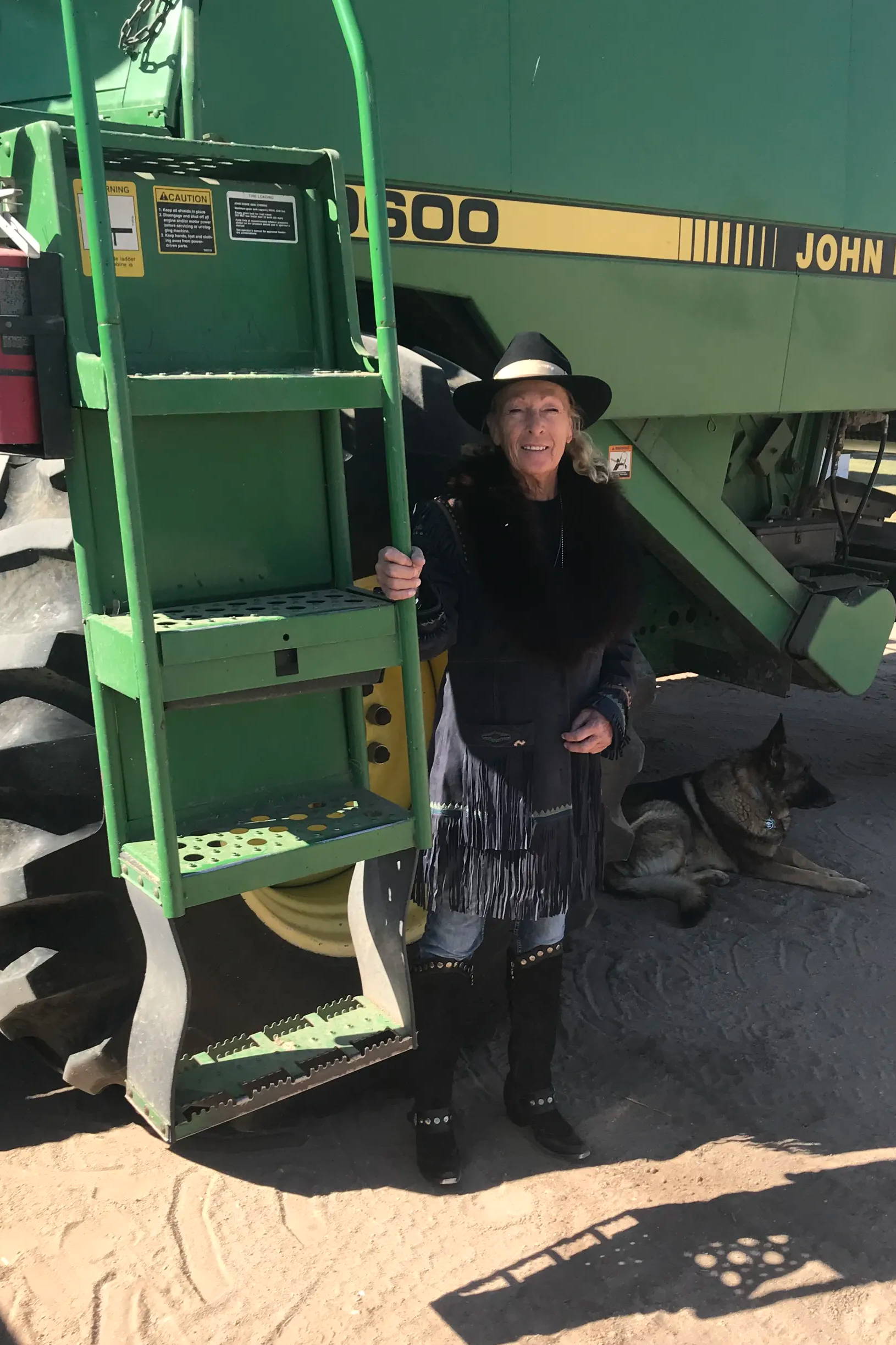 "The thing is when I met Audrey, she said 'Hey, we want to start a Wolf Pack group through Addiction,' she asked if I'd be interested in being part of it," she said. "And this was still in talks, they didn't have tags or anything yet, but I told her it sounded cool to me. I've never been part of any kind of women's organization, but hey, if it's about the clothes, yeah, I'm in."
Though she lays pretty low in the Double D Addiction Facebook group for the most part, Denece truly gets the spirit of the group and the purpose behind the community. Unlike a lot of social media, Addiction is a place where we are unapologetically ourselves and get really real about the things we're going through – the good, the bad, and the ugly. And the comical. And it makes us all feel a little less alone.
"I don't post a lot, but I read everybody's stuff," she said. "Occasionally, I will, I respond to Cheryl and Audrey and stuff, but I read them and I enjoy them, and normally, I would have a lot of comments, but I just think to myself, 'No, they don't need my two cents.' If I am just out farming, I'll respond when I'm in the tractor, but otherwise it's late at night when I finally can get on there and see what's happening out there. Sometimes it's 3 in the morning, and I'm laying in bed and I'm reading this stuff, and I'm laughing. I think some of the stories and things that people post are just hilarious. You think, how could that happen? Things happen to them like things happen to me where it's almost like 'You're not gonna believe this…' Nobody's really griping about anything, they just tell a funny story that you know was not funny at the time."
And she's right. That's what we do. Sometimes you just gotta laugh at yourself to keep from losing it. (Lord knows we're all doing a lot of that right now!)
We always ask everyone we interview if they have a favorite Double D piece of all time. Without fail, they cannot name just one. Seriously, 100% of the time, they name one, and then IMMEDIATELY think of another one. We find it both flattering and hilarious. Denece did not disappoint.
"I do! It's a leather jacket with the twisted fringe with the cheetah print," she said, referring to the Cheetah Chic Jacket from 2000. "I think Audrey told me they're going to redo it for the thirtieth. Well, that one and then that biker, [Angels on Horseback]. It has all the patches and the pins all over it, I've always watched for my size to come up for sale." (So, sisters, if you've got one you're looking to part with, reach out to your gal, Denece!)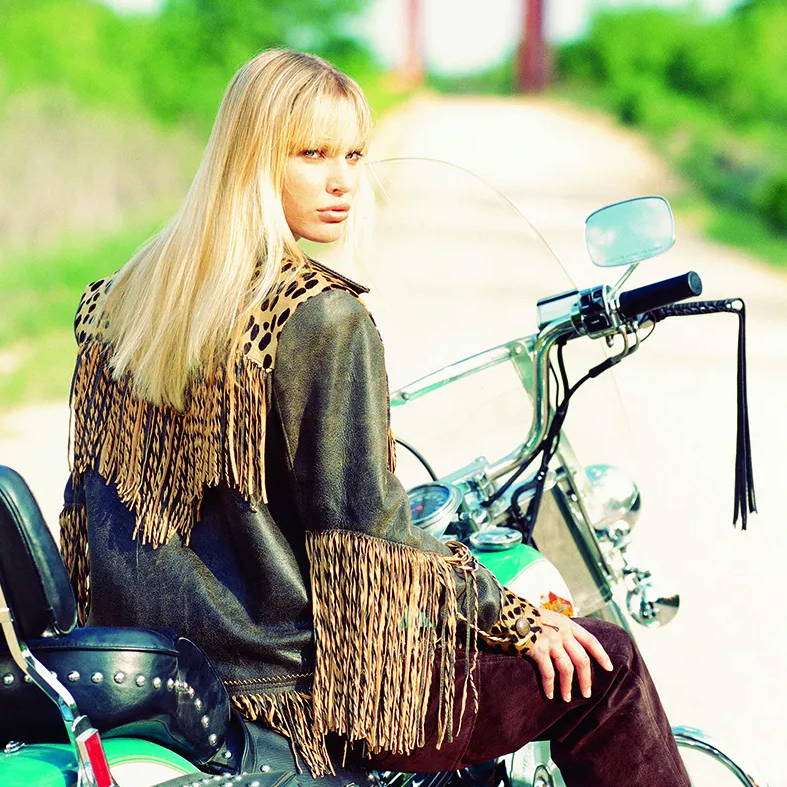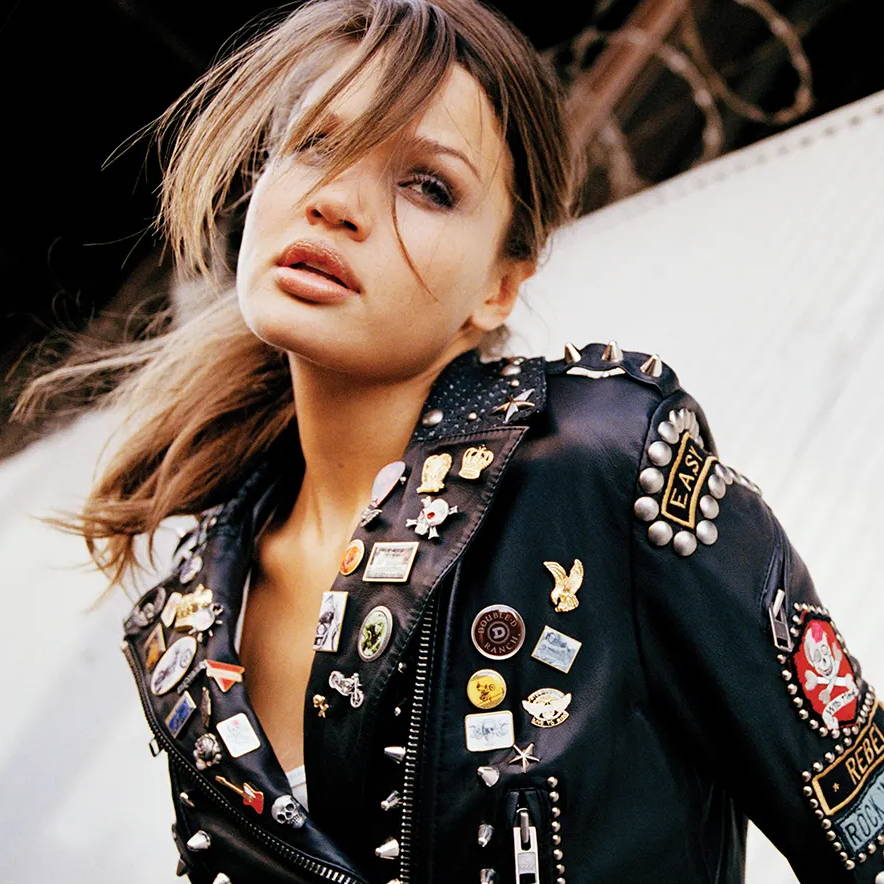 Understandably, those are some standouts as all-time favorites, but she also had a rapid response to favorites from the current collection, Backwoods Barbie.
"I like the [Bargain Store Top], the Dolly pink top with the denim patches," she said. "And then, the bright yellow Let'R'Buck top, Circus Rodeo. I have the vest, too."
Can't you just picture those climbing up the steps of the combine?
---