Holiday Tablescapes with Carla Gniffke
HOLIDAY TABLESCAPES WITH CARLA GNIFFKE
Carla Gniffke has a gift. And being the God-loving, kind-hearted woman she is, she's sharing it with the world. In advance of the upcoming holiday meals, we are, in turn, sharing it with you.
Carla has an eye for arranging, whether it's a table, a room, or an entire home – and she actually enjoys doing it on a dime! (Now you're speaking our language!)
"I've always had a little bit of a flair – and an eye – for creating a lovely space," she said. "And often times, usually, working on a budget, or using items that have been discarded by someone. I think for me, it's a picture of the way God works, he takes the rejected and the imperfect and makes something beautiful out of our lives."
God is at the forefront of Carla's life, which is immediately evident when you speak to her. She is also immensely devoted to her family (husband Cary and beautiful daughters, Cameron and Clarin) and the meaningful people in her life. She uses her talent to cultivate and foster her relationship with all of the above.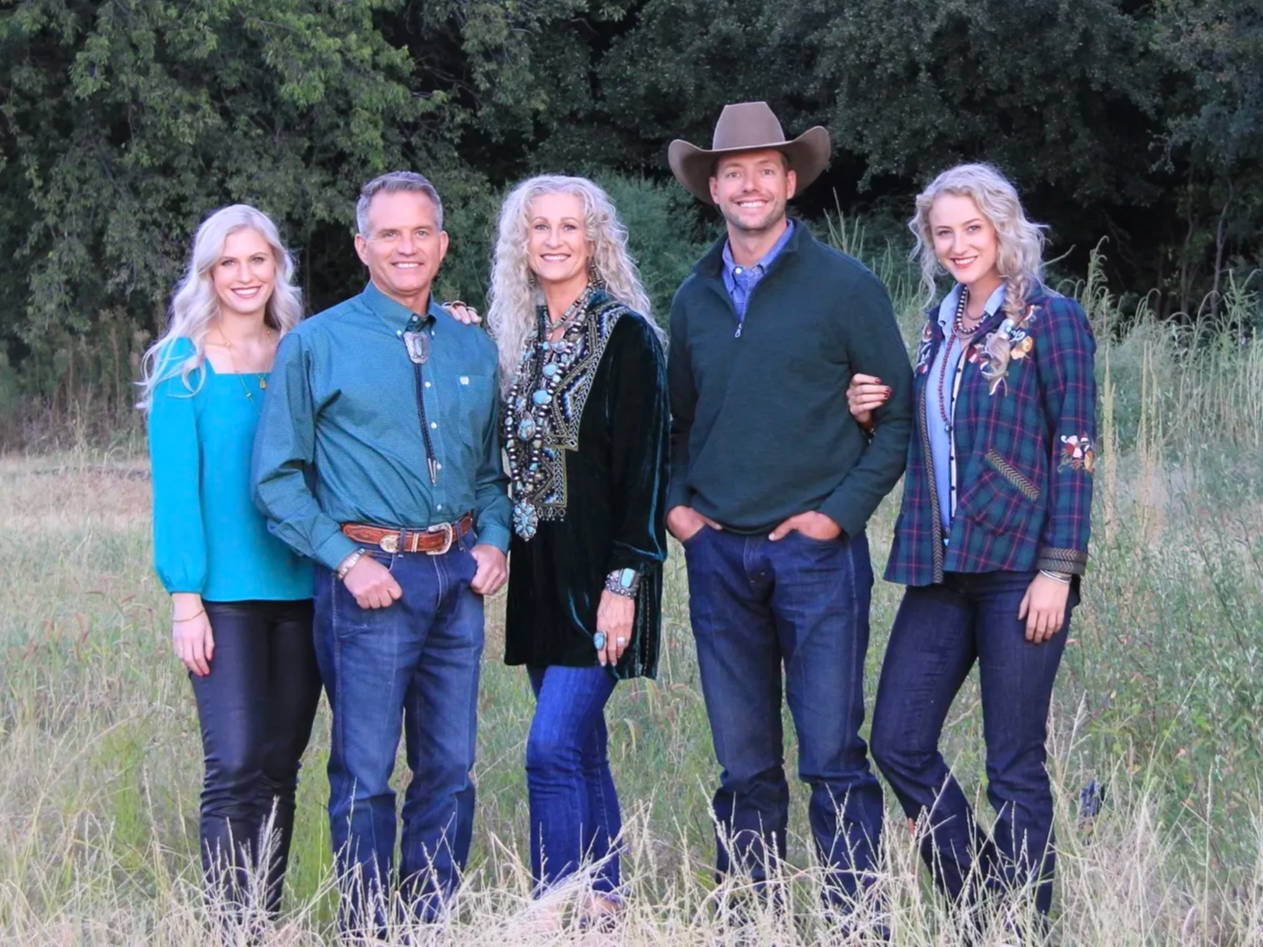 "I like to throw tea parties," she said. "Whether it's just one friend coming over or, I do try to do maybe a yearly tea party with a group, I always try and incorporate [in the table setting] either a scripture or an item that encourages the spirit or the soul."
For her, it's as much about what goes on around the table as what goes on it.
"Ultimately, as we're sitting around the table, I want it to be pleasing to the eye, something that's new and different, and a place to talk about scriptures or have heartfelt conversations," she said. "I want my guests or my family to go away loving and feeling pleasantly satiated from a delicious meal and a nourishment to their soul."
For Carla, it goes beyond a talent, it's a passion and a calling. Not only is she using it to create amazing tablescapes that facilitate impactful conversations with the people in her life, she also uses her talent to help women in transitional phases of their lives (recently widowed or divorced or simply new empty-nesters) rearrange their homes in such a way that it provides them a familiar, but fresh environment for the adjustment.
"I do this by, for the most part, using furnishings that they currently have; by rearranging or possibly refreshing those pieces in certain ways, accessorizing and helping them make decisions, to make that space a welcoming home," she said. "I feel most fulfilled when I can help someone make their living environment comfortable for them."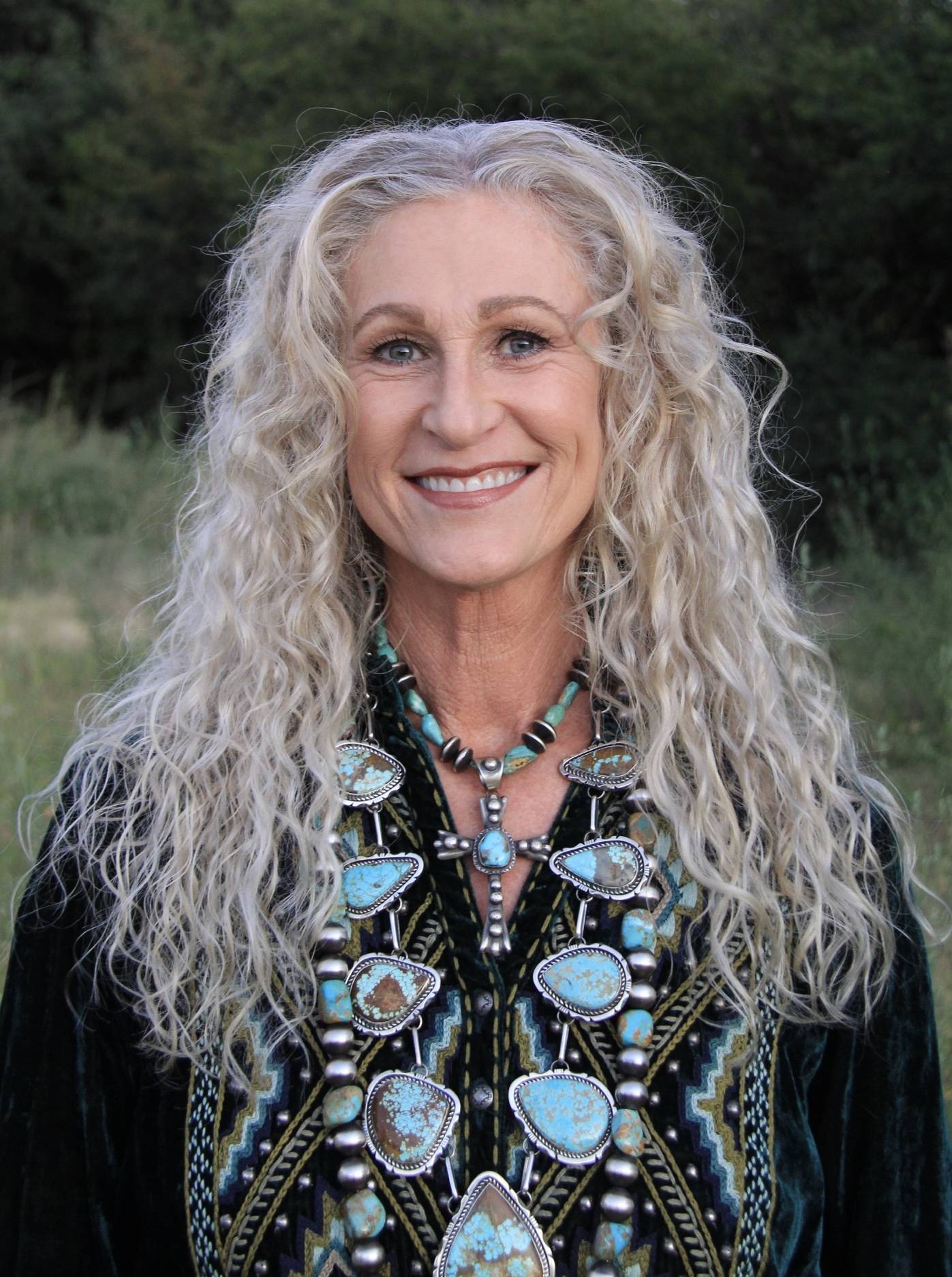 In case you're wondering, Carla doesn't have any formal training in this arena (she majored in agricultural education), just an abundance of God-given talent.
Because we admire her talent and creativity so much, we asked her to stage a holiday table and let us in on some of her tricks of the trade. Not only did she not disappoint, she outdid herself by setting two: an informal breakfast table setting and a more formal dinner setting. Naturally, both are fabulous.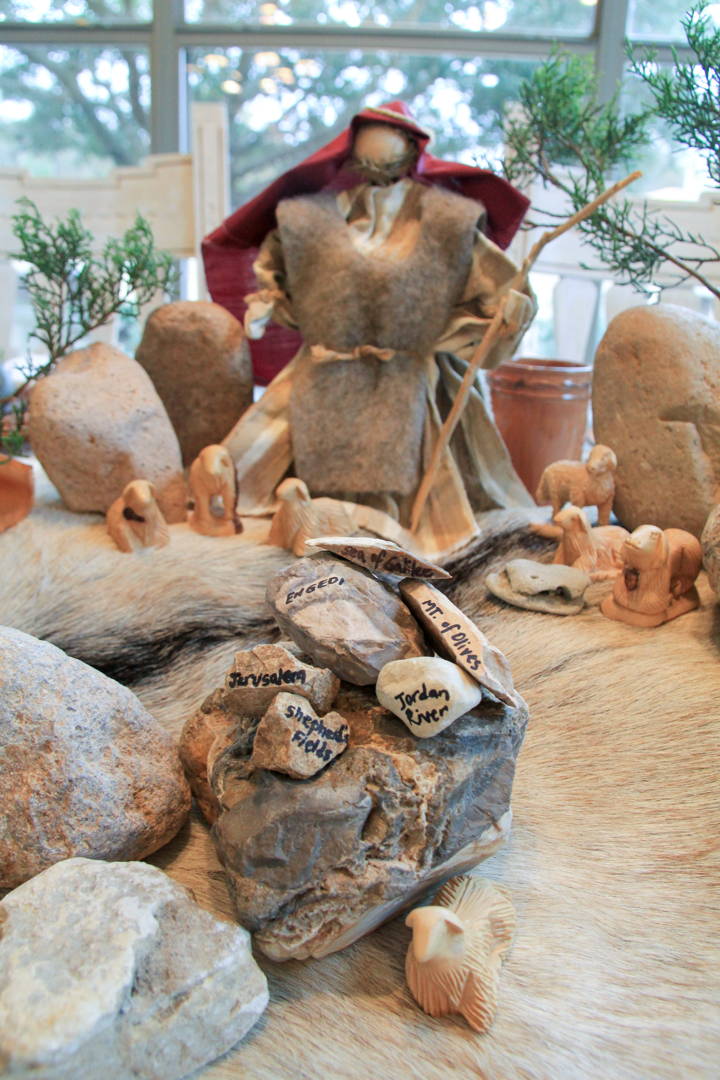 Bring the Outside In
"I love using elements from nature."
Try adding stones, pine cones, or even something like a driftwood branch to your table setting. And don't be afraid to incorporate animal accents, like these gorgeous hand-carved antler utensils that have been passed down to Carla.
Mix It Up
"I like using hard and soft textures together, like the hide and the fur and the stones," Carla also suggests to blend high-end pieces with bargain finds. "I've got some WalMart mixed in there!"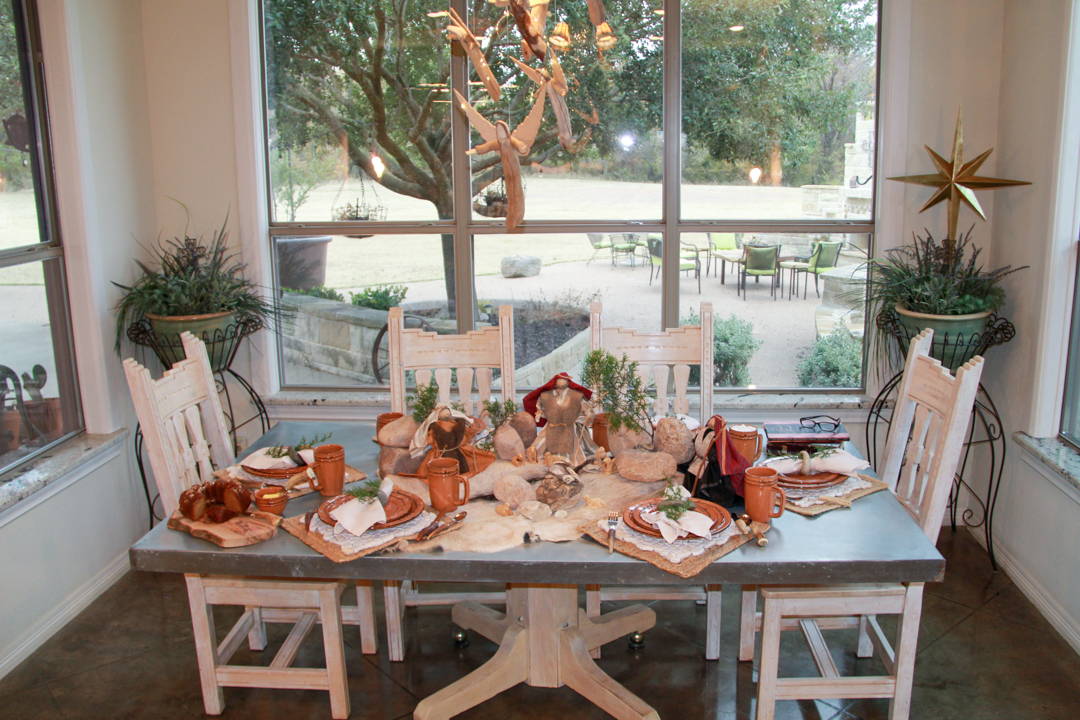 Bring your memories
to the table
"Behind each of those, are collections through the years. The napkin rings, I got at the Boulders Resort in Arizona. These little shepherds the girls and I had made in Arizona." And, of course, the handmade antler utensils that were made for Carla's father by an artisan in Oregon in exchange for the use of his warehouse.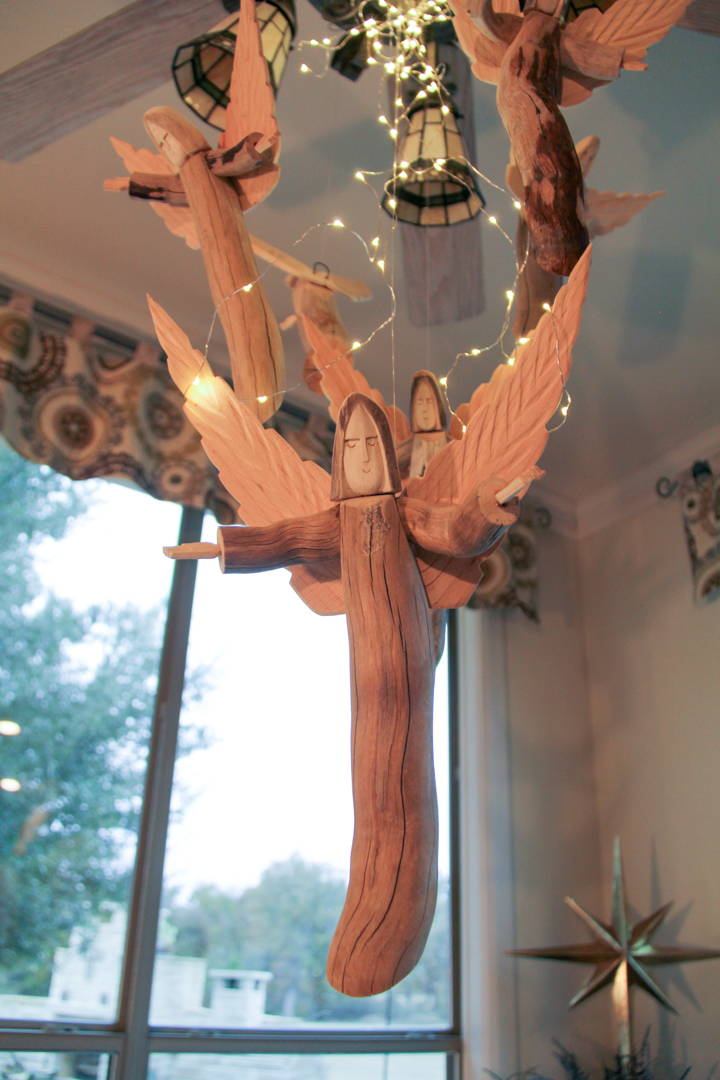 Decorate with Dimension
"I like dimension, I feel like it opens up the space to different levels of conversation."
In addition to building dimension from the table up, Carla's taken a unique approach by incorporating wooden angels descending from her chandelier.
"The angels, I've collected. They're Louise Ortega out of Santa Fe, and I just really liked the natural wood look of them."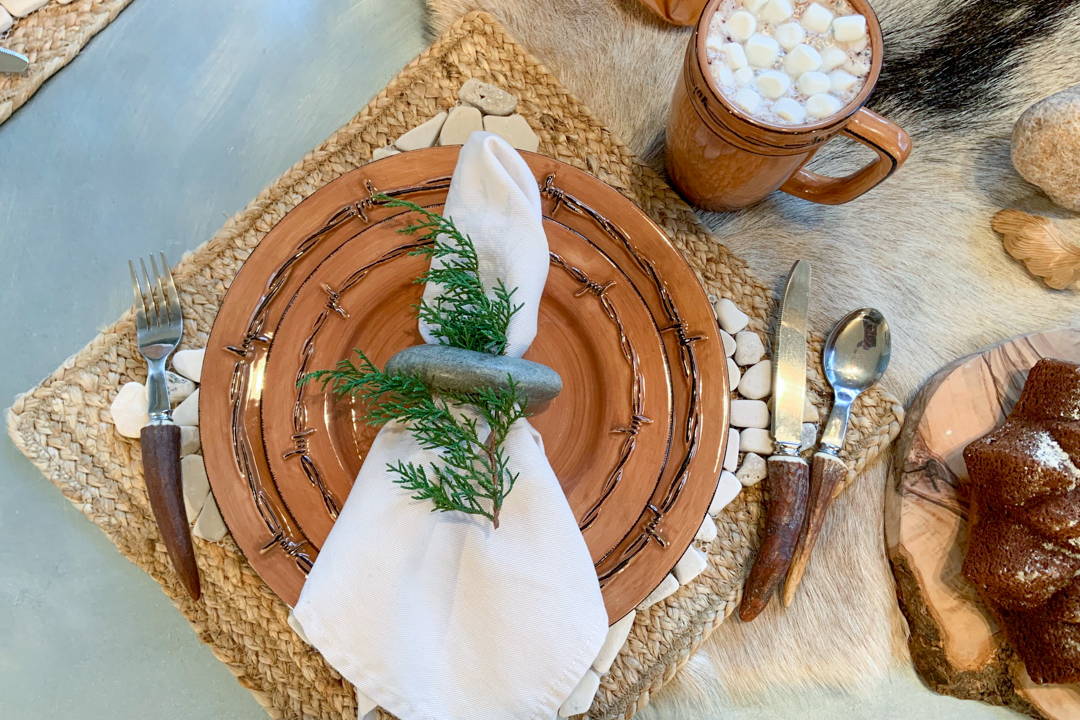 Look for Inspiration in Unexpected Places
"The tile sections I bought at Home Depot, they have with the pebble rocks that are adhered to it, to lay atop the burlap or sisal placemats that I got from WalMart."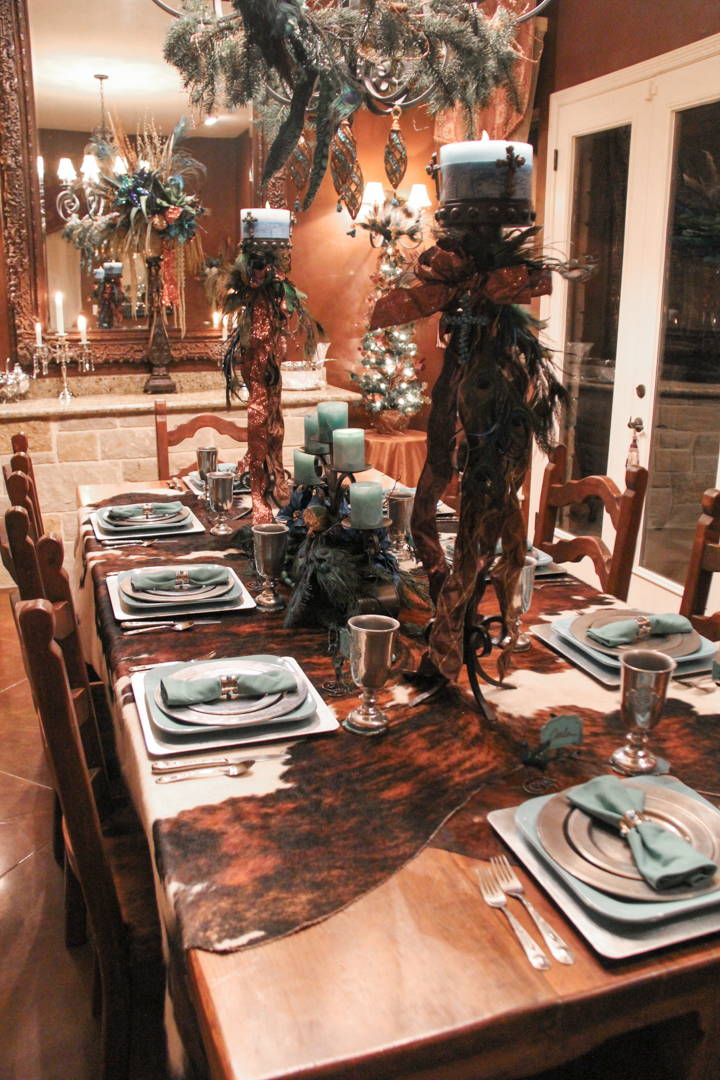 DEFINE YOUR STYLE
When you're designing or decorating a space, it's a good idea to define the style or theme you're going for to help maintain a cohesiveness to the end product.
"I guess 'Elegant Ranch' is what I would call my style," Carla said. "So you can see why I love Double D! They blend with that."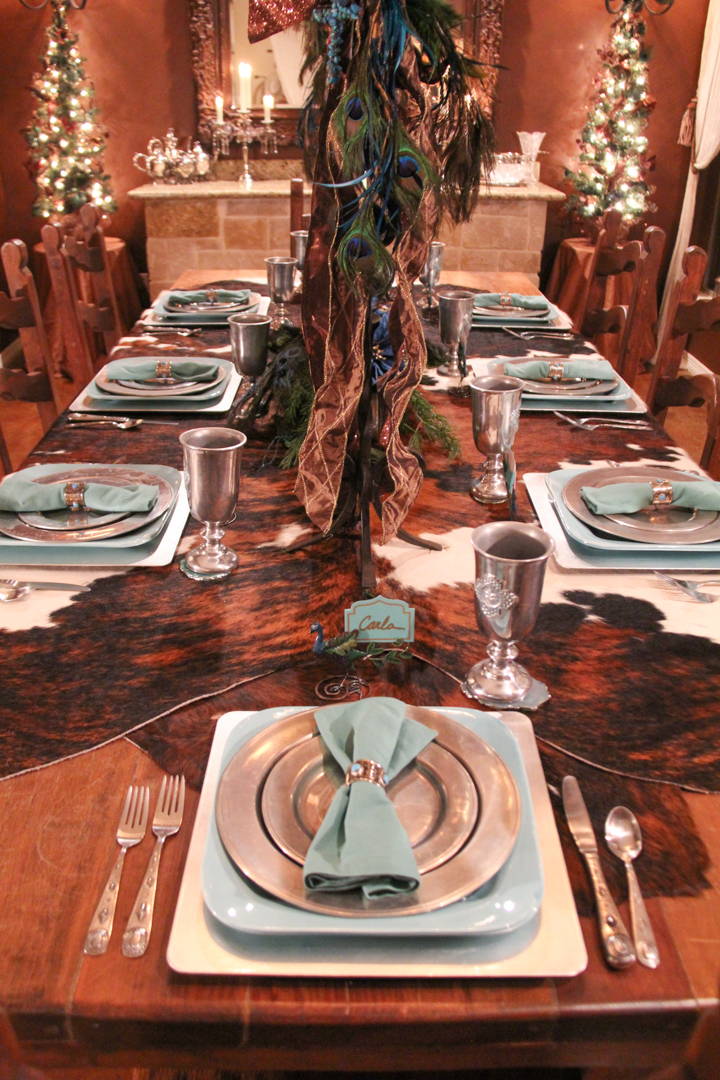 Use Old Items in New Ways:
Carla often incorporates other everyday items that you might not expect to find on a dining room table, like pieces of jewelry or carved stones, and one year, she even used sod on her spring table.
"I think when we see things we don't expect in a dining room, it relaxes people in a different way or puts them in a different state of mind," she said. "A cowhide is our tablecloth in the dining room. It cleans off easily, it's wonderful! And it's a really great backdrop for a table setting."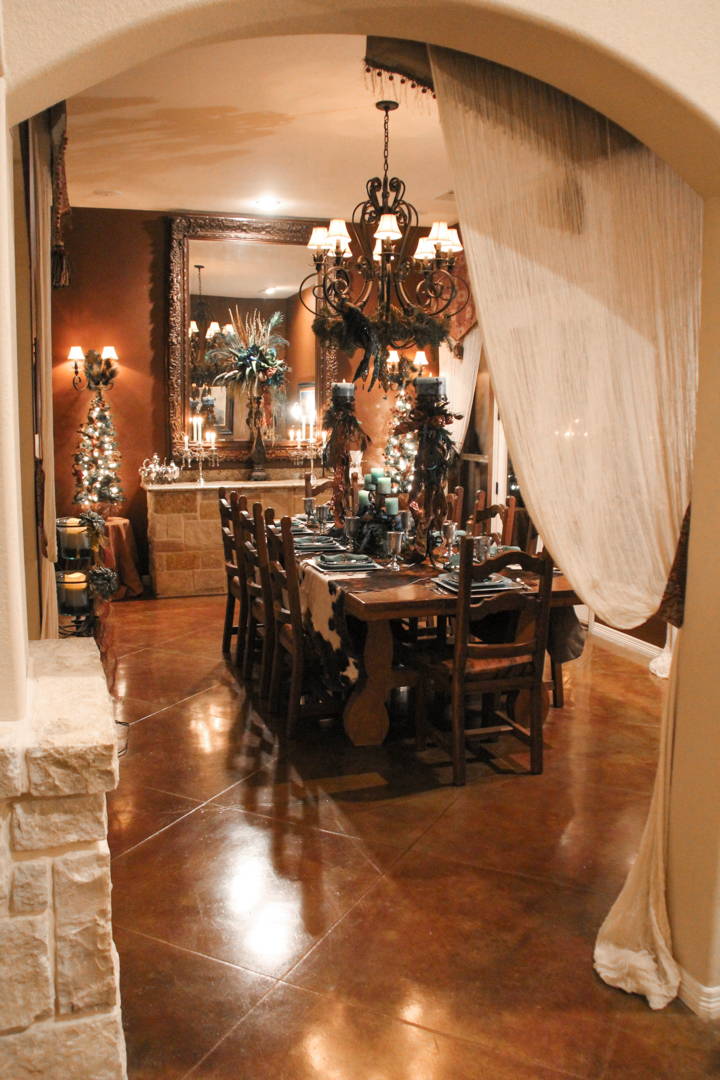 Don't Be Afraid of Dark & Dressy
This year, Carla has gone with turquoise and jewel tones.
"I like a little more formality in my dining room. The colors that are rich and dark lend themselves to lingering a little bit longer, and a feeling of relaxation."
Establish Your Signature
For Carla, it's her silver chalices. Not only are they unique and beautiful, they have a special place in her story.
"When we got married, I wanted the Wilton Armitale versus china because I loved that look, and it's been wonderful because it doesn't break, so it's made it through all the moves we've made. And it's gotten a really nice patina as it's aged along with us."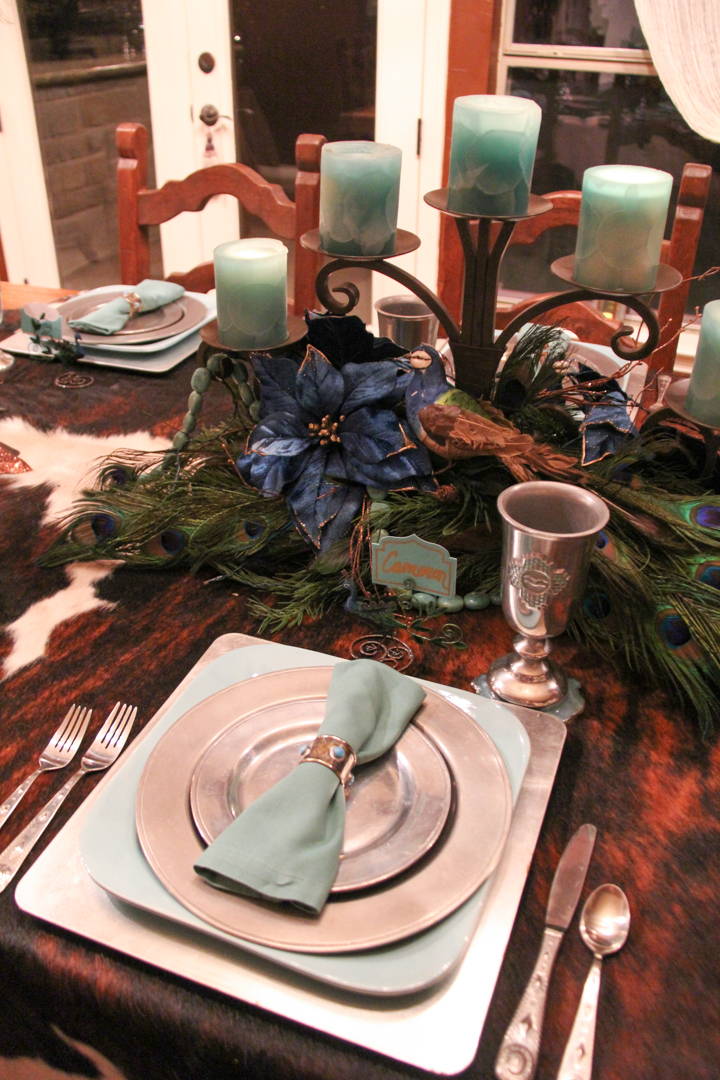 Give 'em Something to Talk About
"There's so much more we can do at a table than sit down and eat and get up. We have a can with questions, or little papers you pull out that say things like 'sing your favorite Christmas carol' or 'pantomime this or that'. It's just fun little things that are good conversation starters, and maybe not as deep or heavy for people who aren't very familiar with the family."