Behind the Scenes with Carla Curry
BEHIND THE SCENES WITH CARLA CURRY
Carla Curry has stories for days. Good ones, too. And not surprisingly, because she has one of the coolest jobs on earth: she's decorated the sets for dozens of mainstream television shows and major motion pictures. Ever heard of Godless? Friday Night Lights? Crazy Heart? And oh yeah, a little show called Yellowstone?!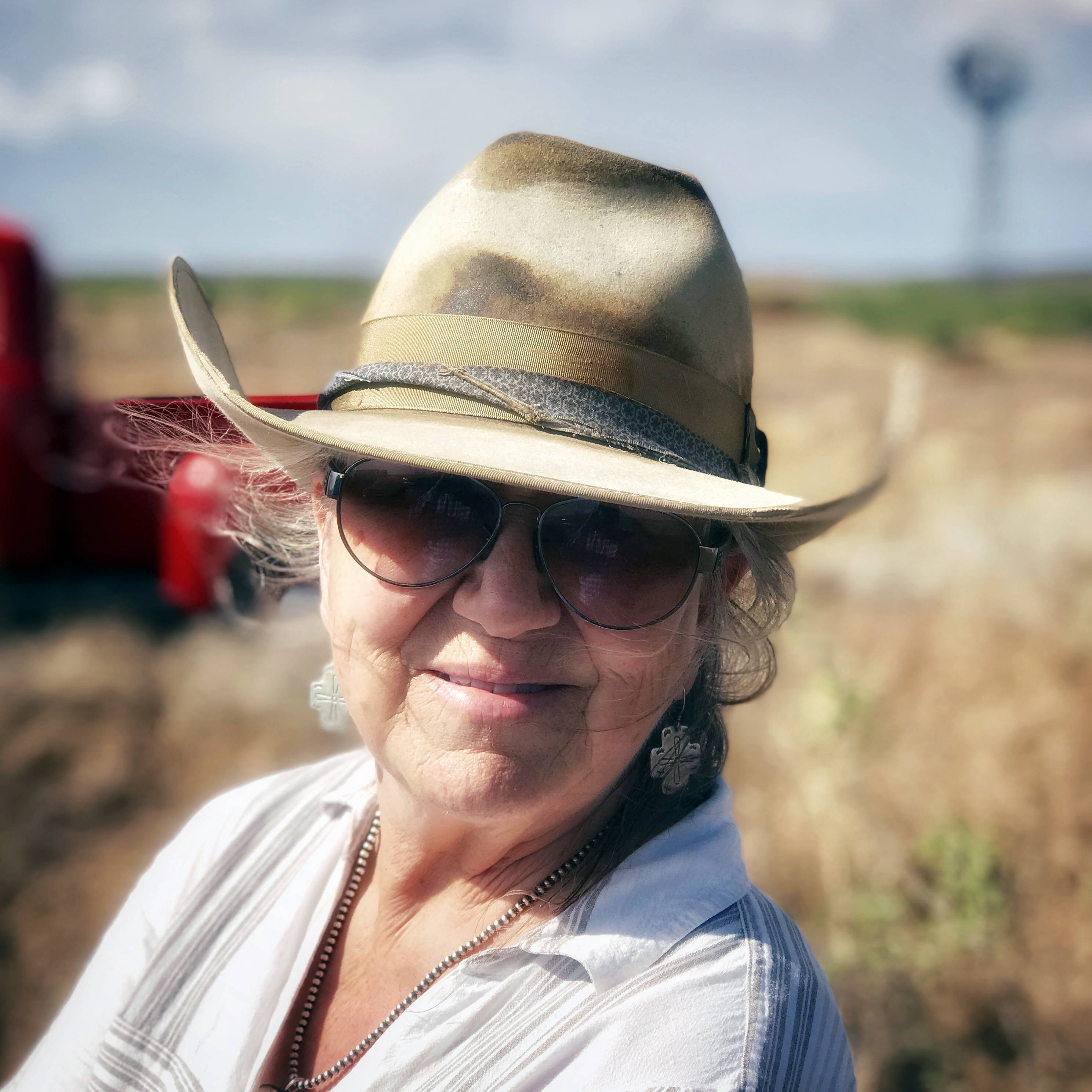 Yep, you heard us! Our girl Carla is the one who's setting the scene and minding the details to capture all the Dutton drama week after week!
Carla has been a set decorator for 35 years, and a friend of Double D Ranch – both the brand and the team – for going on 20. We've provided product for her, and she's done some styling for us. In fact, Carla was present when we were shooting Giant; we brought her in to style our winter catalog, but we ended up recruiting her to style the whole collection. (She's just that good, a delight to work with.)
In advance of DDR's cameo in the "Enemies by Monday" episode of season 2 of Yellowstone airing Wednesday, we thought it would be fun to introduce our fascinating friend to all of y'all. We had a virtual interview with Carla where she got candid about herself, about us, about Yellowstone, and about her famous furry friend. Trust us, it's worth the read!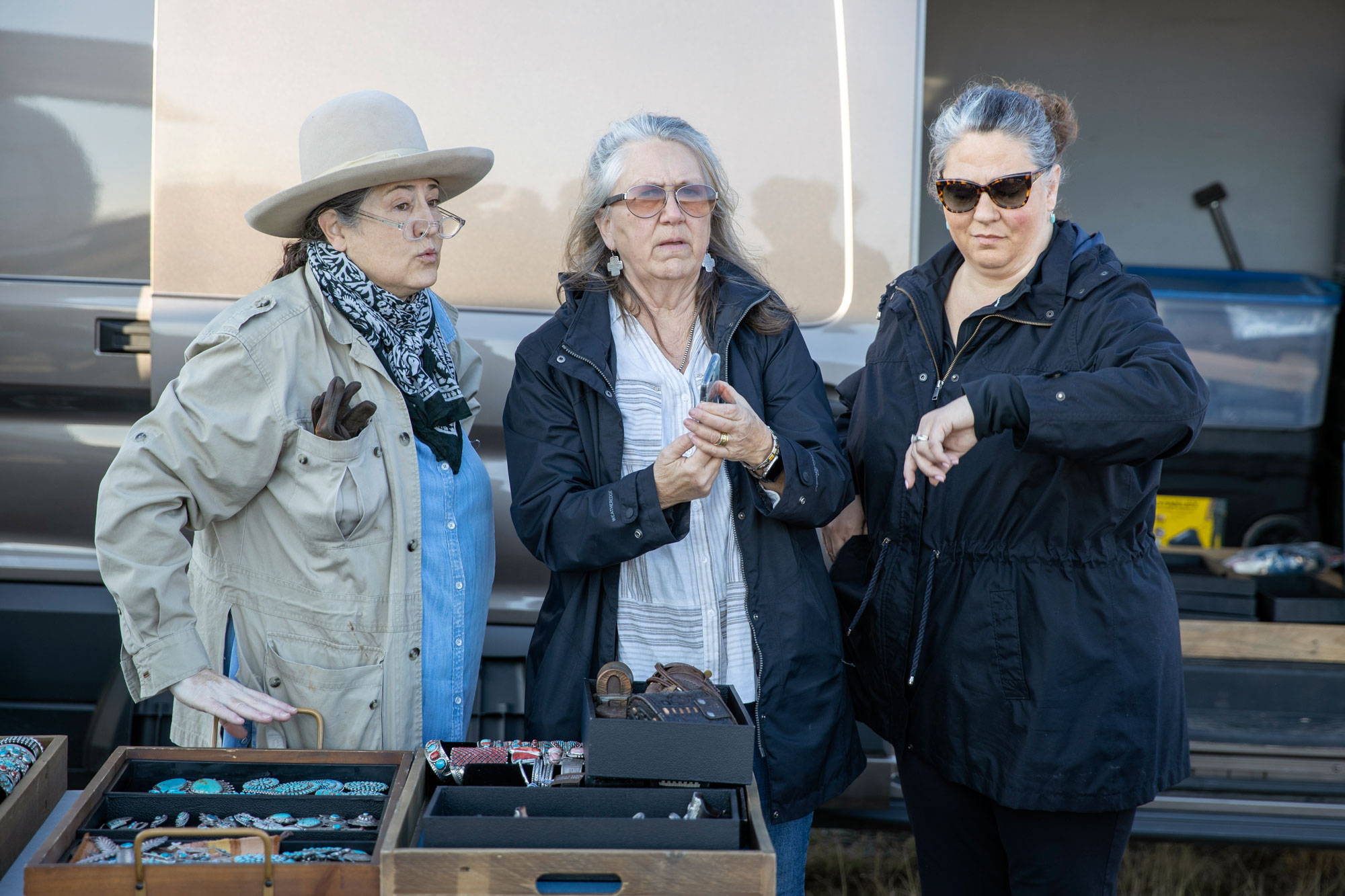 DDR: For starters, we want to know a little bit about you, personally. Where are you originally from?  
Carla: Born and raised in Hobbs, New Mexico. Proud to be a New Mexican. Share my hometown with Ryan Bingham, who plays Walker on our show. We both still have family there, and always have to catch up on the Hobbs scene when we see each other on set.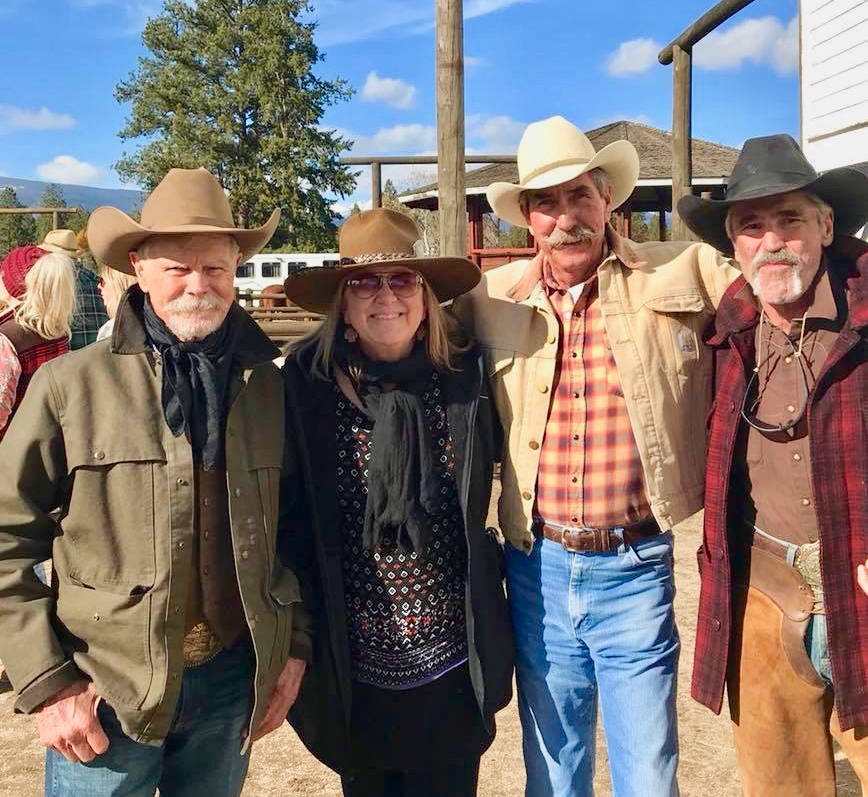 Carla and a few of the guys from Yellowstone
DDR: What a small world! And where do you currently hang your hat?
Carla: I have been married to a Texas rancher for 22 years. We ranch outside of San Marcos, Texas, which gives me a "shorthand" for this show, since it's largely about ranching. It's nice to be able to talk to Taylor [Sheridan, the writer/creator of Yellowstone], and understand what he wants because it's a lot of the same things we do on our ranch.  
*Fun fact: Carla's ranch just so happens to only be about 20 minutes from where DDR designer Cheryl McMullen lives!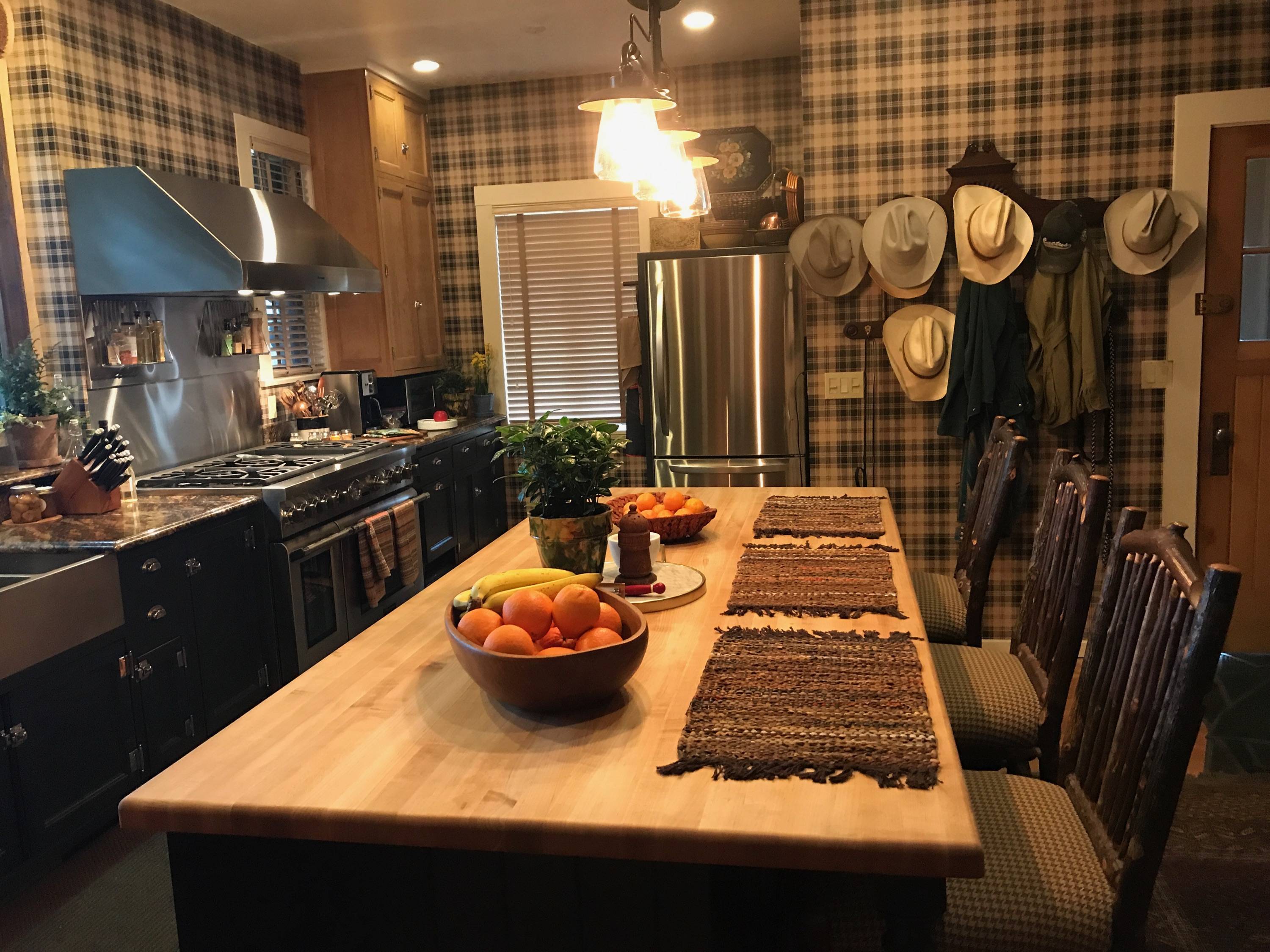 Sets from the television drama, Yellowstone
DDR: Well, that certainly must come in handy. What drew you to set decoration and/or how did you get into it?  
Carla: I was in the right place at the right time. I was living in Tucson, AZ and they were filming a lot of westerns and other big shows there. I was in the process of changing jobs, and a friend who was on a show suggested that I might like the art dept. It happened that this particular crew needed help, and with a recommendation from that friend, they called me. The rest is history. It was creative, and I loved the process of turning "nothing" into a magical set. I instantly found my niche, and have never wanted to do anything else.
ON HER RELATIONSHIP WITH DOUBLE D RANCH

DDR: How did you get hooked up with DDR – did you meet the clothes first and then the ladies, or vice versa?
Carla: I had first been a fan of their gorgeous pillows! Back in 2000 I was working on All the Pretty Horses. We had a hacienda scene, and I thought their pillows and décor would be perfect for the set. I reached out to the Yoakum office, and was told to come down and borrow some of the décor for the scenes. I did! And we have been professional and personal friends ever since.
DDR: What else can you tell me about the relationship between you and DDR? Any favorite moments or projects?
Carla: Because of their kindness (which is legendary), we scheduled a set visit for them during the filming of All the Pretty Horses, and at the end of the set tour, Billy Bob Thornton came out and thanked them all, and kindly took photos with everyone.
DDR: A couple of months ago, Cheryl McMullen's son Jack Matusek got a chance to visit you on the sets of Yellowstone. How was that? He's one lucky duck!
Carla: We loved having Jack on our sets! I think it was interesting for him to see how things worked on a set. It's a bit more complicated than you'd think, since we shoot both in Montana and Utah. Details are our specialty. Jack's visit came when we were filming a scene for season 3 in a cow camp. Complete with an authentic chuck wagon. I think he felt right at home!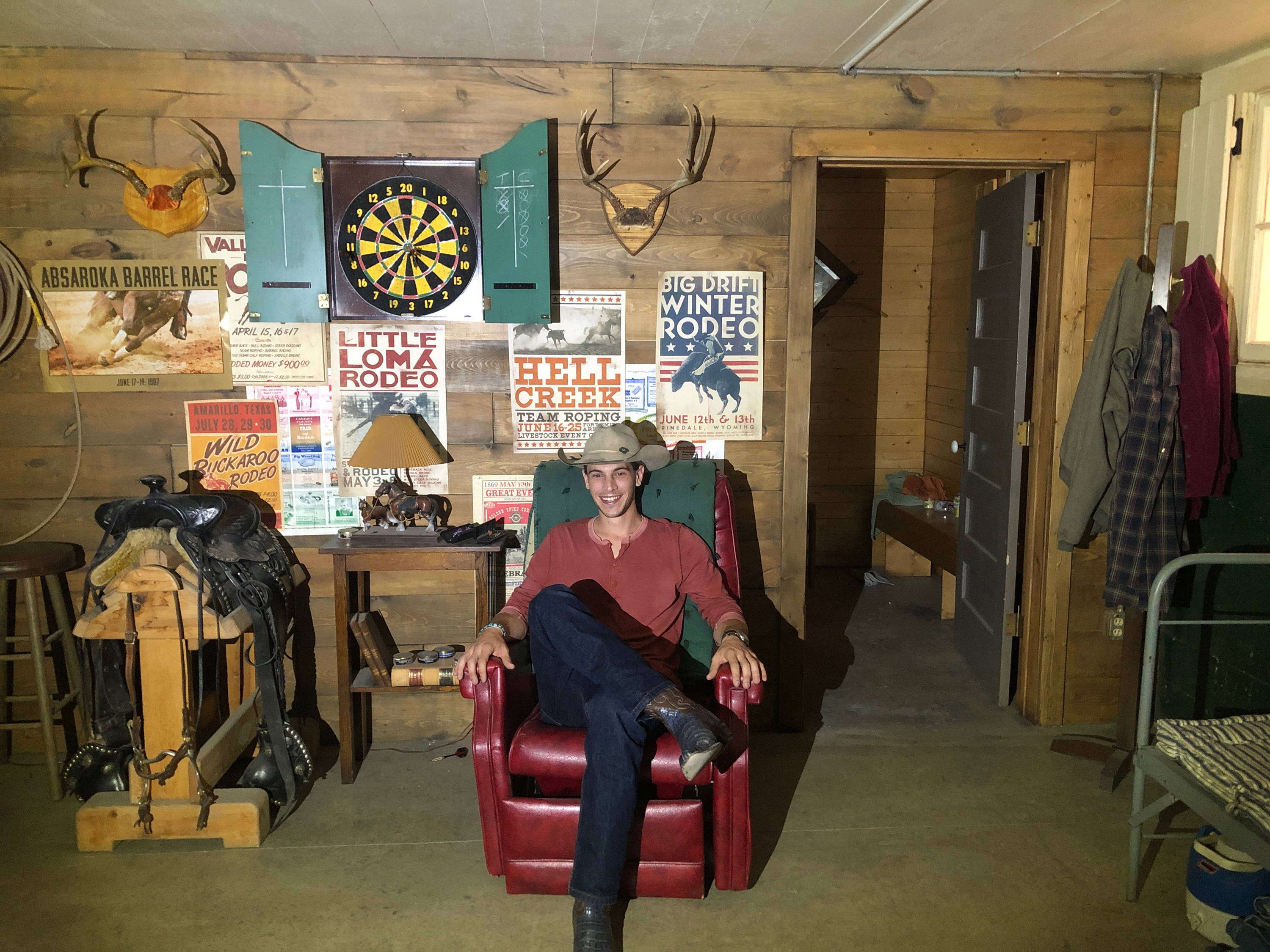 DDR: Is it wrong to assume the majority of the heavy lifting is prior to the show's beginning – really creating the spaces for the first time? What goes on in the day-to-day?
Carla: There is a great deal of prep before we ever start shooting. Once we get the scripts, we start the process of breaking down the different sets, and looking for the things that we need for any particular scene.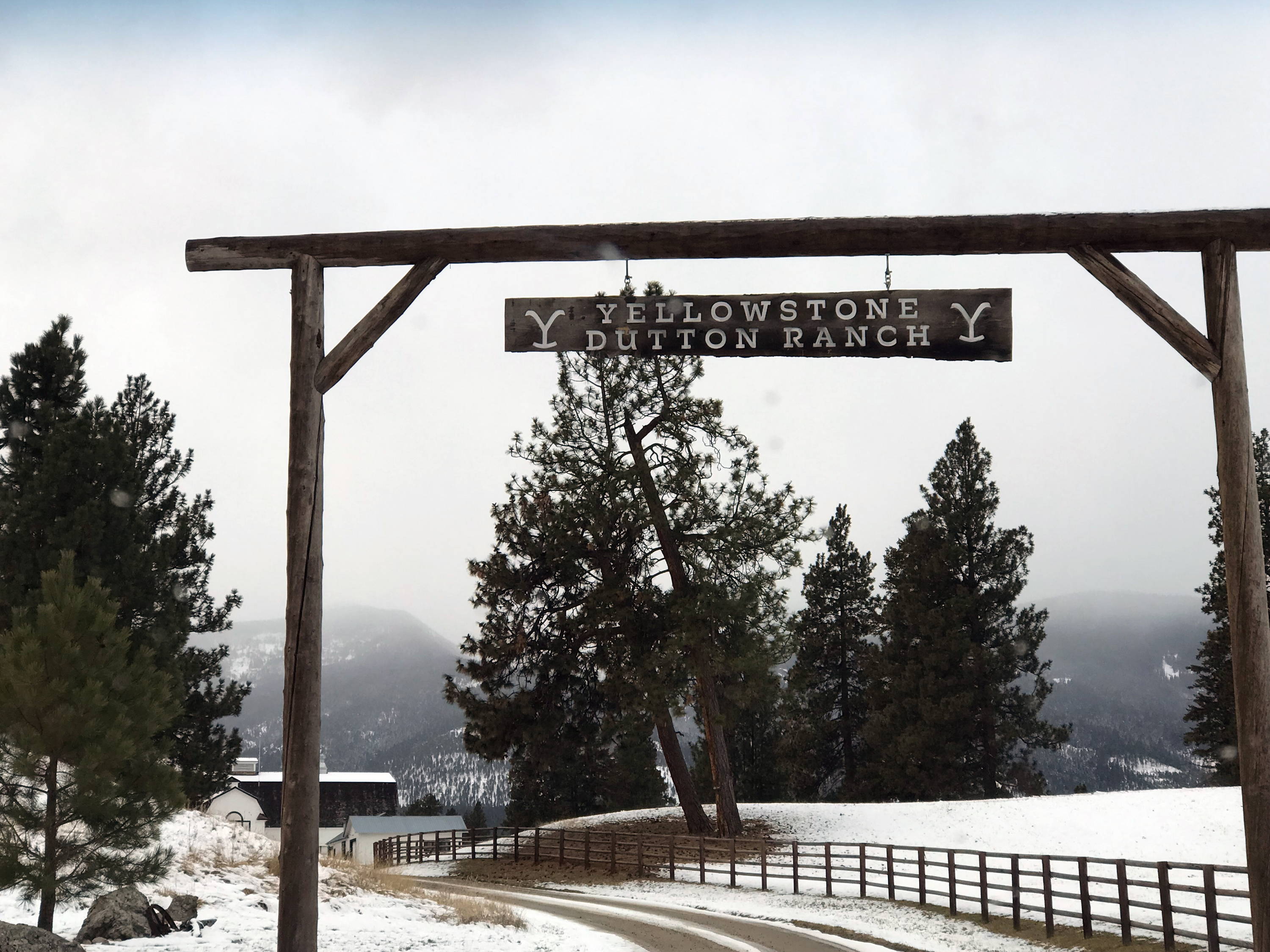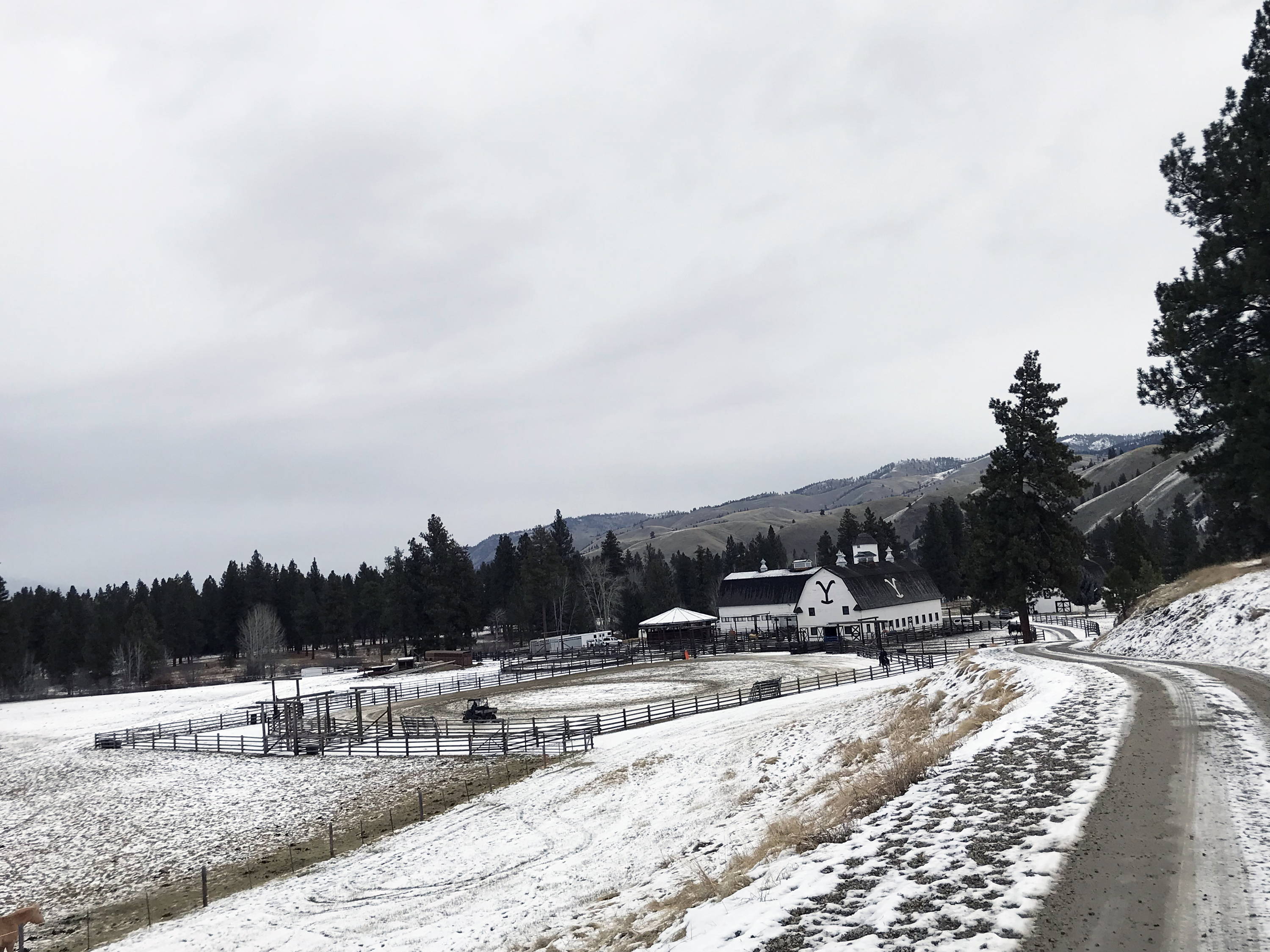 DDR: This may seem like a childish question, but do you ever get star-struck working among so many celebrities?  
Carla: The Set Decoration department is ahead of the crew and the actors. We get the sets ready, then move to the next one and get it ready. So our time on set amongst the actors is rather limited. That being said, after 3 seasons of Yellowstone, I have to say that this is one of the nicest, kindest ensembles of actors I've worked with.
DDR: What insider knowledge about Yellowstone can you share that you think the mega-fans in our Wolf Pack would find interesting?
Carla: Season 3 is going to be even better! You will get a more in-depth feel of each character. It's going to be amazing!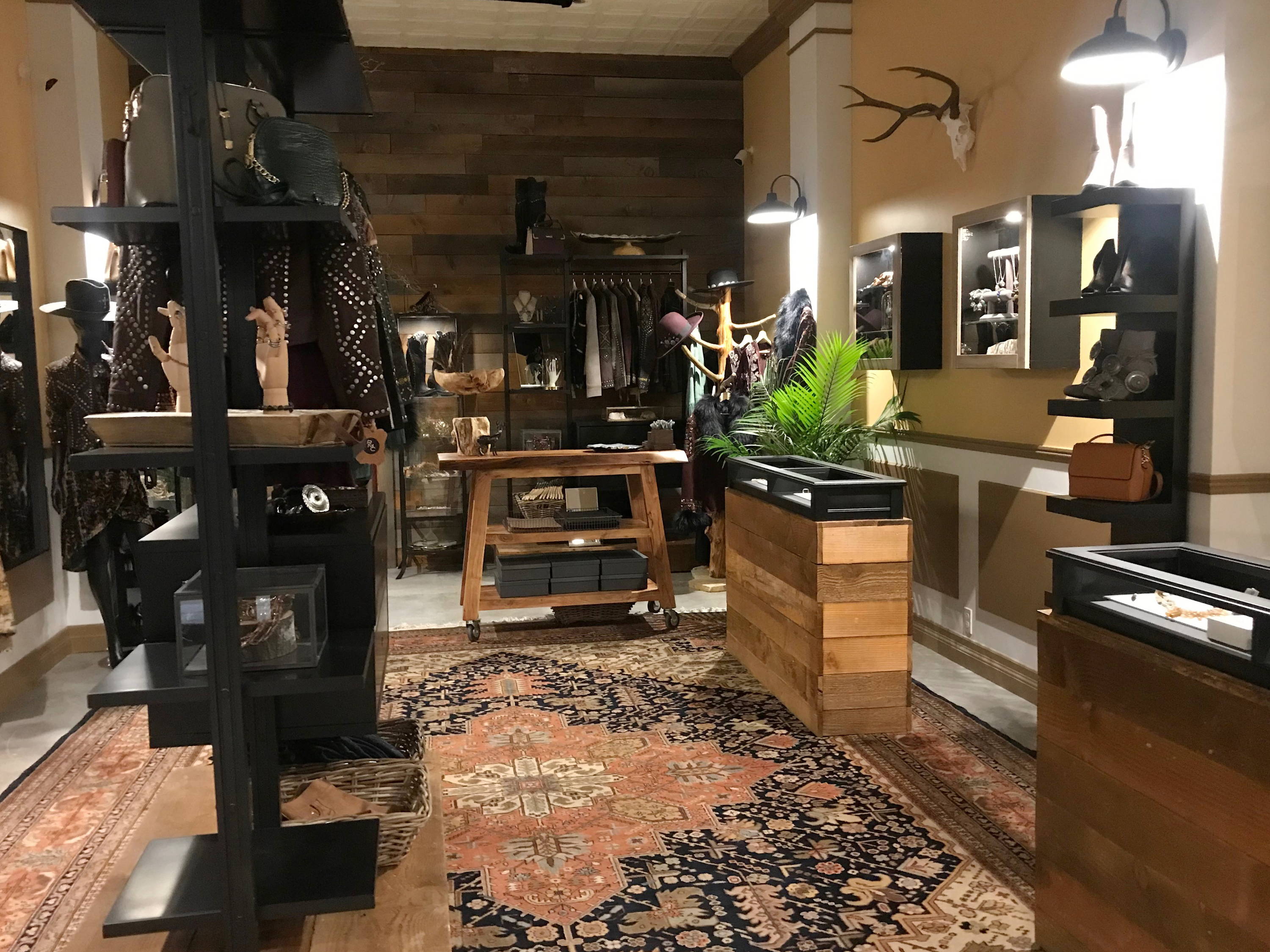 DDR: Can you tell me the story (in your words) of how DDR came to be a part of "Enemies by Monday" in Season 2?
Carla: In episode 9 (which airs August 21st), we had a "high-end boutique" in the script. I thought of DDR for this scene, and showed one of their catalogs to our creator/writer Taylor Sheridan. He immediately agreed, so I placed a call to Cheryl and Audrey, and asked if they might be able to help us with this. In three days, we had a complete boutique of DDR! And it was gorgeous! I couldn't have pulled it off without their help!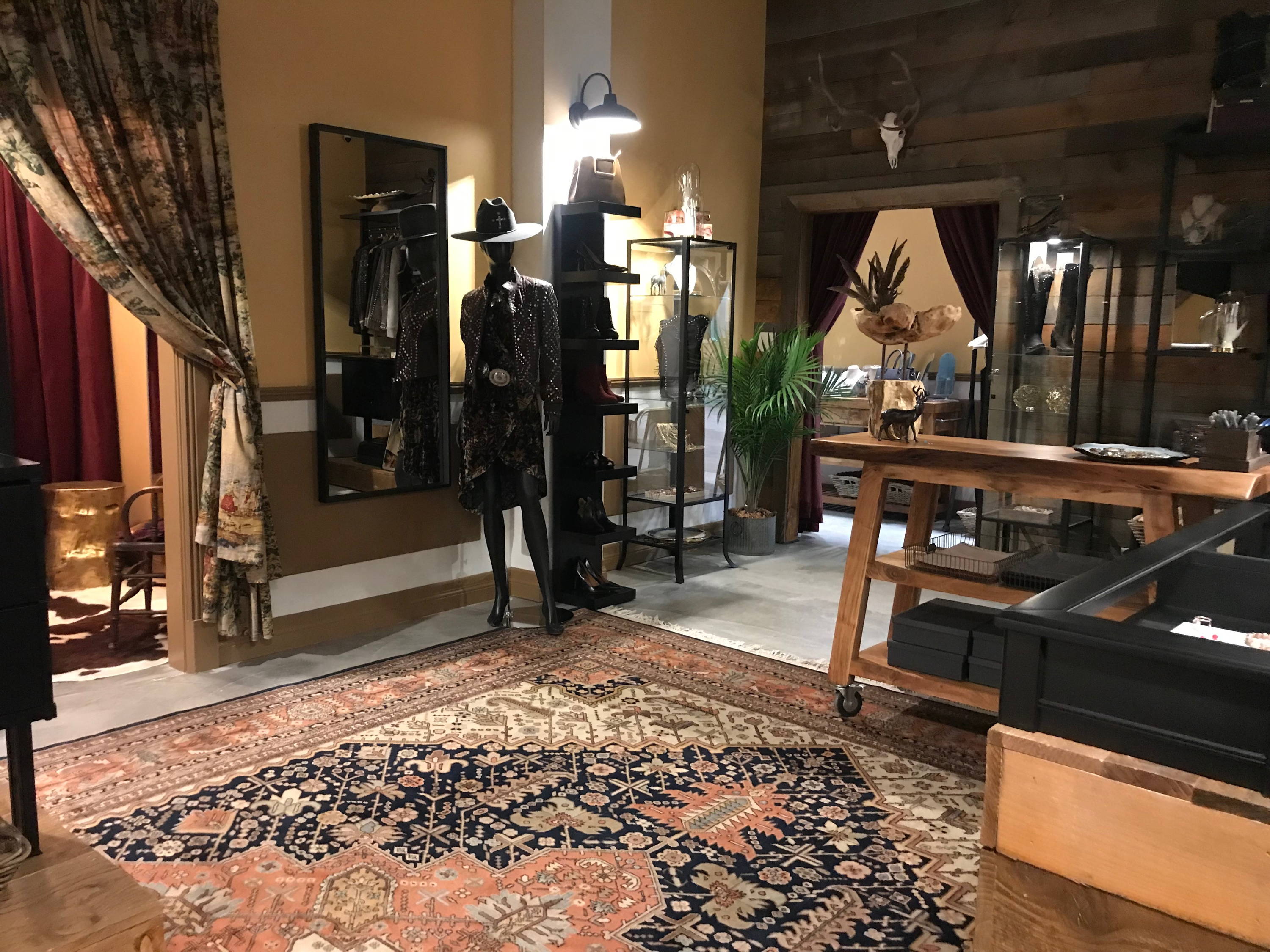 ON TWO OF HER LOVES: HER DOG AND HER HATS
DDR: There are a couple of other interesting tidbits we've heard tale of that we're interested in hearing more about. For starters, Mimi the Movie dog! She is practically famous – she has her own Instagram account! (@mimithemoviedog)
Carla: She's a rescue. [I] found [her] in a Walmart parking lot in the worst part of Albuquerque. It was love at first sight. She's gone from homeless to Movie Dog. She's officially our Morale Officer. You can't have a bad day if she's around.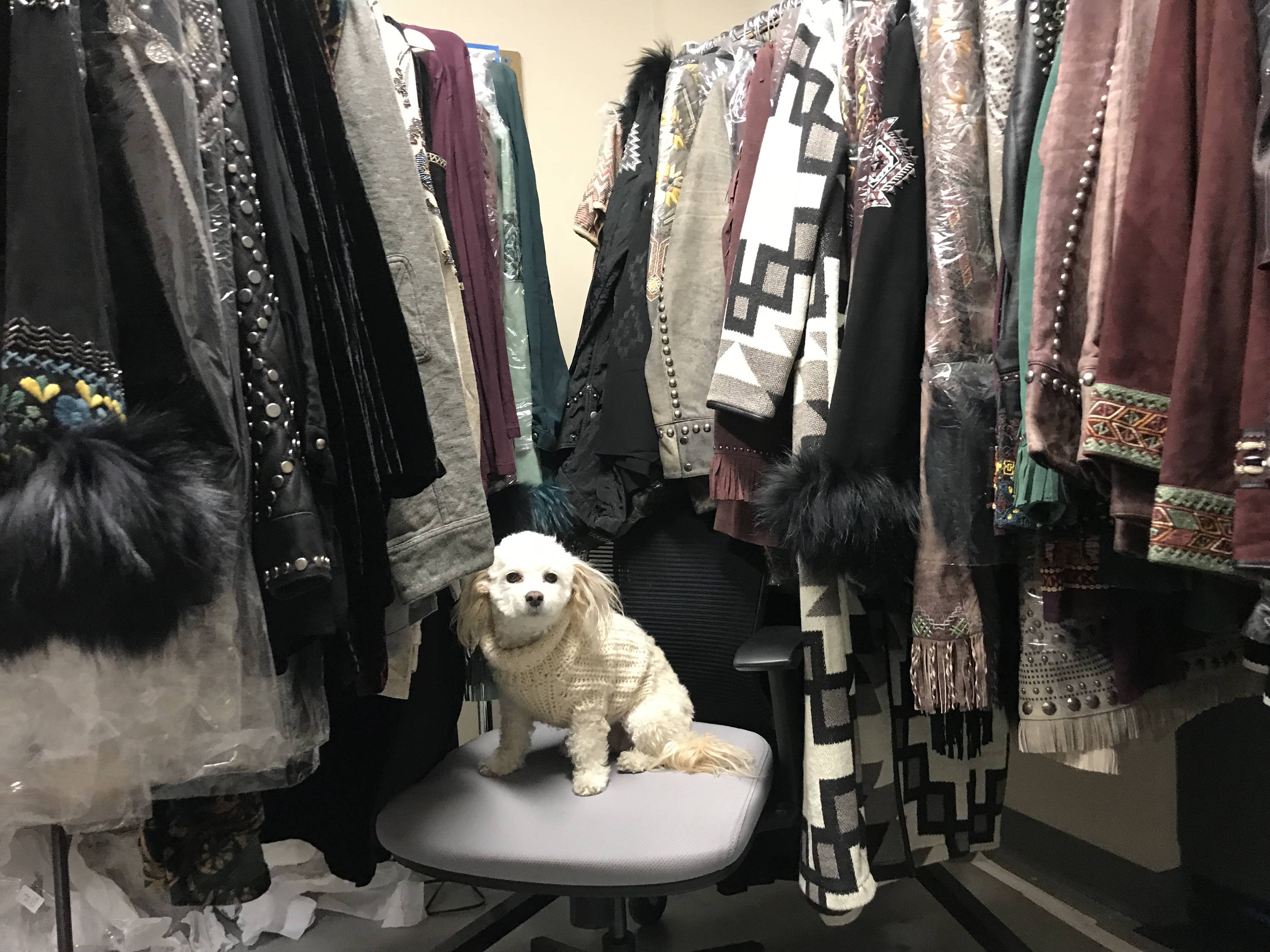 DDR: We hear you have a thing for collecting hats...
Carla: I LOVE COWBOY HATS. I have the DDR Trapper, and I have photos of me, in Cheryl's Old Pawn, and the new Wildcatter. Love them ALL. I work outside a lot, and am obsessed with keeping the sun off. How fab that I can do that AND be fashionable all at the same time.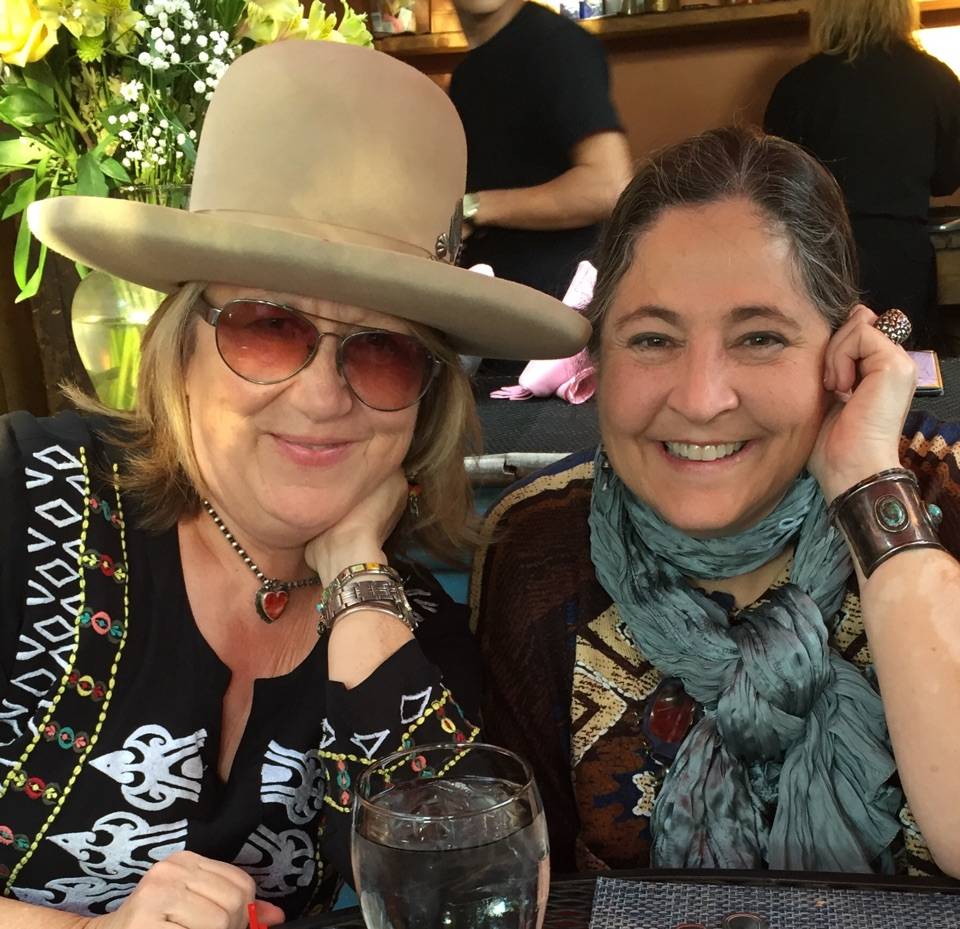 ---
We truly could've talked to her for days, but ya know, she's got sets to decorate! If you're interested in reading more about Carla and her work (especially on Yellowstone), she did a fascinating in-depth interview with SDSA International's "Set Décor" publication.
EDITOR'S NOTE: In our original post, we mistakenly stated that Carla Curry had worked on the films Sicario and Hell or Highwater. Like her current project, Yellowstone, these films were also written by Taylor Sheridan, but Carla did not provide the set decoration. You can find a complete listing of Carla's impressive career here: https://www.imdb.com/name/nm0193055/#set_decorator