Behind The Scenes at The Ryman Auditorium
BEHIND THE SCENES AT THE RYMAN AUDITORIUM
Everything Double D Ranch does is an adventure. Truly, never a dull moment. Our trip to Nashville this January was no different. In fact, there were so many shenanigans, we're dividing it up. Believe me, it's way too much to take in all at once – you would have a hard time believing that it all happened in one day. Even we had a hard time believing it. By that evening, we were all looking at each other going, "I feel like the photo shoot at The Opry was like, a week ago." (Granted, we didn't know then that would really have lost all concept of time by April.) So, for now, let's just focus on the first, say, 18 hours the Double D Ranch team was in Tennessee.
Honestly, as far as photo shoots go, the one we did with the Country Music Association's Musician of the Year, Jenee Fleenor, went relatively smoothly. We were indoors – at the legendary and photo-friendly Ryman Auditorium, no less – which eliminated about half of the battles we face during a shoot. (Although we did not entirely escape weather woes – we'll get into that in a minute.) But, like we said, even when things go to plan, there is never a dull moment. Here are a few behind-the-scenes snapshots of the memorable moments from our first night and day in Nashville.
DDR does not travel light.
We had SO. MUCH. STUFF. Mitchell and Halley filled one of those big luggage carts at Nashville International Airport – for just the two of them. And that was before they even went to FedEx to pick up the half-dozen boxes we had shipped there. Oh, and keep in mind that Cheryl and Kristen were already at the hotel, with an ENTIRE ROOM full of stuff they had brought and shipped. You have never seen anything like it in your life.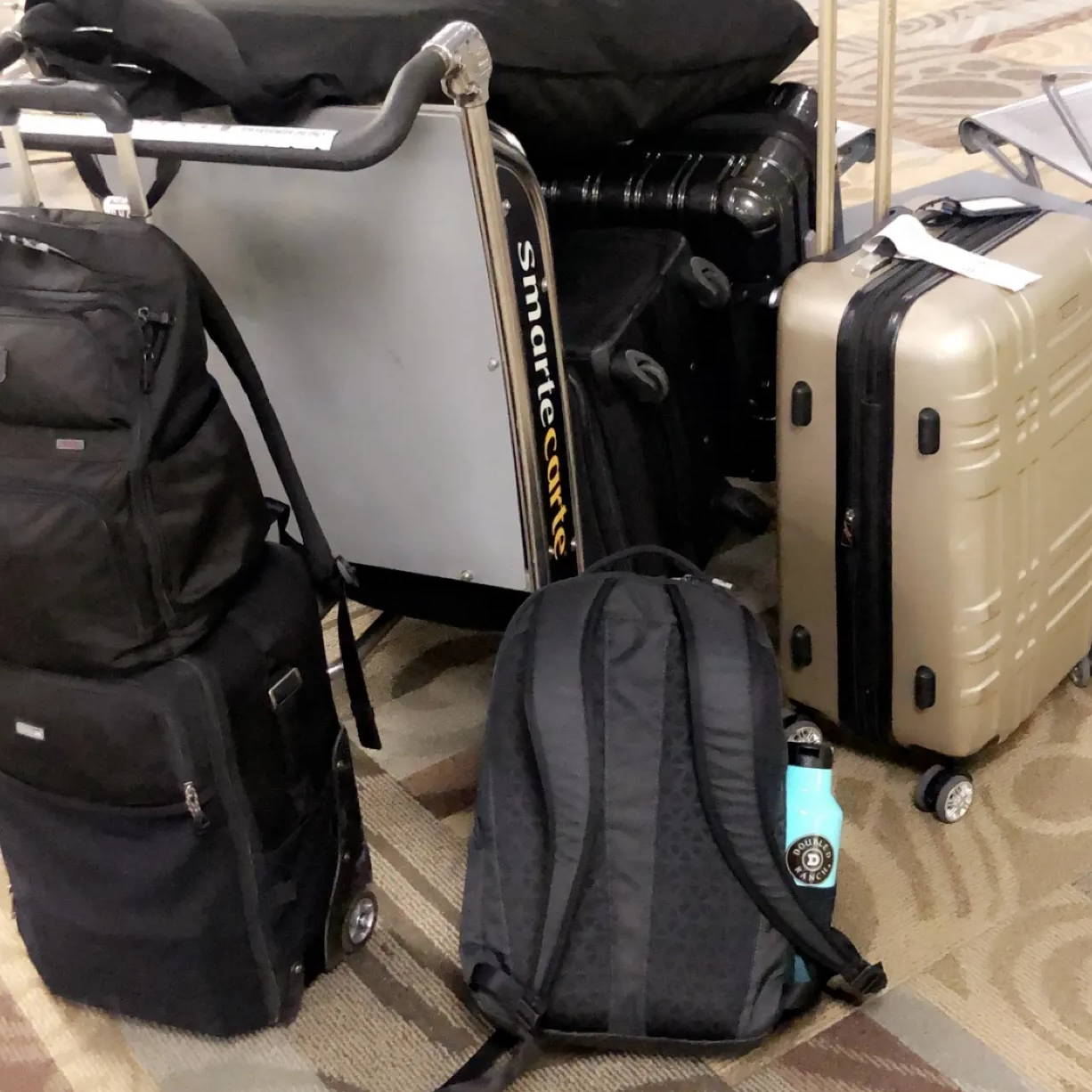 Mitchell has never met a stranger.
Y'all, this kid… He was wooing folks the second we touched down. (And I'm sure in the air, too, he just wasn't on our flight.) He charmed the lady at the rental car counter. He had the garage attendant laughing out loud. He became instant besties with the hotel manager (and scored us a free round of drinks). He had a favorite valet by the first night. He's a fabulous person to travel with, because he wins all these people over, and then they make things happen for him. Plus, it's hilariously amusing to watch -- especially when he's attempting to pick up a girl. (Yet to have been successful.) You've just gotta love Mitchell.
The city's gone wild.
Y'all, it really is turning into NashVegas. The strip is* a party every night of the week. We got there on a Wednesday, and had to run to the FedEx on Broadway, across from Blake Shelton's bar, Ole Red. IT WAS PACKED. On a Wednesday! Mitchell and Halley saw some young drunk girl throwing up on the sidewalk at like, 5 p.m. The sun wasn't even down yet. (Don't worry, we saw her safely get into a sober ride.)
*was… when people could still go to bars.
There is live music everywhere, all the time.
We know that sounds like a "duh" statement, the city is known for music, but y'all, we mean EVERYWHERE. Every restaurant, every hotel lobby, on the street, at the airport, everywhere. It's a neat thing that gives the city its personality, but it kind of makes it hard to have a meeting over dinner.
Cheryl wants to put DDR on everyone.
We stayed at the DoubleTree Downtown, so we walked a block or two to this cute little area called Printer's Alley for dinner at a place called Sea Salt. There were these three darling girls performing called Bonnie (@bonniemusicbabes on Instagram, if you want to check them out), and they were really quite good and played a great selection of songs, and they had precious personalities. As we're walking out, we're dropping some dollars in their tip jar and we strike up a conversation with them. I'm sure Mitchell started it (see above). Anyway, they were just adorable. We weren't two steps out the door before Cheryl was saying, "Did somebody get their card? We should send them something. What can we put them in? A hat? Should we send 'em a hat?" Rinse and repeat for pretty much every new person we met in Tennessee. "Get her size, and we'll send her something." "Get their contact info, we'll send them something." Sooner or later, she's gonna dress the world, one chance encounter at a time.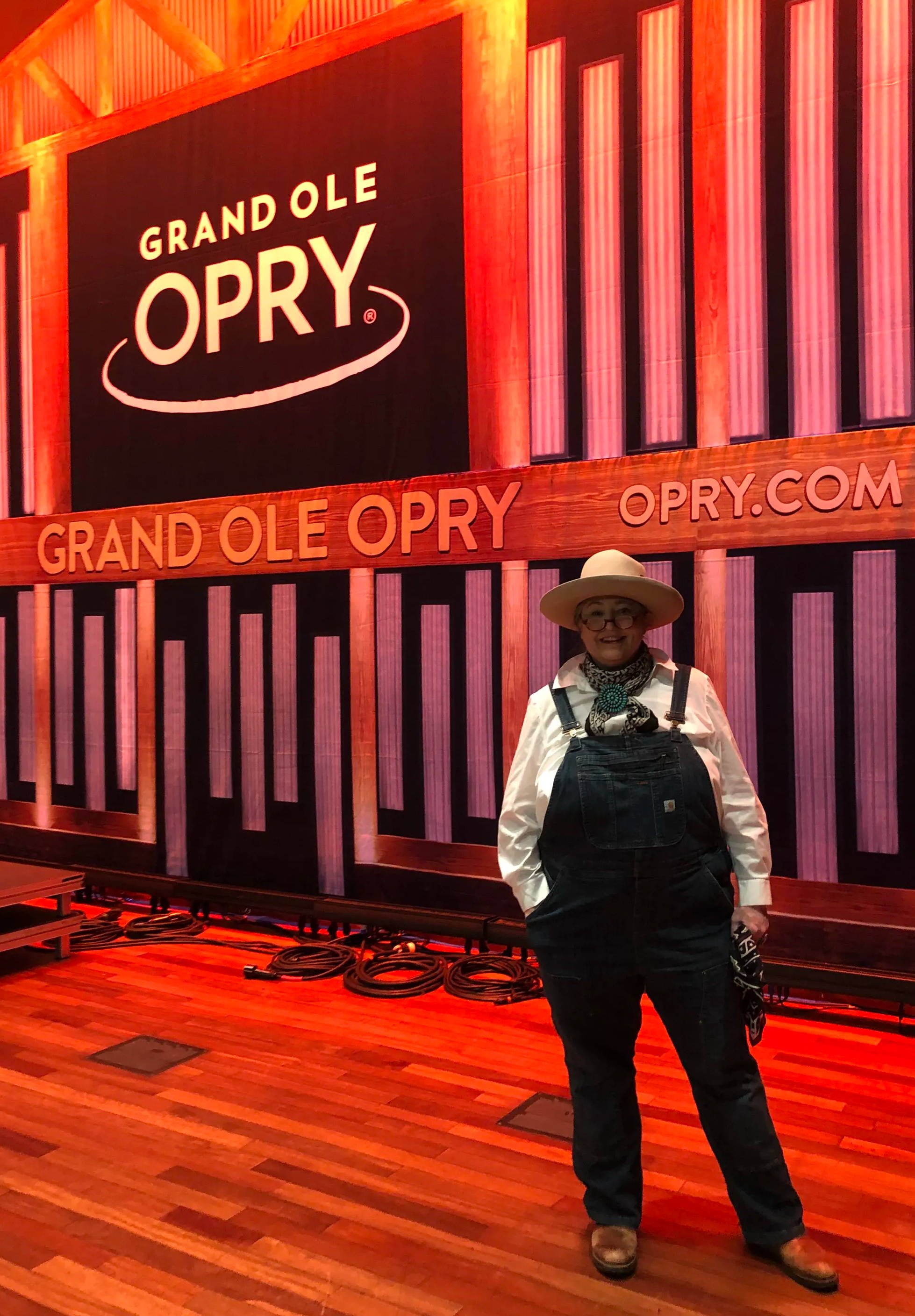 Kristen had the world's worst roommate.
Halley was so, so sick this entire trip. THE WORST allergies. She completely lost her voice at one point, but that wasn't even the worst of it. On top of a hideous cough, which seemed to be constant, she also couldn't breathe. Which means she couldn't sleep. Which means Kristen couldn't either. Photo shoot days are NOT a good a time to be short on sleep; they're long, non-stop, and chaotic. But, y'all know Kristen, powered through like a champ, with a smile on her face, and never uttered a word of complaint. (Sorry, Kristen!)
----- Y'all. We're just now through the first night. See what I mean? -----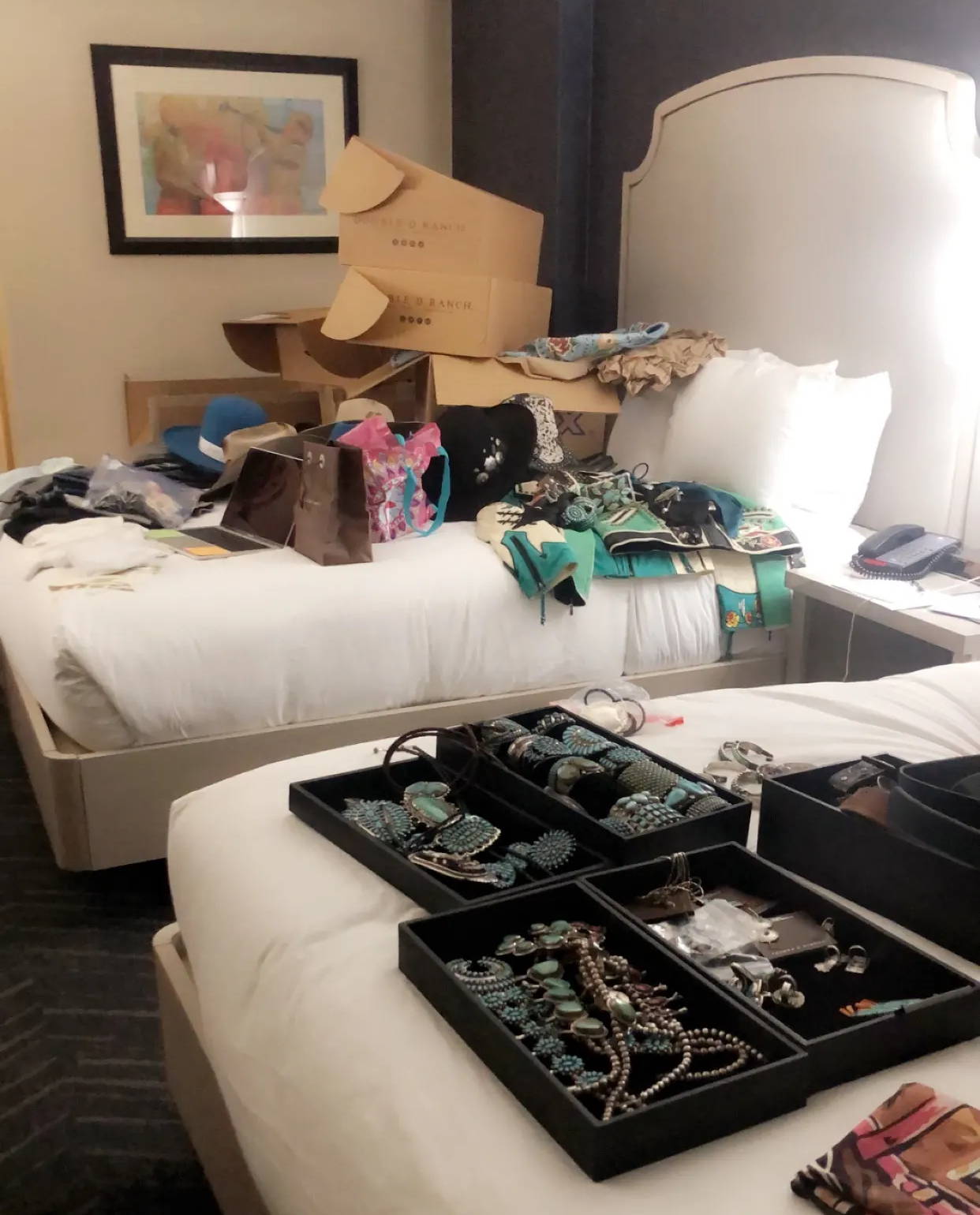 "Take Your Mom To Work" day.
Halley's mom, Peaches Homen (y'all might remember her and her holiday parties), is originally from Tennessee, so she was in town visiting family and to go to the Tanya Tucker concert at The Opry the following Sunday. So we put her to work. (When we say photo shoots are "all hands on deck", we mean ALL hands. Sometimes even hands that aren't on the payroll.) As you can see, she didn't take her job very seriously, but she actually came in pretty handy! She had a car, so we were able to divide and conquer some tasks that morning. While we were loading up and heading to the Ryman Auditorium to set up, Halley and her little unpaid intern were able to go pick up a cart we rented, make an Office Depot/Walgreens/Starbucks run, and fetch the jewelry case that was left behind at the hotel. Halley spent half the day reigning her in and trying to get her to take it down a notch, but the rest of us got a real kick out of her. By the way, neither of them can keep up with ANYTHING. Halley lost her debit card somewhere between the parking meter and the front door of the restaurant. A span of about 50 feet. Never showed up. How is that even possible? And then later that day, leaving the next location, we spent 15 minutes looking for Peaches' keys until Mitchell finally came to the rescue and found them. This is why we can't have nice things.
And she wasn't the only mom on set.
Jenee also had her darling mom, Helen Keener, in tow. She had driven in from Springdale, Arkansas, and she was an absolute delight to have present. She let us dress her up and interview her alongside Jenee, and it was the sweetest, most endearing thing. There might've been some misty eyes. We videoed the interview, so she was in front of the camera with all the lights and equipment and everything, and then after it was over she put on some jewelry that she liked from the tray, and she said in her sweet southern drawl, "Can we do the talk show over now that I've got on my turquoise?!" Just precious.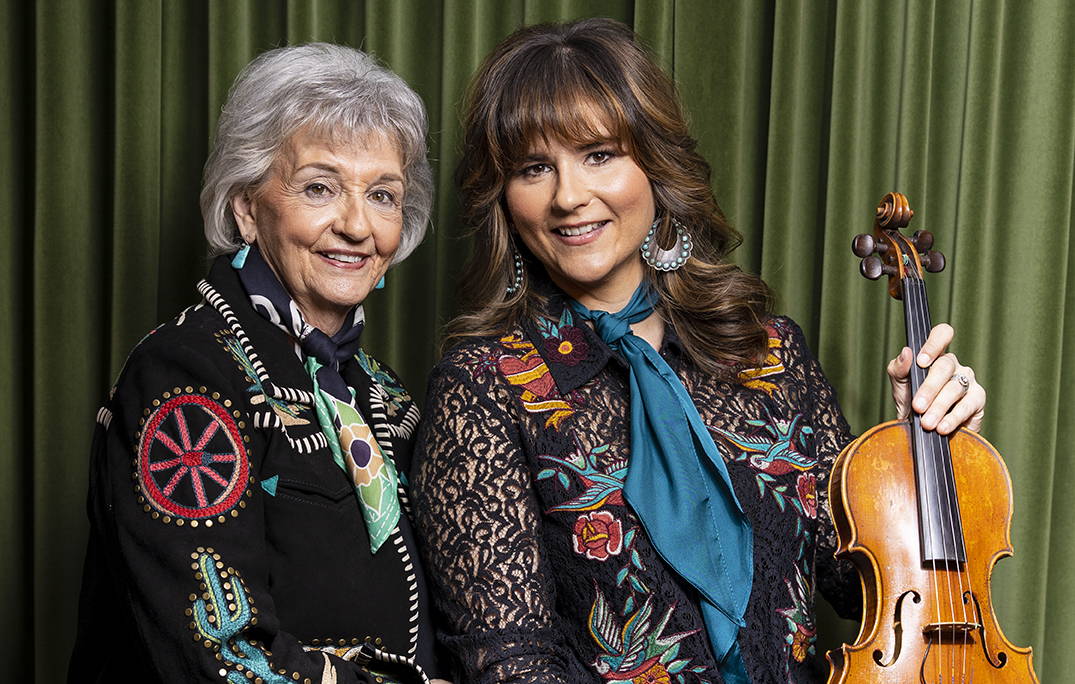 We did have some weather woes.
Like we said, we were fortunate to be shooting inside for this one, so the weather wasn't as much of an issue at this shoot as it was at the next one, which was outside. But it was WINDY. I mean, we're talking West Texas windy. Every time we had to run get something from the car (which was seemingly a lot for such a short shoot), we would open the door of the building and it would dang near take it off the hinges! And then when we would be coming back in, we'd have to put down whatever was in our hands and use all our might to get the door open. And Halley had her hair down, and ya know, it's longer than average, so every time she'd walk outside, it would like, whip up in a cyclone around her face and she couldn't see. So, we're trying to load all these boxes and equipment and simultaneously trying to let anything blow away – and not blow away ourselves! It was a mess.
And all that was before noon. On day one. Wait until you hear what happened in the subsequent 10 hours.
---