All Dolled Up
Remember those Barbies Cheryl was looking for during the Backwoods Barbie line launch? You know, the ones that Mitchell says are creepy? (Fun Fact: He didn't even want to do this blog post because he dislikes looking at them so much.) Well, much to his chagrin, we found'em! Aaaand we made him photograph them.
Feast your eyes on these fabulous little things! A little Loretta Lynn and a little Dolly Parton. Aren't they great? And y'all, they're WEARING Backwoods Barbie!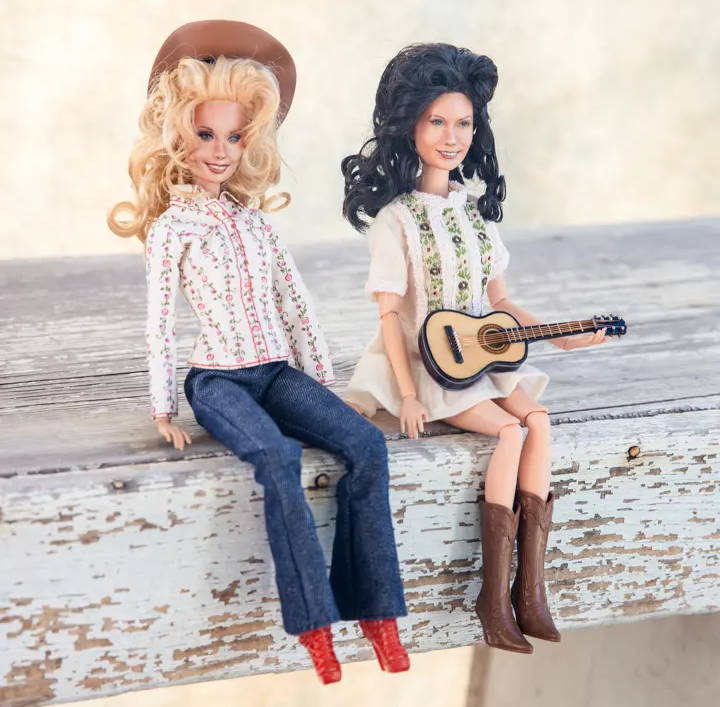 Let me tell y'all the story of how these little lovelies came to be.
During one of her late-night internet research rabbit hole sessions, Cheryl happened upon this YouTube video of a woman who completely restyles Barbies. (You can watch it here if you want; it's 12 minutes long, but it's pretty wild to watch the process.) She watched all 12-minutes of it, entranced. Her mind was made up, the mission was set: she had to find this woman, and she had to commission her to make a Loretta and a Dolly for Backwoods Barbie.
The artist was a woman named Olia (username "lovelydollsolia" on Ebay). Cheryl was able to get in touch with her and make her request for toy versions of the country music legends, and Olia obliged. A few weeks later, these little treasures made their way to their new home in Yoakum, Texas.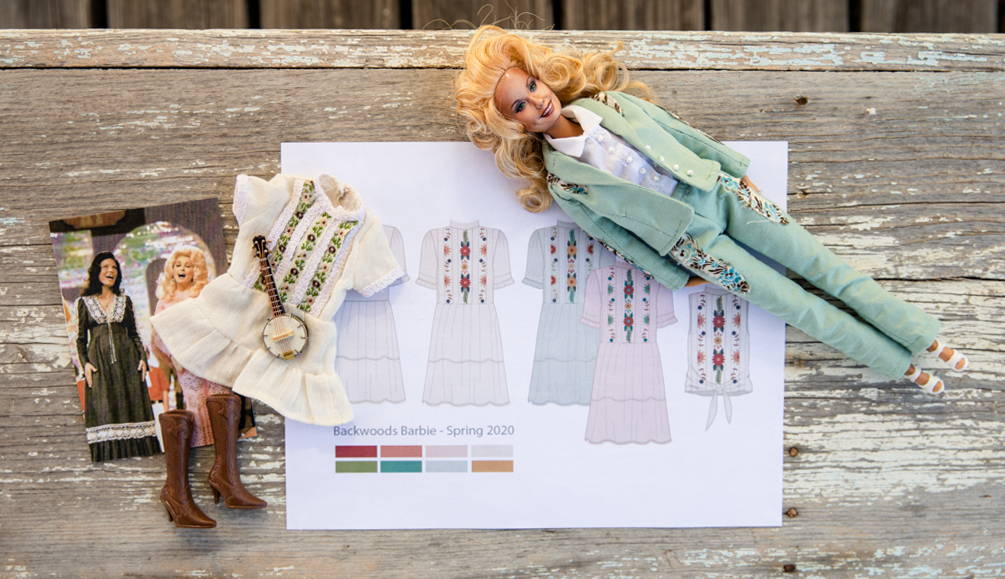 And since the whole fun of having Barbies is dressing them (and because dressing people is what we do), we simply had to put them in their very own tiny DDR. We handed them off to Ann in our Yoakum sewing room and tasked her with scaling down some of the signature pieces from Backwoods Barbie to outfit our new little friends. Y'all, they turned out so stinkin' precious! We made miniatures of Loretta's Flour Sack Dress, a Lil' Nellie Rose Top, You're The Only One Dress, and even that fabulous Warhol's Suit in mint green that everyone's loved so much! Absolutely adorable.
But nobody was more pleased with how they turned out than DDR's resident Barbie fan. Cheryl's Barbie obsession is pretty widely known by now. She often proclaims, "I played with Barbies until an uncomfortable age, long after my friends had stopped." Apparently that age is "today years old" because, y'all, when she emerged with these dolls, her face and tone of voice were filled with joy.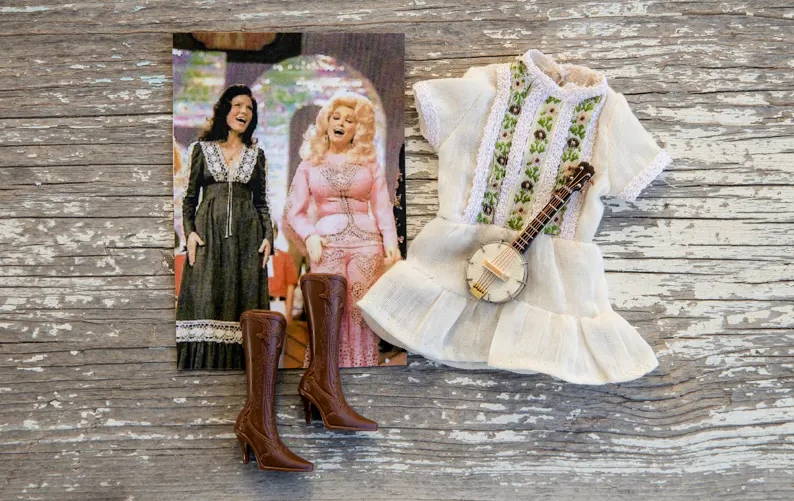 "Although I've been dressing real-life women for 30 years now, there's still something about dressing a Barbie," Cheryl said. "It's a feeling – a satisfaction, a delight, a nostalgia – that just can't be replaced."
And now these darling DDR-dressed Backwoods Barbies are available to go home to you — whether you're a Barbie collector, a fan of Loretta or Dolly, or just really love DDR!
It goes without saying that these are in limited supply; we only have one of each. (Which, of course, is what makes them collector's items.) Each doll comes with two outfits and an instrument, as well as a signed certificate of authenticity declaring it an official Double D Ranch collector's item. Get your favorite, or get 'em both!
---
OR DRESS AS CHERYL'S LIFE-SIZE BARBIE