The Bright Side of Bakersfield
THE BRIGHT SIDE OF BAKERSFIELD
It's really hard to believe that it's already almost time to leave Bakersfield behind. This collection will always have a piece of our hearts, and a distinct place in our history. It's the line we launched in the middle of a global pandemic; in a time when things felt bleak and beyond our control. It forced us to look at ourselves, at our industry, and our place – fashion's place – in the global conversation. Bakersfield was the only collection that would've worked in that context; any other line would've felt inappropriate or off-color. But fortuitously, Bakersfield was designed to be wearable happiness, with bright colors and playful patterns, and our ultimate decision to launch it revolved around the realization that the world needed something to feel good about. It was our way of contributing positivity in the way we were able.
 As we close this chapter, we've been looking back at some of the signature pieces from this momentous collection, the ones that will be well-loved everyday favorites and the ones that will be lifelong classics.
---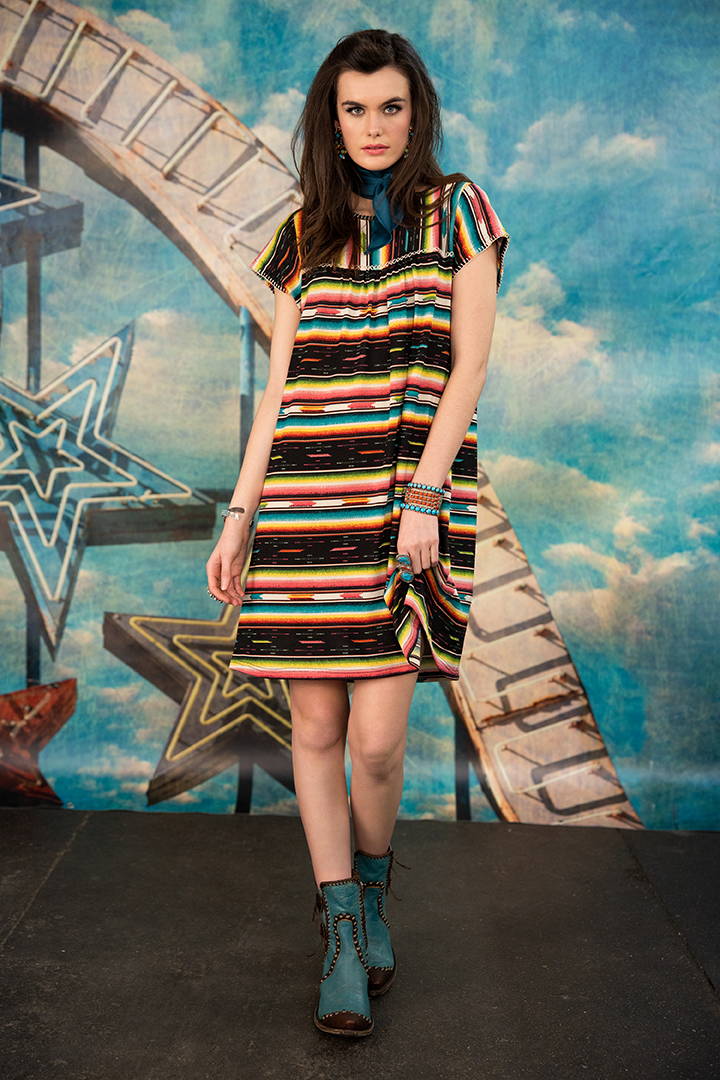 Summertime Serape
Serape print has been a staple of Double D Ranch for as long as we can remember, and it seems that we love every iteration more than the one before. But the Bakersfield Serape is high atop that list. Something about the way the bright stripes stand out against the bold black gives it such a vibrant feel that is simultaneously traditional and modern. We love the way y'all have been styling it – it pairs well with so many things and so many pieces from DDR collections, new and old. They might be the most versatile items in all of Bakersfield, and it would be a shame to miss your chance at them!
Head Over Wheels
Our childhood memories of The Porter Wagoner Show were the impetus for the Bakersfield collection, and the jacket and vest that we modeled after Porter's signature Nudie Cohn suits are important signature pieces that are both symbolic and sentimental. The goat suede garments with their oversized embroidered imagery are visual representations of the time and place where country music made its shift from heartland to honkytonk, and they are undoubtedly going to be collectors for decades to come.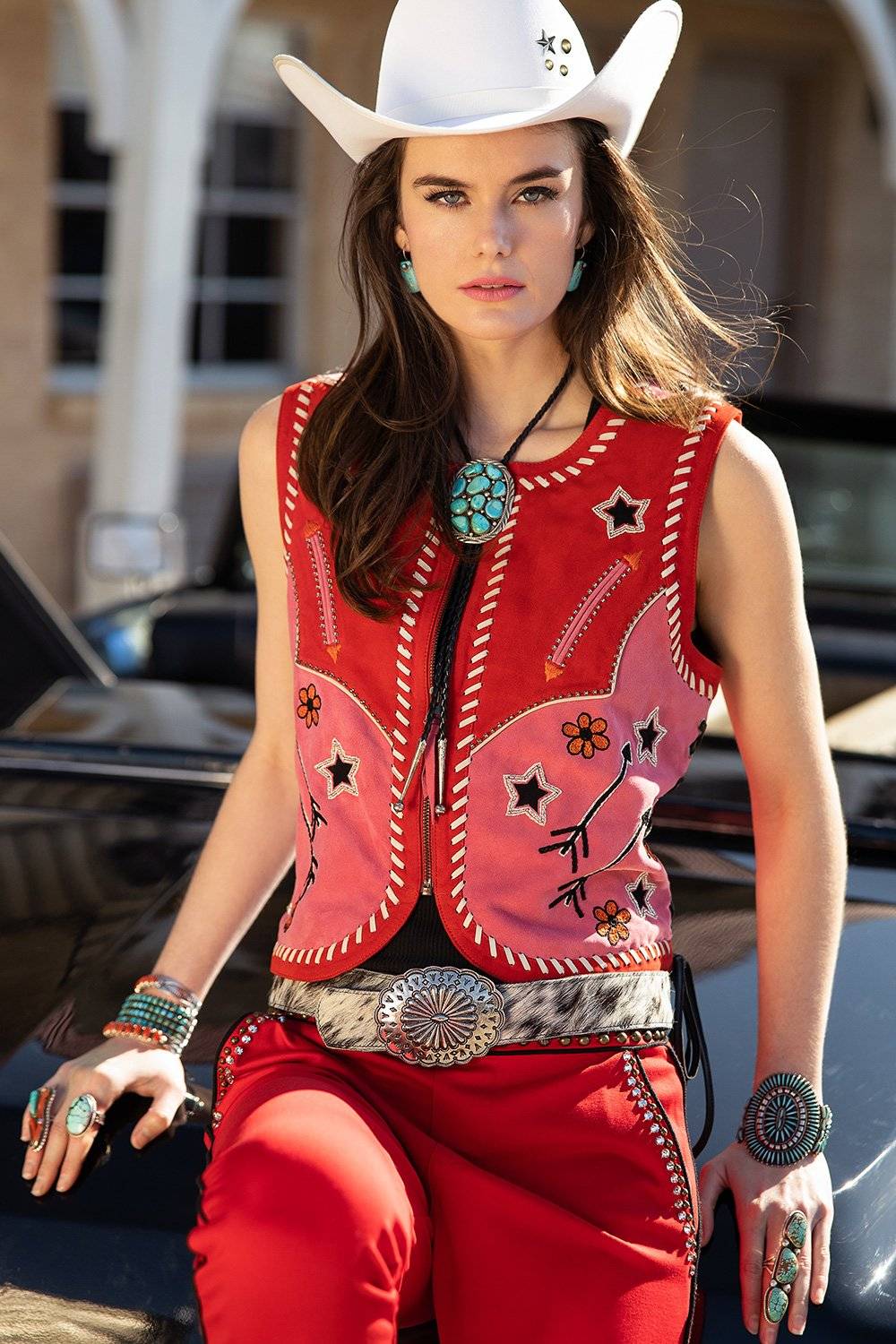 Roping the Wind Vest
From talking to several of you in our Wolf Pack, it seems that this was the vest that started it all. It was the image on the cover of the catalog, and it was the image that we used to tease the collection, and the response to it was huge. As one Pack member said, "I knew immediately that Bakersfield was going to be something special. And that I needed that vest!" It was a risky color combination and a bold design, and it turned out more beautifully than we even imagined – we're proud for it to be the headlining piece of Bakersfield and we're thrilled with how it was received.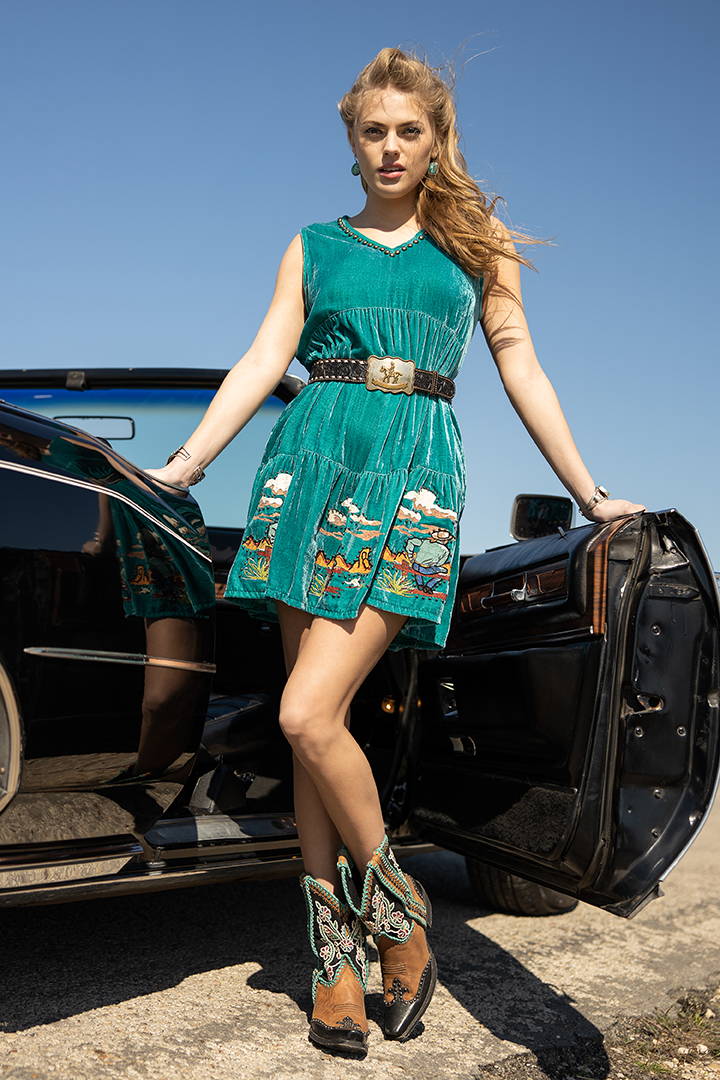 Just Another Cowboy
What is not to love about a summertime velvet? The color and texture of this dress are so rich and elegant it's hard to even classify it as a sundress, but it's definitely going to be perennial favorite for the mid-year months. And that's not even the best part about this gorgeous garment – the western scene on the bottom tier is completely painted by hand, you can actually feel the texture of the brushstrokes! It's one of our personal favorites from Bakersfield and a beautiful addition to your warm-weather wardrobe.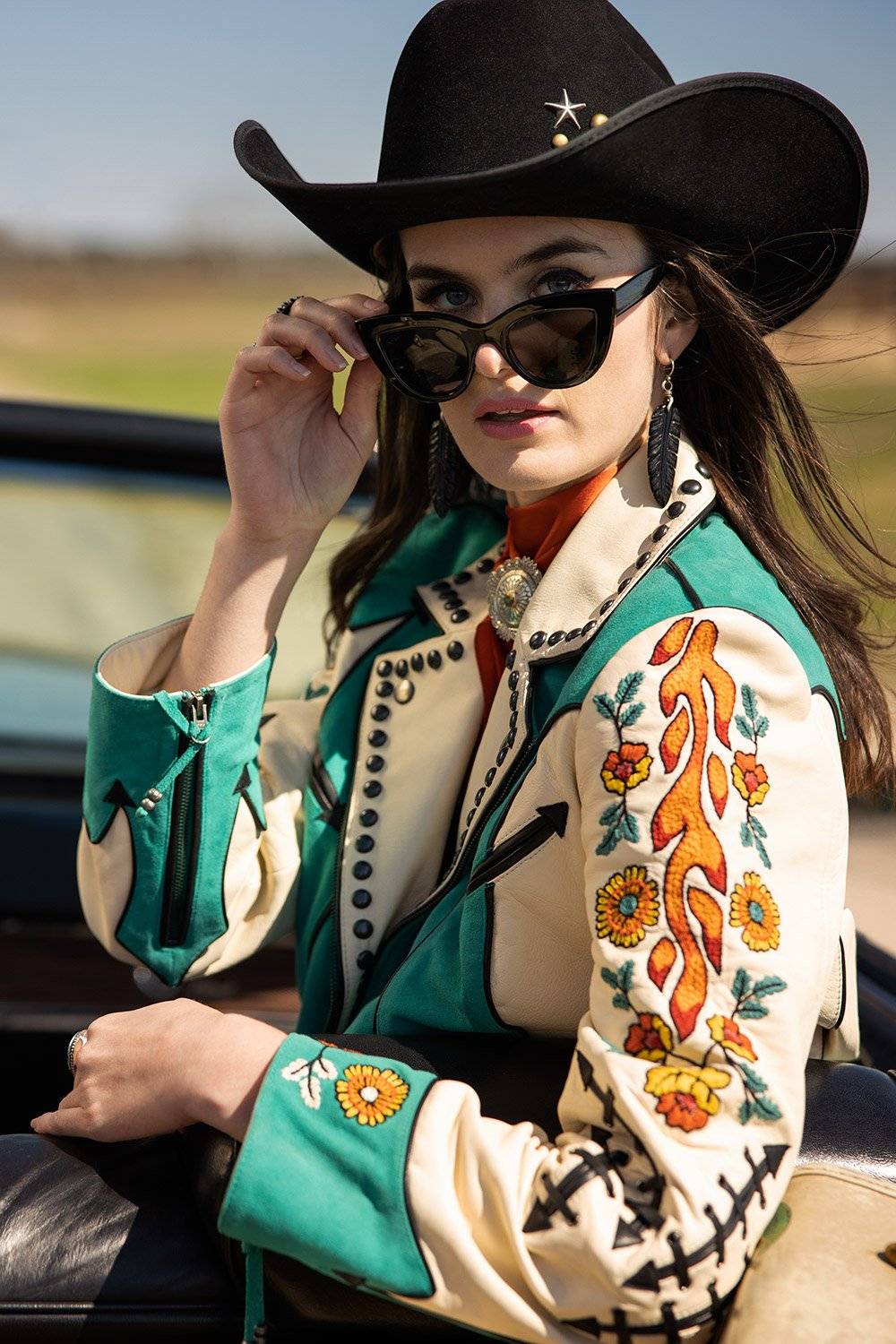 Bakersfield Biker
We couldn't talk signature pieces without mentioning the beautiful biker from Bakersfield. While we love it in that bold black, we're a little partial to the colorful turquoise and cream combination. The flowers juxtaposed with the flames perfectly represent the dichotomy of feminine and fierce that defines the Wolf Pack, and while all of our jackets are designed to stand out, the Bakersfield biker even stands out from those.
---
There has never really been a way to articulate the Bakersfield Sound and there isn't really a way to articulate what we intended to convey with the Bakersfield collection, but we hope that it evoked the same feeling in y'all that it did in us: delight.
Look good. Feel Good. Hang a little happy in your closet.