Fringe Benefits: Bakersfield's Head-Turning Top
Fringe Benefits: Bakersfield's Head-Turning Top
"I go out walkin' after midnight
Out in the starlight, just hoping you may be
Somewhere a-walkin' after midnight
Searchin' for me"
– Patsy Cline
Man, what a classic. "Walkin' After Midnight" is still such a great song. And it's even a great name for a piece of Double D Ranch. But in hindsight, we had to kind of laugh at ourselves, because it's a little out of place for this collection.
"You know, I'm not sure why I named it that," Cheryl laughed. "Patsy Cline wasn't really Bakersfield, she was more traditional Nashville. Knowing me, I was probably designing it after midnight, and running out of ideas!"
Ok, so the inspiration for the top didn't come from Patsy Cline. Where did it come from?
"Well, the silhouette of that top has always been a popular one for us," Cheryl explained. "So, in a way we were revisiting an old favorite. But somewhere I came across this little pink fringed getup, which I imagine must be a vintage, homemade rodeo queen outfit, because I can't see a tag or a label on it. It has that long fringe on the sleeve, and I thought, 'Oh, that's fun! What if we take this look and kick it up a notch, add some embroidery, a little flash and more fringe.' So we started there, and just kept adding elements."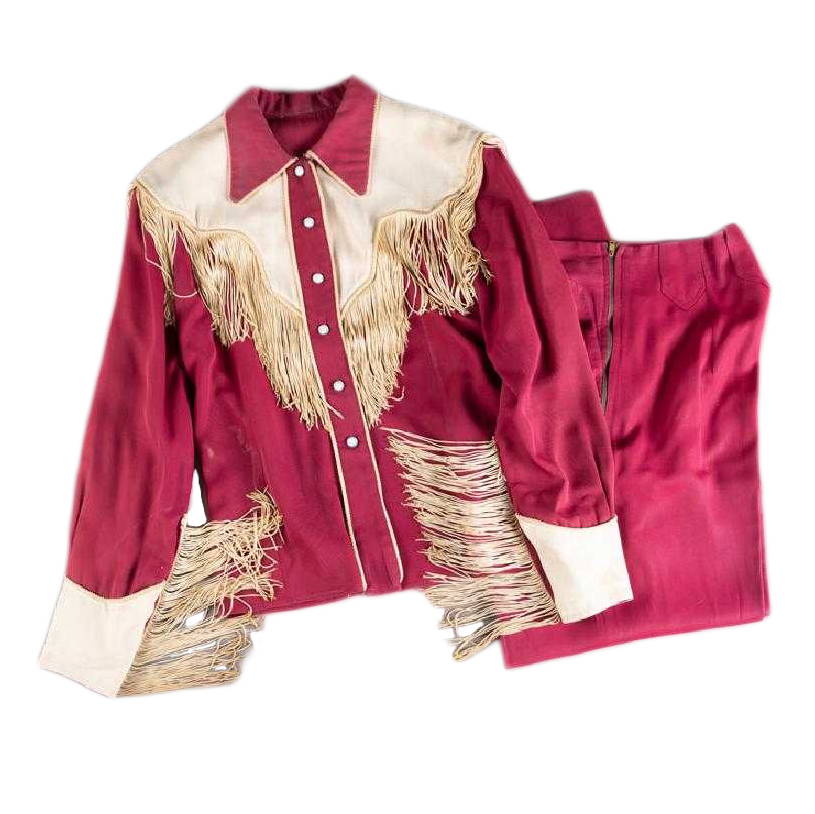 While the name may seem a little out of place, the top is distinctively Bakersfield. It carries on the pervasive theme of embroidered and embellished cacti, which is an element you see a lot on Nudie Cohn's suits from that era. Fringe was a given, but we amped it up by adding it to the yoke as well – the movement on this top is to die for! Can't you just picture strutting your way through the honkytonk and turning every head in the room?
And what's a western top without some contrast piping and smiley welts? We had a lot of fun coming up with these color combinations – trimming the white yoke on the red top with a soft orange, the pops of turquoise against the black yoke on the white version, and hello, hot pink!
One of the things that makes the Walkin' After Midnight top unique is that it's a long sleeved pearl snap, but we designed it for the summer collection, so we went with a sheer fabric which gives it some breathability – and some sexiness, if you're feeling bold enough to go sans cami! Speaking of sexy, there's just something kind of flirty about a tie-front on a button down, isn't there? All in all, you really can't rock this top without feeling like a superstar – and looking like one.
It's one of the statement pieces of summer collection, one that screams Bakersfield, and one that screams Double D. I mean, if you can't see it from across the street, what's the point in wearing it, right?
P.S. We hope "Walkin' After Midnight" doesn't get stuck in your head all day like it has been ours!