Scoring a Signature Scarf
SCORING A SIGNATURE SCARF
It's no secret we're really into scarves right now. Like, *really* into scarves. So, we're making some extras this go 'round. In addition to our usual handful – some of which y'all have already seen in Cheryl's most recent bathroom video – we got a wild hair to design a unique scarf exclusive to each collection and launch it with the line.
And, despite getting that wild hair in our December planning meeting* less than a month ago, we did just that.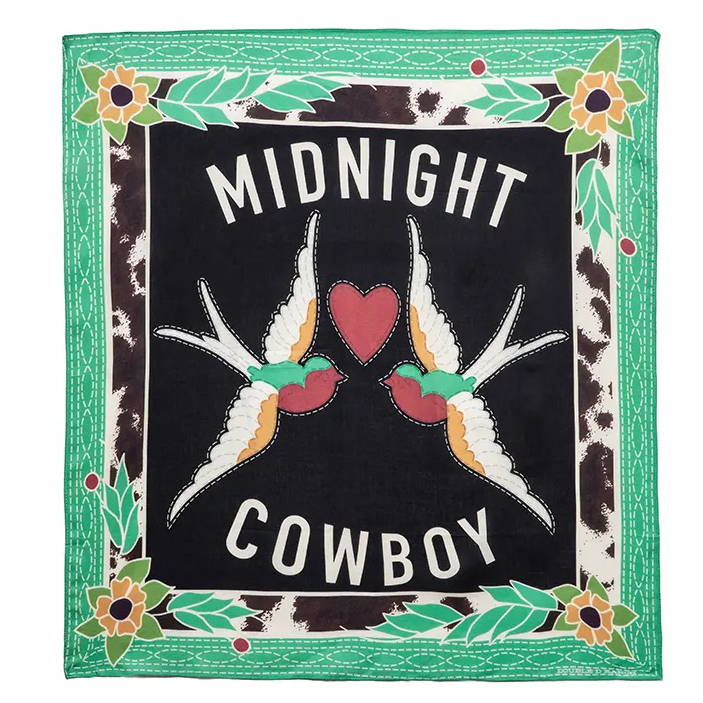 But here's the kicker: they're not for sale. You heard us. We're giving them away! With every purchase of $300 or more from the Midnight Cowboy collection, you will receive your exclusive Midnight Cowboy scarf, FREE! That is the only  way to get one, and there is a limited quantity – first come, first serve – so when we say "exclusive", we mean it!
*And since we've been in the "oversharing" mood lately, here's a fly-on-the-wall glimpse of how this decision was made (and a pretty good idea of how a typical meeting goes in our house):
Cheryl: Y'all! What if we made an exclusive scarf for every collection?!
Audrey: Good grief, Cheryl. We don't have time for that. WHEN are you going to have time to design them?
Cheryl: Sure, we do! I'll design them right now, right here in this meeting. You think you can get'em made in time, Hedy?
Hedy: Oh, I'll get'em made. Y'all don't ever worry about me.
Audrey: You think you can even sell that many scarves, Cheryl?
Cheryl: We're not going to sell them, Audrey. We're going to give them away.
Audrey: Now you're just trying to kill me.
So, please, y'all help us not kill Audrey! Stock up on your Midnight Cowboy goodies, and let's get these scarves out the door and show her we can do it. (So that maybe she'll let us do it again in the fall...)