Rusty the Rooster & His Willie's Picnic Picks
Rusty the Rooster & His Willie's Picnic Picks
Jack: Sir, may we please have some chicken feed or something to lure the roosters into the shot?
Groundskeeper: Ah, hell, just pick 'em up!
Jack: *goes to grab a rooster*
Groundskeeper, emphatically: NO, NO, NO! NOT THAT ONE! NOT THE BLACK ONE! He won't like it. Go get Rusty.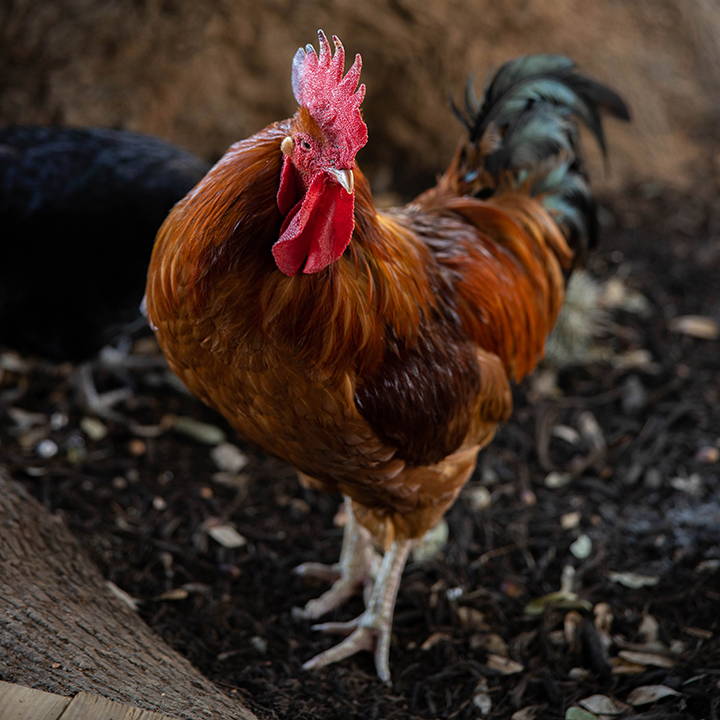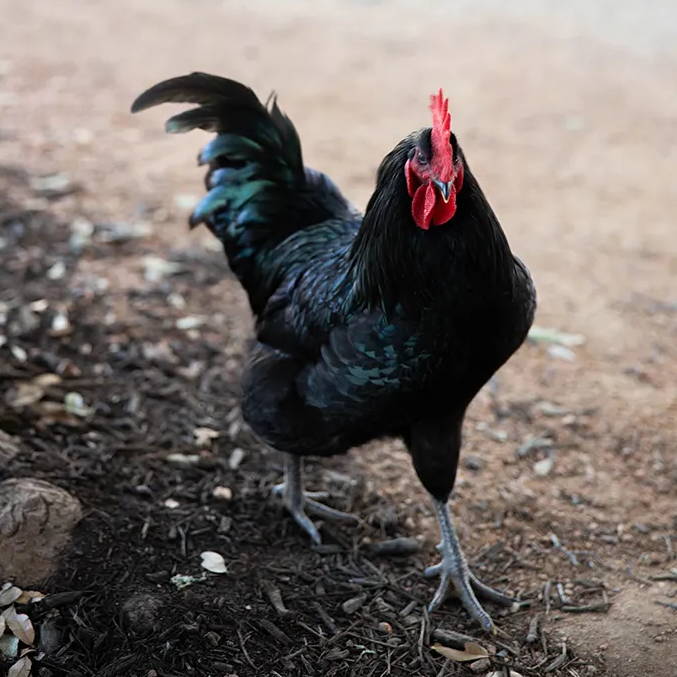 And so, little Rusty became our favorite prop. (Though Clyde the armadillo is a pretty close second.) We'd scoop him up, stick him in the shot, rearrange him, turn him around – and he was just the most amiable and amenable little dude through it all. He and Jack were pretty much buddies by the end of the day.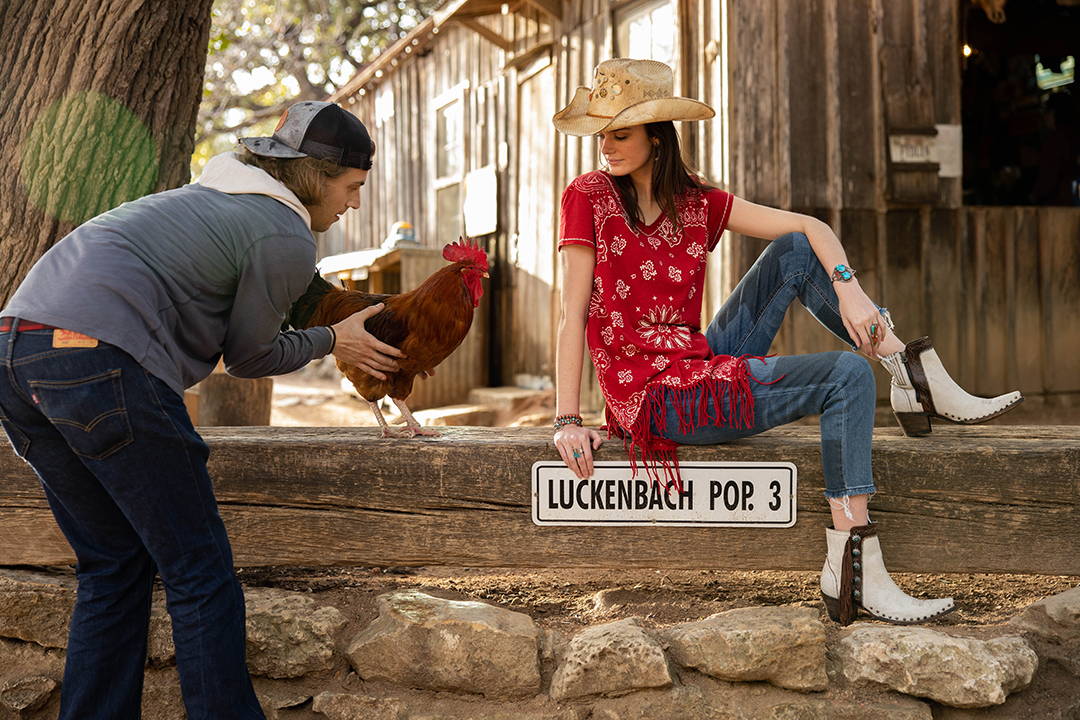 As it turns out, the Double D photoshoot crew are not Rusty's only fans – this charming chicken has his own Facebook page! Seemingly, he's beloved by locals and tourists alike. We like to think we're his favorites, though; after all, we did provide him his professional modeling debut. Probably. Speaking of Rusty's favorites, we (somewhat arbitrarily) assessed what we think he would say are the must-haves from Willie's Picnic. So without further ado, here are Rusty's Recs: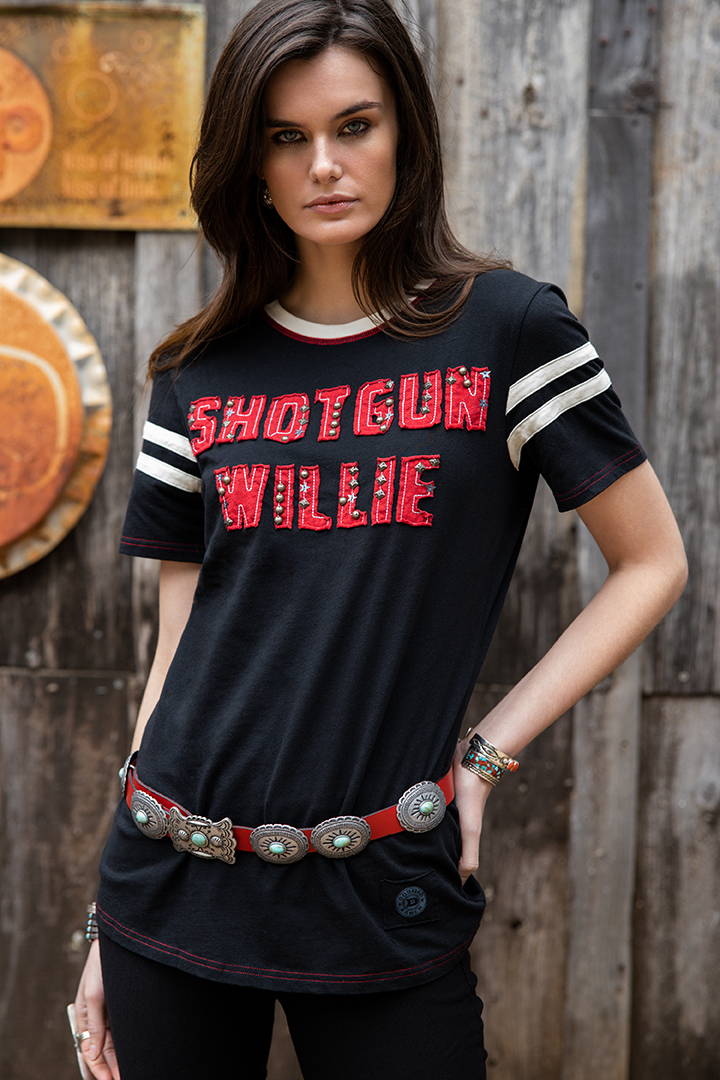 Well, obviously. One Luckenbach legend to another! How could the unofficial town mascot not be all about some retro-Willie style? This tee screams summer and seventies, and it's undeniably iconic, just like Willie and Rusty themselves. Definitely a must-have.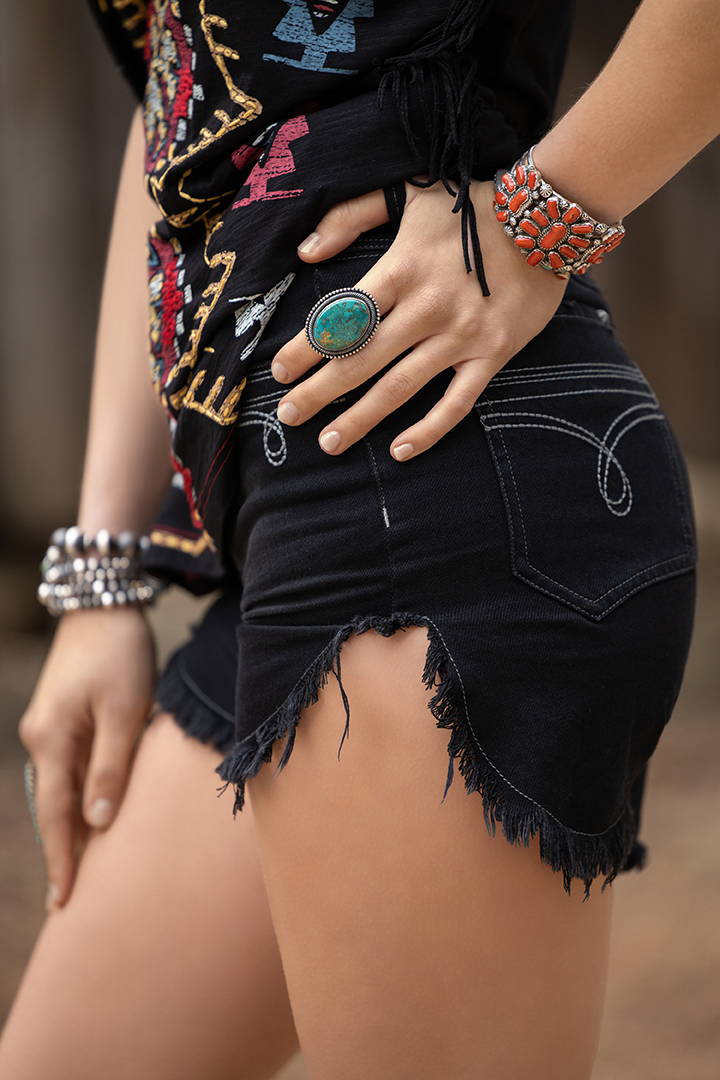 Duh. Cut-off jean shorts are quintessential country music couture! And who DOESN'T love the silhouette of the Sealy? They're flattering AND sexy. C'mon… Rusty lives his life at a dancehall, you KNOW he dreams about the days of cowgirls boot-scootin' to Pat Green in rough-edged denim. I guess you could say he's a bit of a… chick magnet.
Of course Rusty loves a bandana -- it's a summer staple in small town Texas. On your head. On your wrist. As a top, if you're tiny. (And these days, in this wild weird new normal we're in, more and more people are wearing them around their neck and pulling them up over their nose and mouth as a makeshift mask when entering a business.) This one is so chic, classic, and timeless, with its tiny pearl border, plus it's Rusty's favorite color – red!