Play Your Strong Suit
Somewhere along the way, pantsuits – specifically those for women – got a bad rap. They got a reputation for being frumpy, uptight, and even masculine. Ladies, it's time we put the "power" back in power pantsuits!
This year has been the year of the pantsuit for Double D Ranch. (We'd rather remember 2020 for that than anything else in this dreadful year, right?) We started the year with that Midnight Cowboy duo that stopped everyone in their tracks. We stole hearts in Bakersfield with the Rodeo Trails suit – even going extra bold with those sassy little shorts! We put a Wild West spin on it with the Dime Novel suit in Cody. And now we find ourselves in Music City and where does a twangy two-piece belong more than center stage? After all, it was the vintage suits of superstars past that sparked this design flame in Cheryl in the first place! And the Nashville collection is full of them – from those classic sassy silhouettes in a jacket-and-pant combo to the throwback '70s style silky Peralta pairing.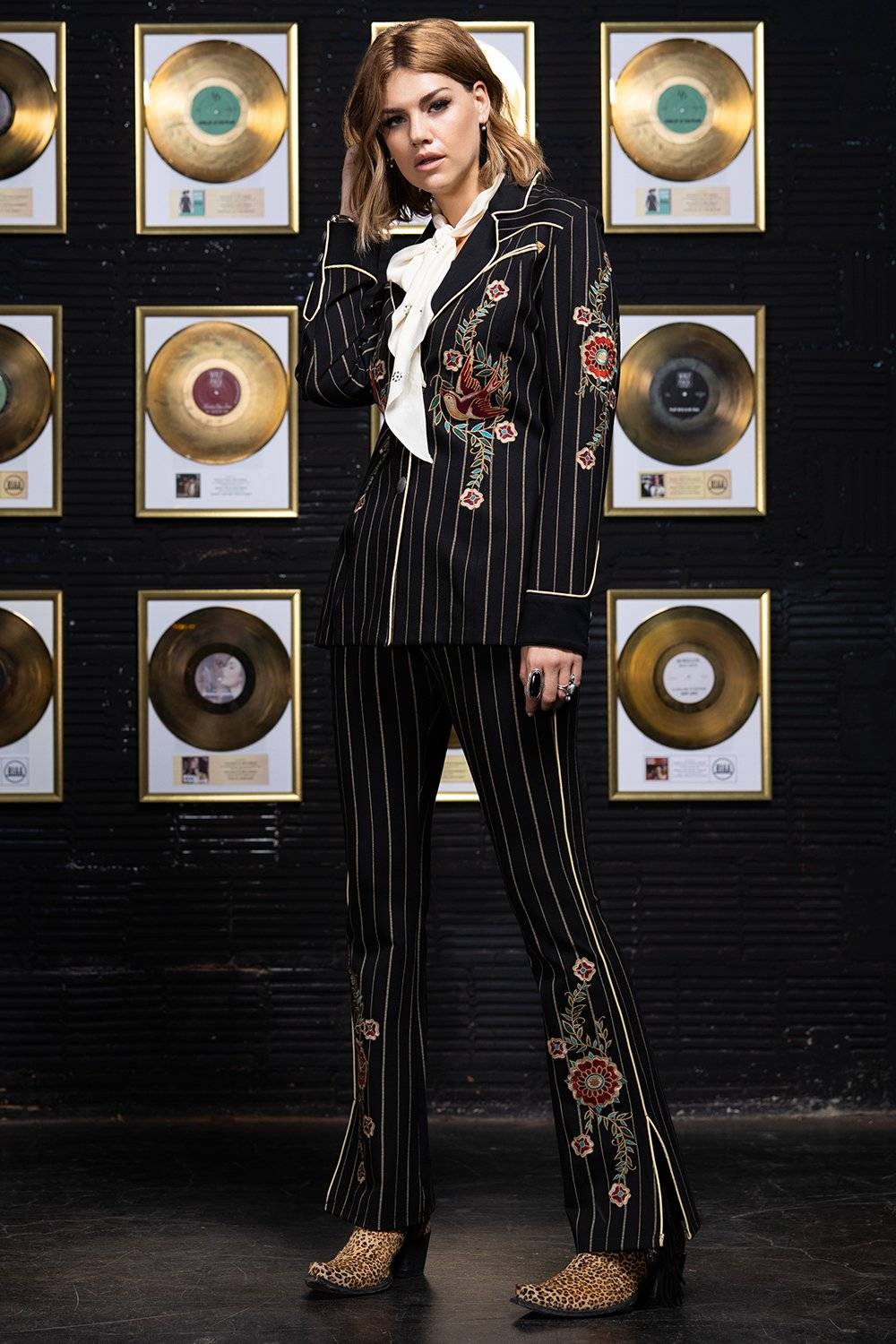 "These are some of the best, most versatile, most wearable pieces we've produced this year," said Cheryl. "The silhouettes and the designs are fabulous, of course, but what really makes these suits next level -- and I think a very strong contributing factor to their popularity -- is that you'd never know it, but these suits are made with a stretchy, body-shaping fabric. So not only are they flattering, they're also comfortable, they travel well, they're office ready. And they can easily transition from day to night, so it's really good that they're comfortable enough that you don't mind having it on all day. I mean, they're just fabulous."
In previous collections, we basically designed a "signature suit" that stole the show. In a collection as star-studded as Nashville, we couldn't narrow it down to just one. And we have a new favorite from minute to minute.
Like the Maybelle – how can you not just be totally starstruck by this bold red beauty? Red is a power color in and of itself, obviously, and add to it that beautiful embroidery accented with sparkly jet rhinestones, this is basically the definition of a power suit! C'mon, slip into that badass duo and tell me there's anything you can't conquer.
And of course, because nothing flatters like black, we had to give y'all an all-black version of that silhouette y'all have come to know and love. The Long Black Train pant is ultra-flattering with a little bit of give to the fabric and accents down each leg in red, string, or turquoise that have an optical illusion effect that makes your legs look longer. It's impossible to pick a favorite among the three colors, but if you go with the turquoise, you should definitely check out the Long Black Train jacket – pairing them together is head-to-toe rock star status!
Oh, and the suit we will never, ever forget – the Man in Black; this suit has a story. A dazzling beaded (and slightly tweaked) version of this two-piece combo was custom made for country music legend Tanya Tucker who donned it during her performance of "Bring My Flowers Now" with Brandi Carlile at the 2020 Grammy Awards. You can rock an everyday version of it and still look (and feel!) like a superstar. (We also love the jacket worn as a blazer to dress up your jeans.)
(And we know the Peralta doesn't "technically" count as a pantsuit in the traditional sense, but be still our retro-loving hearts, because that silky combo will have you feeling Farrah Fawcett fabulous!)