Patriotic & Pretty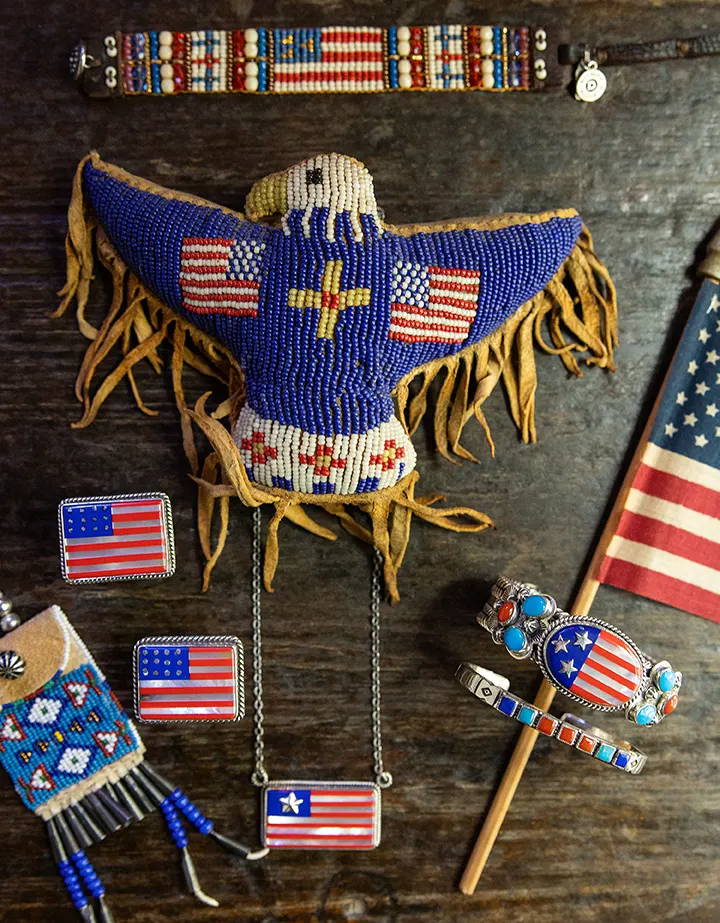 It all started with a ring.
"I have had this vintage flag ring for, I don't know, probably 30 years," Cheryl said. "And I mean, every single time I wear it, people just have a fit over that ring. When they'd ask me where they could get one, I didn't have an answer because I'd had the thing forever, so I just decided, let's make some!"
So we reached out to our dear friends over at Peyote Bird Designs to bring this flag ring to life. The very talented inlay artisan husband-and-wife duo, Valerie and Benny Aldrich, crafted us these awesome patriotic pieces of delicately inlayed mother of pearl, red coral, and lapis lazuli set in sterling silver in the image of a flag. In addition to the ring, they carried our vision into pendants on dainty necklaces and even the centerpiece of a bold, beautiful cuff. (They also created that sweet, simple stacker bracelet for a pop of patriotism that's a little more subtle.)
And, in true Double D fashion, we didn't stop there. Choker necklaces are still very much on trend, and c'mon, what says free spirit and summertime more than a red-white-and-blue beaded choker? Another of Peyote Bird's amazing artisans, Adonnah Langer of Chili Rose, put her gift to work to craft us a fabulous desert serape choker in a patriotic palette, with a matching beaded bracelet. (She also beaded a beautiful deerskin bracelet depicting the American flag, but we barely got that little cutie on the website before it was in someone's cart!)
Speaking of beaded beauties, how awesome is the Plains Flag Belt? We're obsessed. Cheryl designed it based on inspiration from a very old vintage version she saw on an auction site (the woman is perpetually window-shopping for accessories) and put a more modern Double D spin on it. The intricately beaded images of the American flag really pop against the background of turquoise, and the subtle addition of brass dome studs are just a tiny hint of edginess. (It's pretty much everything we love: Americana, edge, and turquoise!) The strap is a substantial width, making it a solid standout statement piece, whether you're slinging it low across your favorite jeans or Sealy Shorts, dressing up a denim skirt, or belting a simple sundress.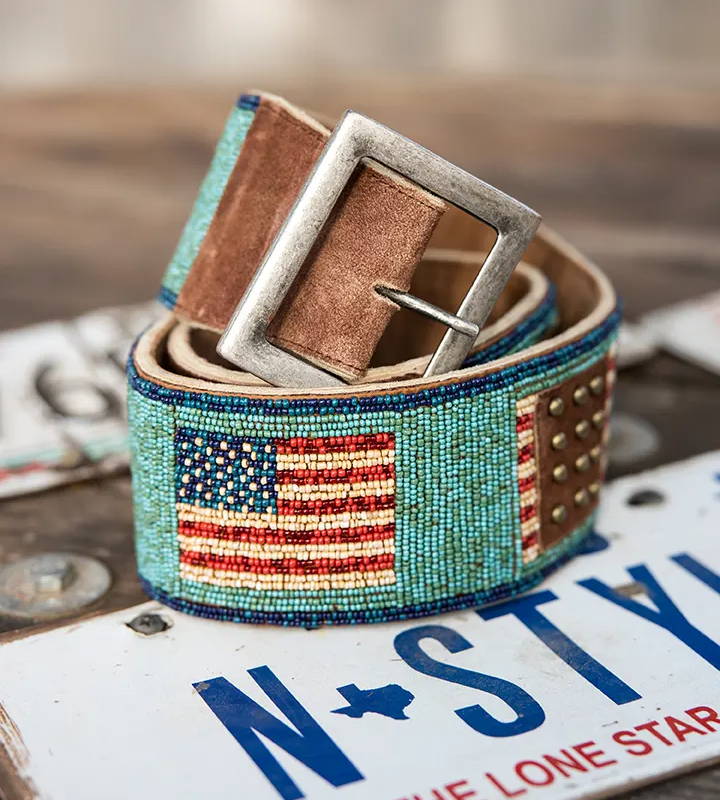 But here's the deal, adding a pop of patriotism to your outfit doesn't have to be so in your face. You can accomplish understated Americana by adding simple combo pieces of blue turquoise and red coral, like a bold belt buckle, bolo, or big statement ring. (Red coral is an awesome accessory on its own, if you're hesitant to pair turquoise with your more royal blues of your patriotic attire.)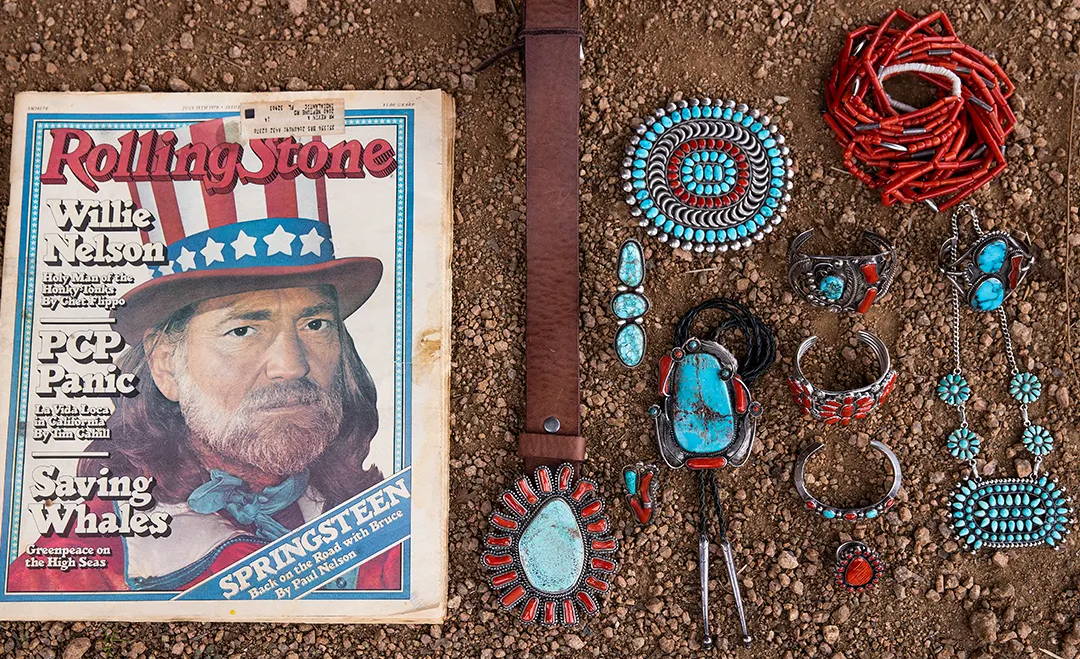 As much as we're loving all of that, perhaps the coolest pieces on this page are the authentic amulets we've acquired, like the itty bitty "possibles bag" with its tiny micro-beading on brain-tanned leather. And of course, the real star of the show is the beaded bald eagle amulet with the supple leather fringe. "But that's not an accessory…" you're thinking. You're right, it's not. It's actually what's called an umbilical fetish. Yes, THAT kind of umbilical, and that's a whole 'nother story.