Luckenbach Legacy: Becky Crouch Patterson
Luckenbach Legacy: Becky Crouch Patterson
Hondo Crouch is a Texas legend. He's the colorful character who, in 1970, up and bought the tiny town of Luckenbach and transformed it from a dust speck on the map to a destination spot for dancers and dreamers alike. A hub for outlaw artists like Willie Nelson and Jerry Jeff Walker, Luckenbach has made its mark on the musical landscape, and Texas history.
But that's not the only legacy Hondo left. His daughter, Becky Crouch Patterson, is making a mark of her own. She's an author, an artist, a designer – a creative in every sense – and an absolute delight. Oh, and she's one of us – a fan of Double D Ranch from the very beginning.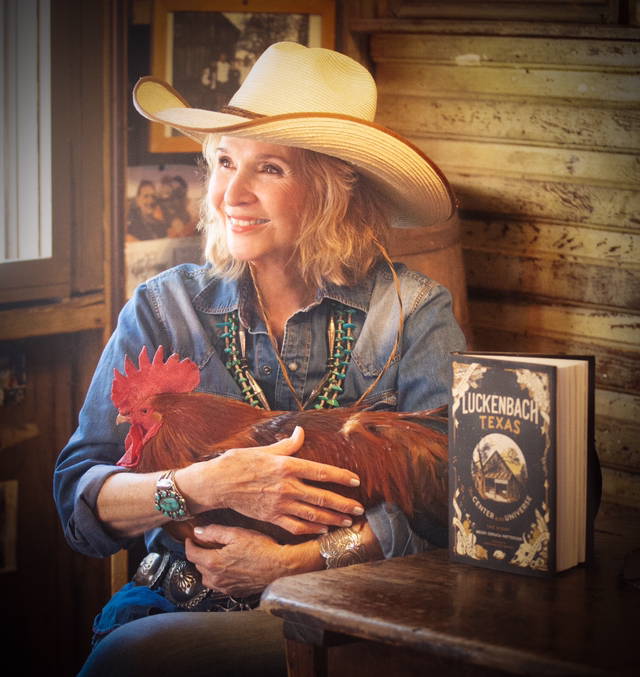 We got to ask Becky a few questions about her legendary dad, what it was like living in the Luckenbach limelight, her trio of memoirs, and her design aesthetic.
DDR: What's it like to grow up with a man like Hondo Crouch as a father, someone who is a larger-than-life kind of character? What traits or life mottos would you say you inherited from him?
Becky: Hondo as a father was both hilarious and frustrating to us kids. He was an Indian scout, old man of the woods, Hall of Fame swimmer. He loved kids, taught them to "p'like" (playlike). We were the first brunt of his pranks: hunting arrowheads where he'd already planted them to find, including a price tag. Or taking us hunting, where he'd already killed and placed a deer, then later making us believe he shot it with my brother's BB gun. Or the Christmas he painted spots on my sister's old horse who wanted an appaloosa.
I inherited his creativity, making what you want out of what you have. He gave me old rusted buckles, seeds, broomweed, cow bones and tails from which we made jewelry and wall hangings.
He defined for me what being a Texan is: love of nature, steward of the land, love anything old (like Luckenbach), nothing is ugly; to have a free and independent spirit. He gave us permission to be outrageous and unique. Texas inherited a folk hero.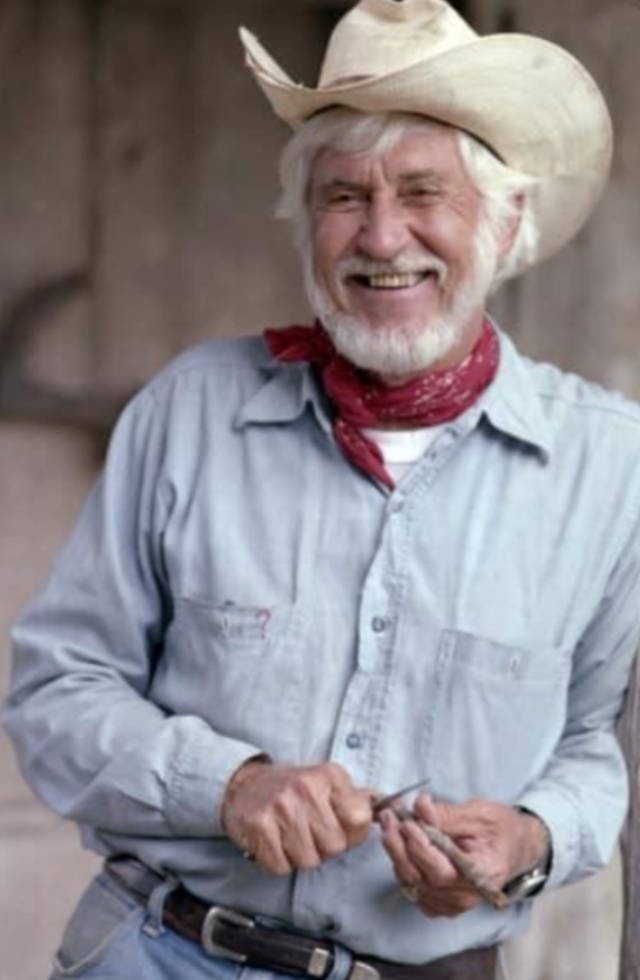 DDR: What's it like being Luckenbach "royalty", both back in the 1970s heyday and nowadays?
Becky: Hondo was called the "Clown Prince of Luckenbach", the "Sunday Mayor", and "Imagineer". I was eyewitness to the zany festivals he held: Return of the Muddauber, Women's Only Chili Bust, Great World Fairs. His friendship with songwriter Jerry Jeff Walker led to the recording of the iconic album "Viva Terlingua!" which gave rise to "outlaw" music. Since 1849 Luckenbach has been a center for inventors, freethinkers, poets, musicians, peacemakers, individualists. It is rich in folklore. 
DDR: You currently reside on Steiler Hill Ranch, where you were raised in Comfort. Do you spend much time down in the "town"?
Becky: I was raised on a ranch 12 miles from Luckenbach. I still love going to dances in the vintage dancehall and listening to amateur musicians in the Pickers Circle under the trees, a tradition Hondo started. It's stayed pretty much the same. People like to go there to get lost in time.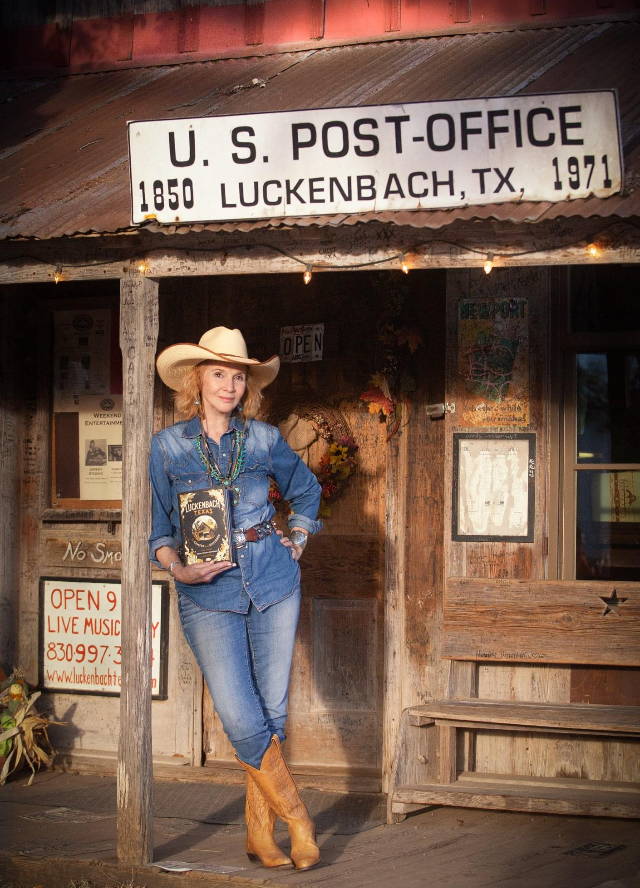 DDR: Ok, I don't want to make this all about Hondo and Luckenbach -- you're legendary in your own right! You're a best-selling author, you've published three books now -- "Hondo Crouch, My Father", "Luckenbach, Texas - The Center of the Universe", and "The Ranch That Was Us" about the Steiler Hill Ranch. Tell us what inspired you to share these stories and the experience of putting these big, important parts of your life out there for the public.
Becky: My books are memoirs, a trilogy documenting my family's Texas odysseys. Hondo My Father captures the private life of an inscrutable illusive amazing treasure of a father – the good, bad, and ugly. The Ranch book (foreword by Willie Nelson) is about loss: loss of ranches, lives, work ethics, lifestyle. The Luckenbach book was to get it all down in the nick of time, before the humorous anecdotes and stories of 1850s history disappear and are forgotten. It's both hysterical and historical.
Like Hondo, I too am a storyteller and writer. I am defined by a sense of place. As an artist and writer, I defined my place. I cherish my ancestors. Remembrance is the key.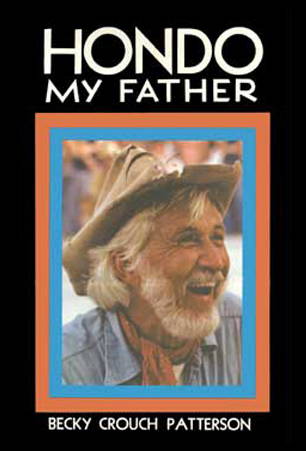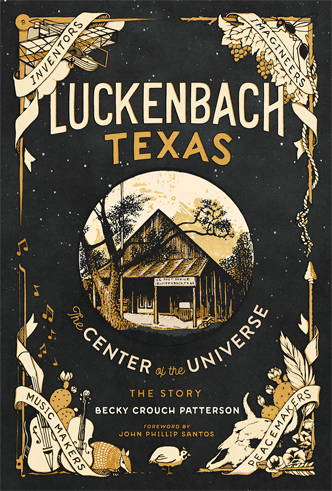 DDR: You also have several other creative talents. In addition to painting and tapestries, you have experience in an area we may know a little about: designing hats and boots and clothes! Tell us about those endeavors.
Becky: As an artist and designer, my characteristic is to always use the indigenous – include the Texas flora and fauna – whether it's appliqued tapestries, silk scarves, church stained glass, clothing, boots, or hats. I celebrate the Texas/German/Mexican cultures around me. My 100-year-old cousin architect told me to always put indigenous things in your home reflecting the surroundings of the land. 
My hat company Hondo's Hats was inspired by Hondo's wardrobe. He always wore faded blue chambray shirts and jeans tucked into boots, red bandana, and tattered Stetson. I'd name them after famous characters in movies. Willie Nelson had several. At one Fourth of July Picnic I presented him one, but it was too big. He graciously and tactfully said, "That's OK. We all wear the same size hat in Luckenbach!" and wore it over a bandana do-rag.
DDR: While we're talking western wear, how long have you been wearing Double D Ranch? How did you first get introduced to the brand?
Becky: I've loved Double D Ranch since the '90s, during the "Dances with Wolves" era. My favorite is the [original Scout Jacket], blue wool US Army officer jacket "commandeered" by an Indian scout who added fringe on the shoulders and floral beadwork design.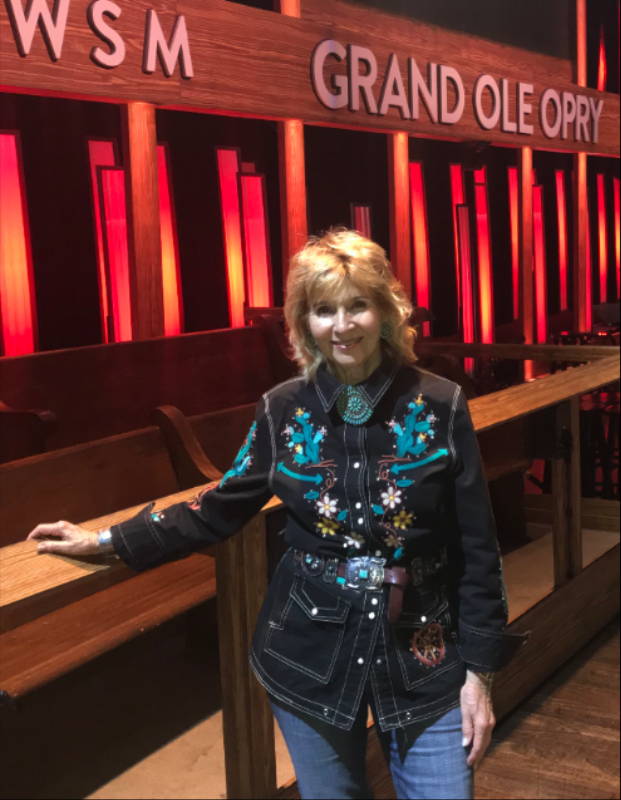 DDR: We talk a lot about the inspirations behind our designs. What inspires you?
Becky: Much of my art has to do with creating beauty out of pain. Like the guardian angels I put on backs of jackets when my son died, or the contrast of spiky cactus thorns among blooms, a symbol of regeneration; or my Virgin of Guadalupe boots, jackets with "milagro" fetishes for spiritual protection and answered prayer. I've worn a quilt top to Lady Bird Johnson's dinner party; and a Victorian nightgown to sing at a wedding. Anything goes – with boots and a Navajo concho belt! This is how fashion is born – out of our history, culture, memories.
You can check out Becky's art and designs and purchase her books on her website, www.BeckyCrouchPatterson.com