Fiddle Phenom: Our Q&A with Jenee Fleenor
FIDDLE PHENOM: OUR Q&A WITH JENEE FLEENOR
We spent a wonderful couple hours with CMA's Musician of the Year, Jenee Fleenor, backstage at the Grand Ole Opry. It was interesting, enchanting, and emotional -- if you didn't already love Jenee, you're about to.
DDR: For starters, talk about where we are, Jenee.
JF: We are at the Ryman Auditorium, where all the history is made. I still get nervous walking in this building, thinking of all the history that's been made here. I remember one of the first times I came to Nashville, I was probably between 13 and 16, and I remember running as fast as I could to just touch the steps. You feel like a lightning bolt goes through you. I moved to town when I was 18, and within a month I played the Ryman stage. If you would've told me that was going to happen so quickly for me, I wouldn't have believed you. I was just blown away.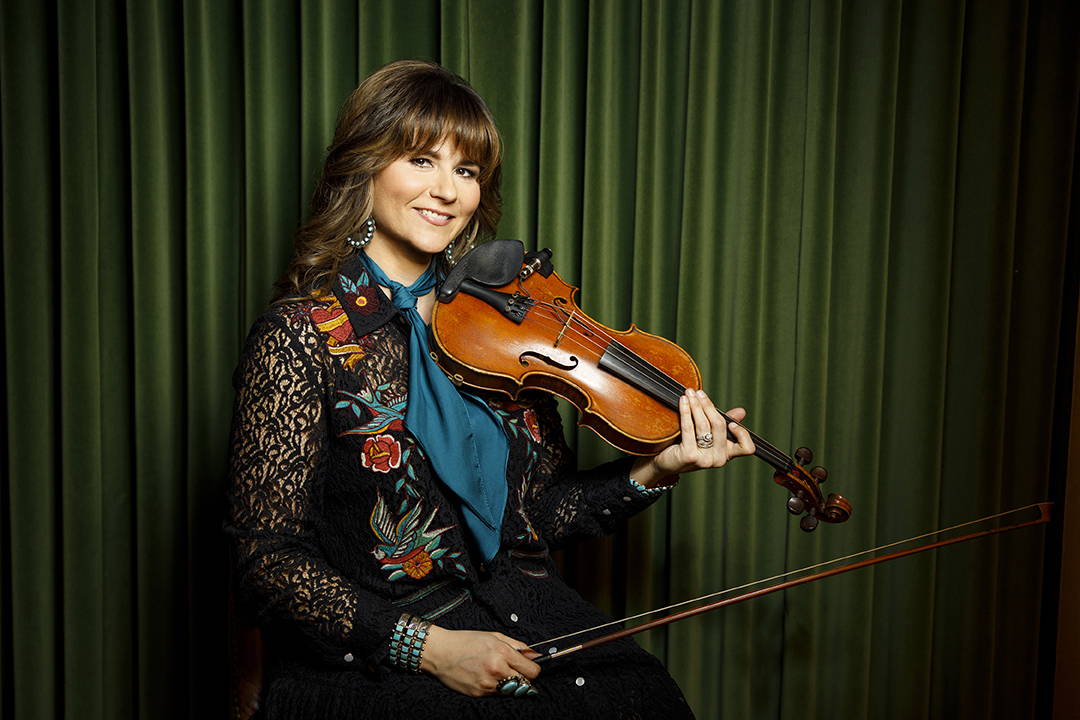 Photograph by Mitchell Franz
DDR: Do you ever touch those steps anymore?
JF: You know, you always come in the back entrance, so I rarely walk past the front anymore, but every now and then I do, and I can still see 15-year-old Jenee running to them.
DDR: That's sweet, that's really special. Ok, I want to start from the very beginning, and this may sound stupid, but what's the difference between a fiddle and a violin? Or is there a difference?
JF: This is my number one most asked question, and no, there's really not a difference. It's the same instrument. I actually started out playing classical, when I was three, with the Suzuki Classical Method. Maybe sometimes fiddle players will have a flatter bridge, but it's the same instrument.
DDR: As a 3-year-old, what makes you want to pick up a violin?
JF: Your mom and dad. (laughing) Them making you. I just did what my parents told me. They put a violin and a bow in my hand, and away we went to lessons every week. With that method, or with any instrument, really, I think it's important that at least one of your parents is there nurturing that. Every time I picked up my instrument either my mom or dad was right there, making sure that [I was using] what we learned in the lesson that week, giving those little pointers. I'm pretty sure I wouldn't – well, I know I wouldn't – be where I am today if it wasn't for them, encouraging me and making me practice. It is a God-given gift, too, but that was very important.
DDR: When did you know that you loved it? When did you say, "this is my passion"?
JF: I always say around 11 years old. I feel like it was the first time I stepped in the studio, which was around that age, and I put headphones on my head, and I heard my instrument coming through… I was like, "Oh my goodness, where do I get to do this all the time?" Even last night, I had a session, and as we were getting the sounds from my fiddle, it struck me again… It's a beautiful thing, those tracking sessions. I remember when I was a teenager, I would hear these older musicians telling their road stories and telling their studio stories, and I would think, "Gosh, I wish I had some road stories and some studio stories!" And now I do, I really do.
Photographs by Mitchell Franz
DDR: Ok, let's talk about your songwriting. Fiddle & Steel. When you sing 'Fiddle & Steel', I don't know if you meant to do this, but your voice sounds like an instrument to me.
JF: Well, thank you. I wrote that song with Phil O'Donnell and Buddy Owens, and I remember walking into the writing room and saying, "Why is there not a song called Fiddle & Steel? We need to write this." And we did. We wrote it actually more tailored for a guy to sing, but when I realized I wanted to put out some of my own music, that song rang true to me, so there were a few lines we went in and tweaked. But the melody, it just kind of went there.
DDR: Ok, let's talk about the Country Music Awards. How did you find out? How did that information come to you? Is it a text, is it an email?
JF: I was driving to a session at Blackbird, which is Martina McBride's studio. I'm on the road, and I knew they were announcing the top 5, and my phone starts going off like a casino! One of my best friends is texting me, and my husband, and I'm driving so I can't be on my phone, so I pull in the parking lot and I look at my phone and I see all these congratulations messages, and I just start bawling. But that's how I found out, I pulled into the studio, of course doing what I love to do. And I had a session to go in for! I'm trying to play, and I'm so excited, and my phone is just absolutely going off. There was a newspaper and the Associated Press trying to get in touch with me, because I was the first female nominated, which I didn't even realize. I never really thought about that part of it, just being a session musician was always my number one goal when I moved to town.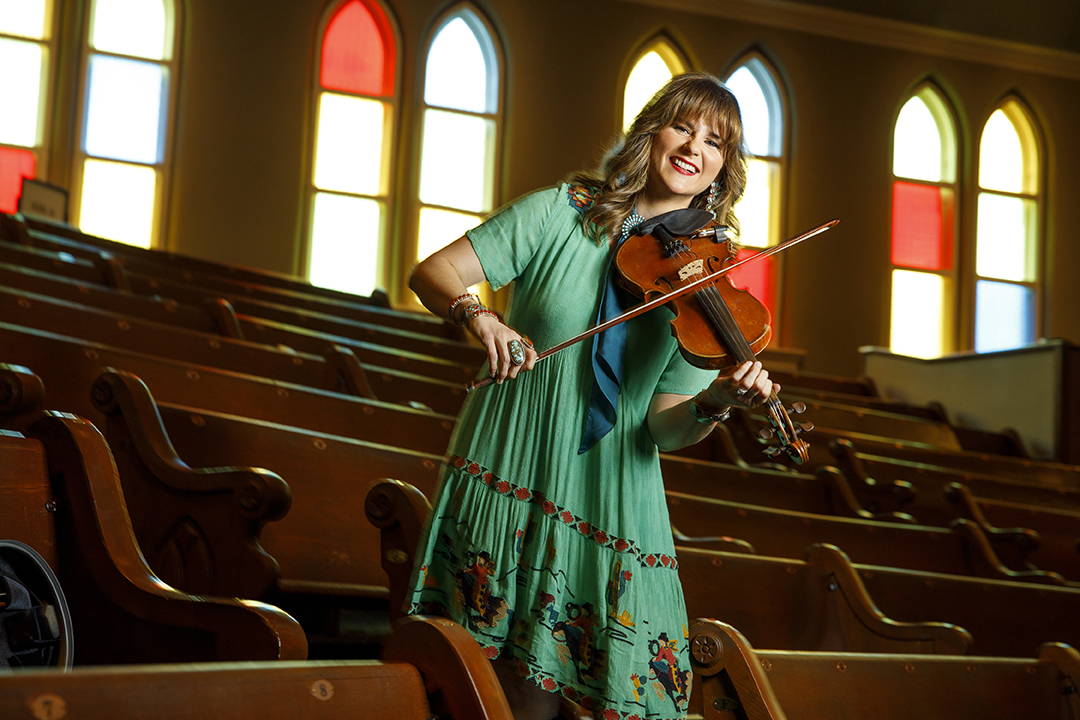 Photograph by Mitchell Franz
DDR: For me, that's what I like about you. You're here, you're doing your art, you're doing your passion, you're getting acknowledged for it. Yeah, it's great you're a woman and the first woman to do it, but it's about YOU. You earned it.
JF: Well, yeah, I think I've put in my 10,000 hours. They say it takes 10,000 hours to "perfect" something, I guess. Nashville's been really good to me, but yeah, I've put in a lot of work.
DDR: So, upcoming tours, tell me what you've got planned.
JF: Well, the big Blake Shelton tour. John Anderson, Trace Adkins, Bellamy Brothers, and Lauren Alaina are all with us. You have GOT to see this tour! We did it last year, and everyone agreed to come back, and it's just magic. Last year – I just have to say this – John Anderson, we played 'Seminole Wind', and he came out in this Seminole patchwork jacket, and the whole stage looks at me because they know how obsessed I am with that look. It was all I could do not to just run out there and touch that jacket. On the last day of the tour, he brought us all in the dressing room, and he handed me this dry cleaning bag. I opened it up and he had given me his jacket! And I – and the whole band – were back there crying. I'd been asking him the whole tour where I could get one, so when I opened it up, I just lost it. That night I played 'Seminole Wind' with the jacket on.
At our request, Jenee played a bit of 'Seminole Wind', which brought us to tears in a moment of reverie.
DDR: One of the first fashion shows we ever did, that was the opening song.
JF: No way? Well, this is a full-circle moment!
Photographs by Mitchell Franz
DDR: Ok, we've got to talk style real quick. How would you describe your style, and what are you trying to say with your look when you're on stage?
JF: You know, there was a long time where we had to wear just black, so for a long time I was just kind of a plain dresser. I'm not now! And obviously, I'm as country as it comes, so I was looking for a way to be, I guess, "Southern glam". I just like to be fun. I'm trying to think what was the first thing I had of Double D's... I think it was tall, flowered boots. I wore them on stage with Martina and a bunch of times. Then I stepped across the street from here, from the Ryman, and my buddy works at Betty's Boots, and they had your jackets, and that Space Cowboy Jacket – I was like, "you come here, you're coming home with me!" We had a show with Blake that afternoon, I think we were playing at Ole Red, and I was wearing it for that show and I'm sure I Instagram-tagged the heck out of it, because I thought it was so awesome. And actually, I was at The Voice in December, and I wore the Escalante Jacket, and even the camera guys were coming up to me going, "WHERE did you get that jacket?!" That was fun.
Photographs by Mitchell Franz
DDR: Can I hug you? I just love you. It has been so nice to get to meet you and such a blessing to get to hear you play. We wish you well, and it's going to be so fun for us to get to watch you!
JF: Well, I appreciate that, and thank you for making me look good!
---