Boots, Hats, Turquoise, and Boho Western Wedding Trends 2019
Boots, Hats, Turquoise, and Boho
Western Wedding Trends 2019
What's driving wedding fashion trends? We checked out trend reports and talked to our local expert, Megan Reiley, to find out what's hot in 2019. From venues to clothing, more relaxed is in, and "something blue" frequently means turquoise.
Less formal is in. From venues to food, couples are choosing a more relaxed atmosphere and shying away from formal sit-downs. Many are selecting urban settings, outdoor venues, and their backyards to save money and give a more intimate feel to the nuptials.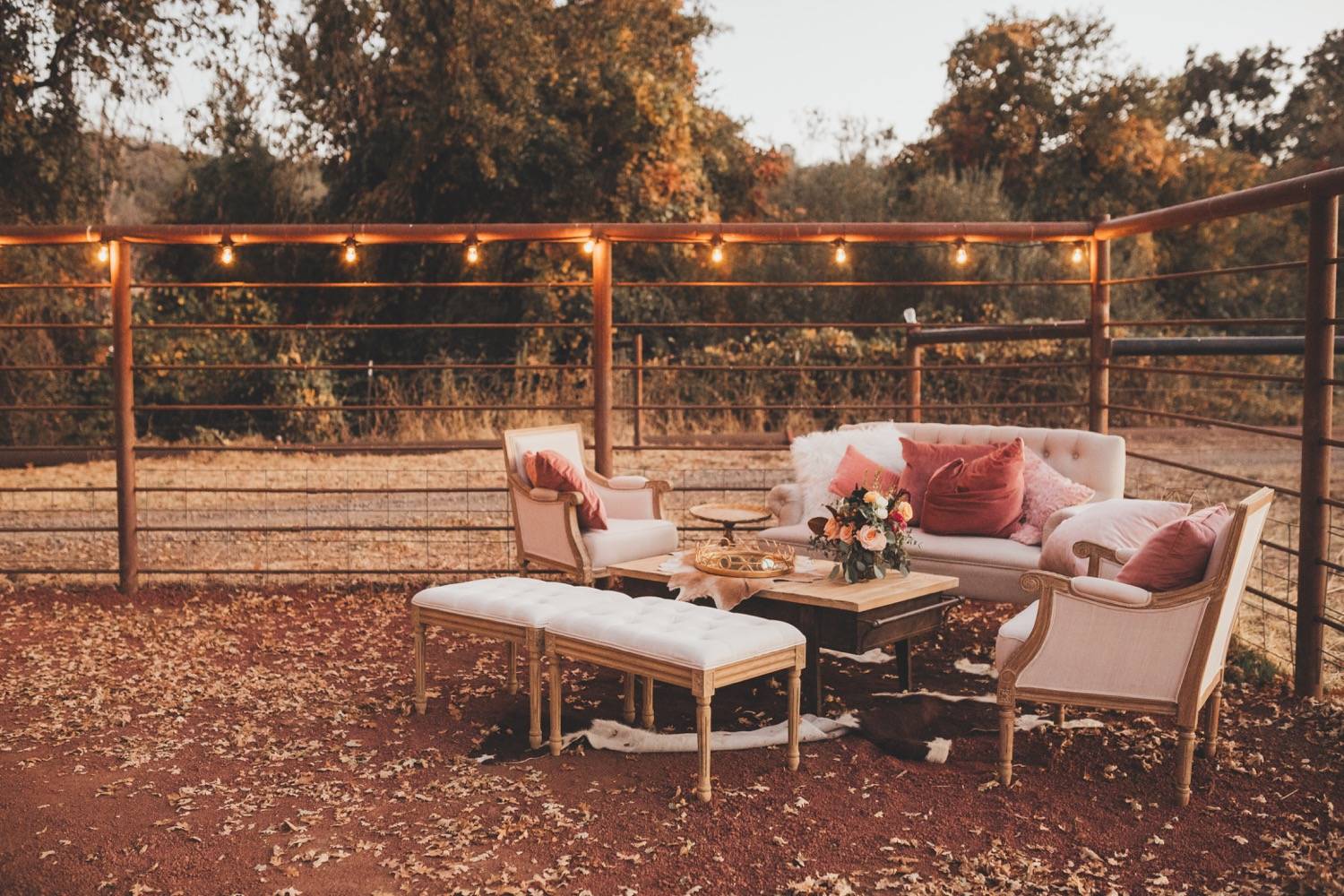 Lyndsey Garber Photography
Those relaxed, fuss-free outdoor settings also deliver a festival feel that offers the perfect balance between fun and understated chic. Food trucks serving comfort foods add to a music festival vibe, which Millennials have grown up with. The venue and the food must be Instagram-worthy with custom hashtags for social media.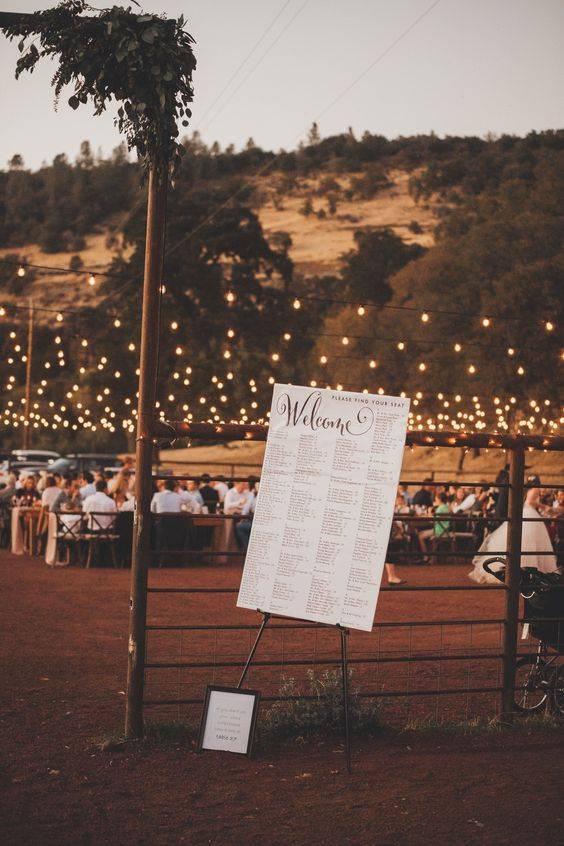 Lyndsey Garber Photography
"Most of my brides wonder, 'How can my wedding be different from the ten other weddings I've been to?'" said Megan, who owns Reiley + Rose Floral and Design, specializing in weddings. "A lot of brides want their weddings to be very individual and about them, so they try to incorporate distinctive, personal touches into their ceremonies."
Dressing for Comfort, Beauty, and Boho
The boho vibe has influenced current wedding trends, starting with the dress (or multiple dresses) which aren't pure white. Sometimes brides opt to ditch the dress entirely and go with a pantsuit.
"It's becoming more popular to have different types of dresses: one specifically for the ceremony and one more casual for the reception," Megan said.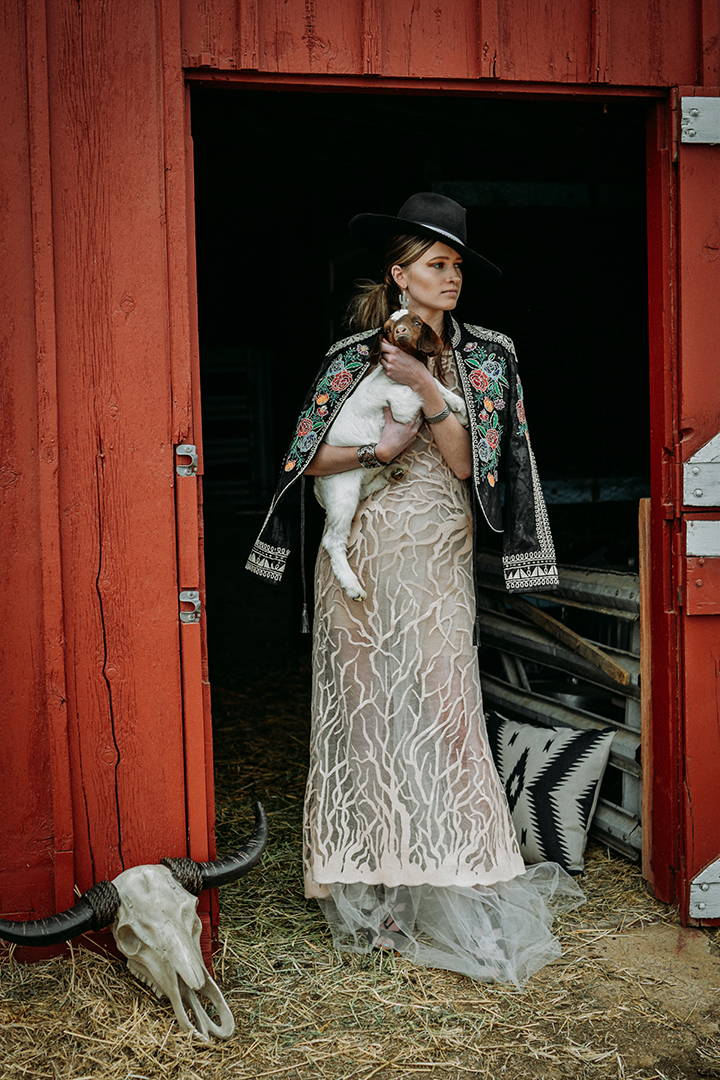 In Texas and the West, that goes for footwear too. Brides are opting for heels for the ceremony and cowboy boots for cutting a rug at the reception. "Most will have a shoe for the ceremony, especially if it's in the Catholic Church," said Megan. "Boots can be frowned upon. But when it's time for the reception, many brides are putting on cowboy boots."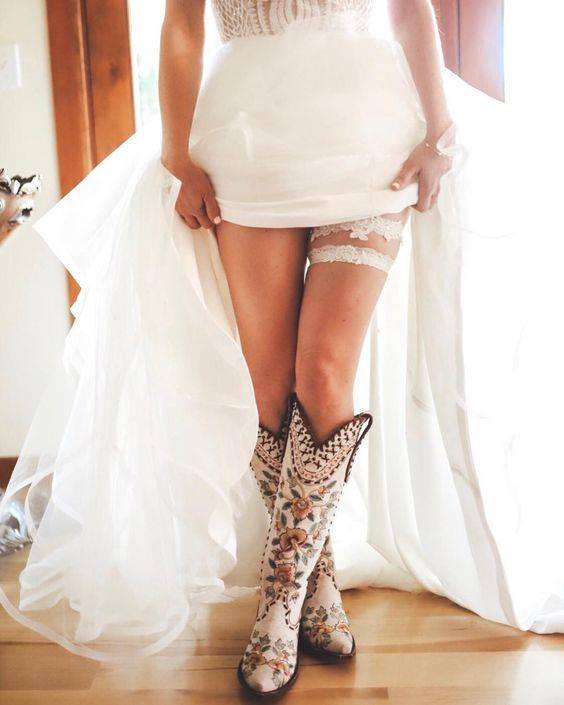 Lyndsey Garber Photography
That can mean a short bootie, like our Apache Kid Boot, or something tall and dramatic like the old-white Almost Famous Boot.
"Most brides I know buy a pair of boots for their wedding," Megan added. "They use it as an excuse to get a new pair."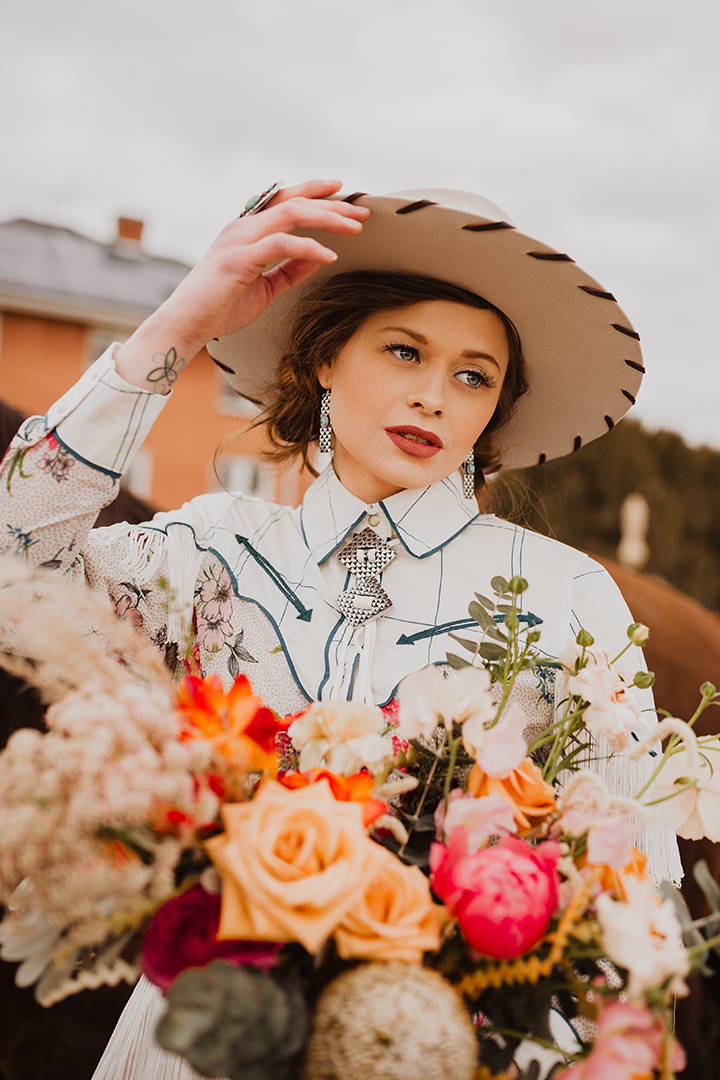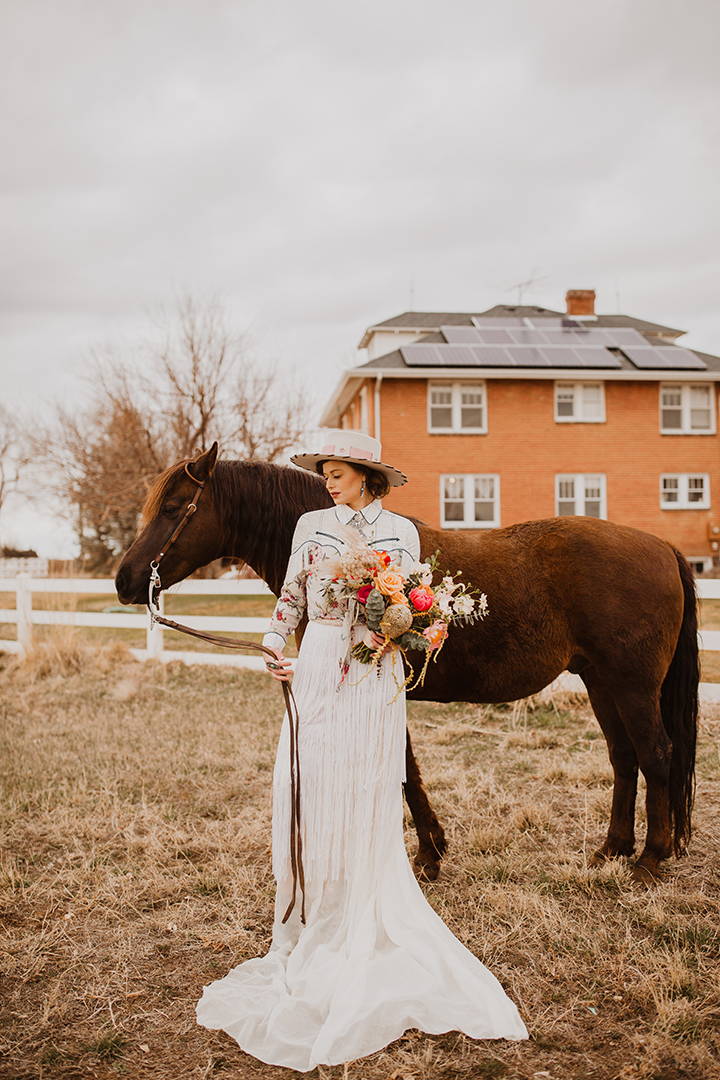 West and Wild Photography
Getting married could be an opportunity to buy a new hat too. In sync with the boho and festival influences, some brides skip the traditional veil, and go for a topper. Hats can be traditional or more whimsical and fun, like our Jesse and City Slicker hats. All the clothing choices depend on the bride's personality, of course.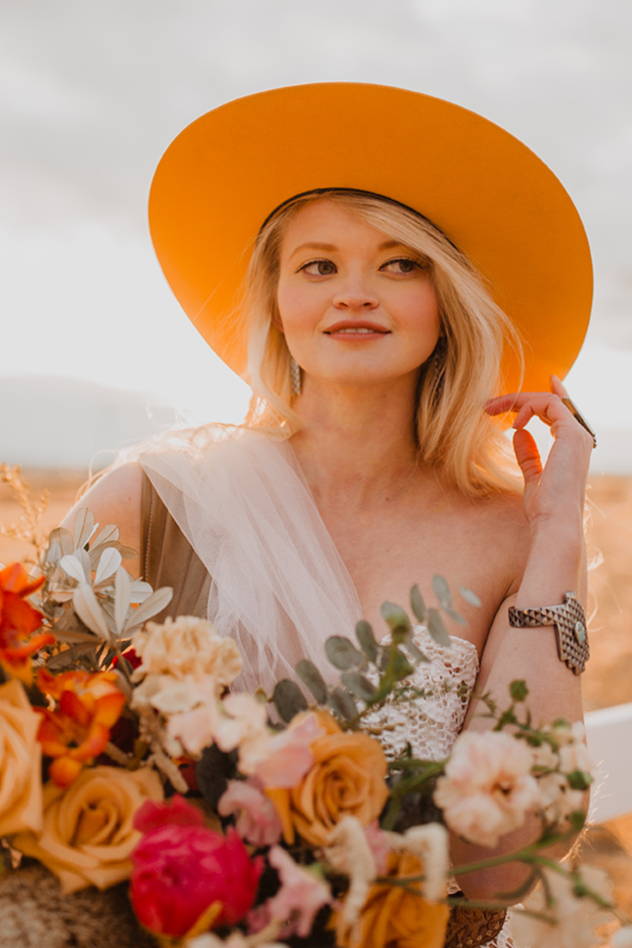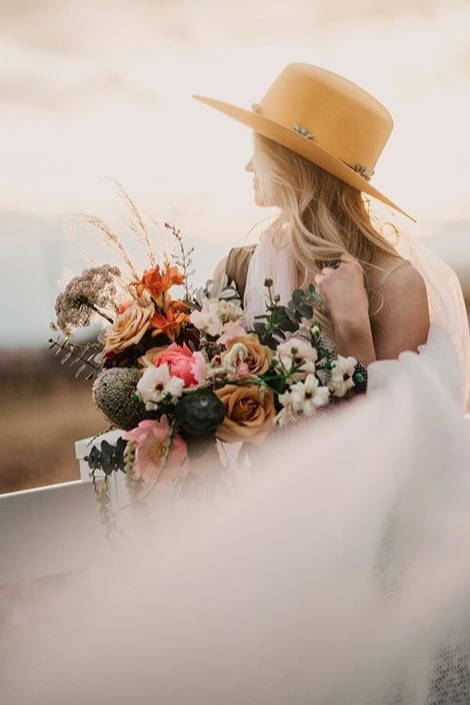 If you're ready for something blue, go for turquoise! This beautiful gem is something all generations can agree on, coveted by brides and bridesmaids alike. "The biggest trend I'm seeing is turquoise jewelry. Brides are wearing big statement pieces, like a squash blossom or a bold bracelet to the ceremony," Megan said. "The bridegroom might buy turquoise jewelry for the bride, too."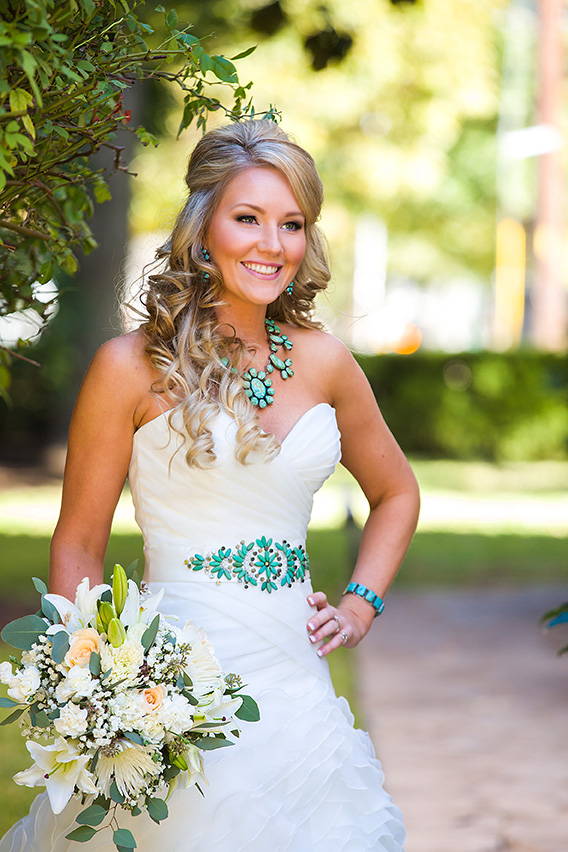 Bridesmaids sometimes find turquoise earrings, like our La Plata Slab Earrings, as gifts to wear during the event. Our Santa Fe Jewelry Case is another great idea for a bridesmaid gift. No matter what the bride decides to do, you can be sure that every moment will be pinned, posted, hashtagged and commented on in social media. That's the world we live in, and with these wedding trends, it's a beautiful one.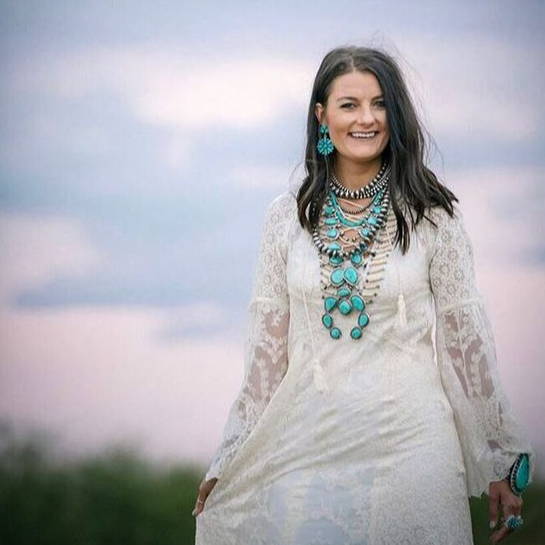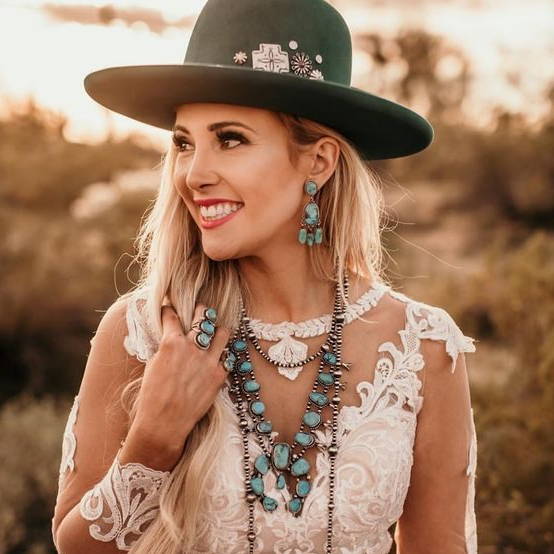 Heritage Style & Jessi Smith Photography
---