A Wearable Work of Art
What do you do when you come across a beautiful vintage buckle with no belt? You commission one of the most talented people you know to create one. We acquired this sterling silver Navajo belt buckle and felt that it deserved a really special strap. So, we sent the buckle to our dear friend and renowned beadwork artist, Angela Swedberg, and gave her complete creative freedom to craft one. (And by "complete creative freedom", we mean that we provided her absolutely no helpful information or instruction whatsoever, just shipped her a buckle with a sticky note, and let her take it from there.) The result absolutely blew us away.
The strap itself is embossed Italian lambskin trimmed with kangaroo lacing, on to which she hand-beaded double-cut Czech beads into intricate images of the sparrows and vines that are featured on the Man in Black Jacket. And, as it turns out, the sparrows weren't just significant to us – and Tanya Tucker – but they were personal to her as well. We'll let her tell you the story of how this beaded beauty came to be:
I restore some of the treasures that Cheryl finds; I have been professionally restoring Native art for tribes, museums, collectors, and families for 35 years. One day, a big belt buckle arrived with a note, "Needs belt". I am not so much a carved leather maker (although my mother was WAY back in the day) as I am a bead and quill worker. I saw the barn swallows in a previous collection (Midnight Cowboy) and I saw a sneak peek photo of a jacket in the Nashville collection, which happened to be the same jacket that Tanya Tucker wore as a tribute to her parents at the Grammys. I was all like, "Ah HA!" I had been wanting to do a beaded bag with barn swallows on it already to honor the family of them that return to my farm every year and nest in my horse, Cappy's stall. They are like family to me and I worry about them every winter when they head south, until they come back in late March. So, the belt came to be with all these things in mind. It is beaded out of 13/0 faceted vintage-cut beads, antique-cut beads, and I used antique Navajo silver buttons to tie in the beadwork with the Navajo buckle. And I laced it with very high-quality kangaroo leather I got from Australia; it makes the best lacing available. I am more and more wanting to develop 'Western beadwork' as its own style. (Umm… Yes, please!)
This belt is unbelievably beautiful, y'all. We're hesitant to even part with it.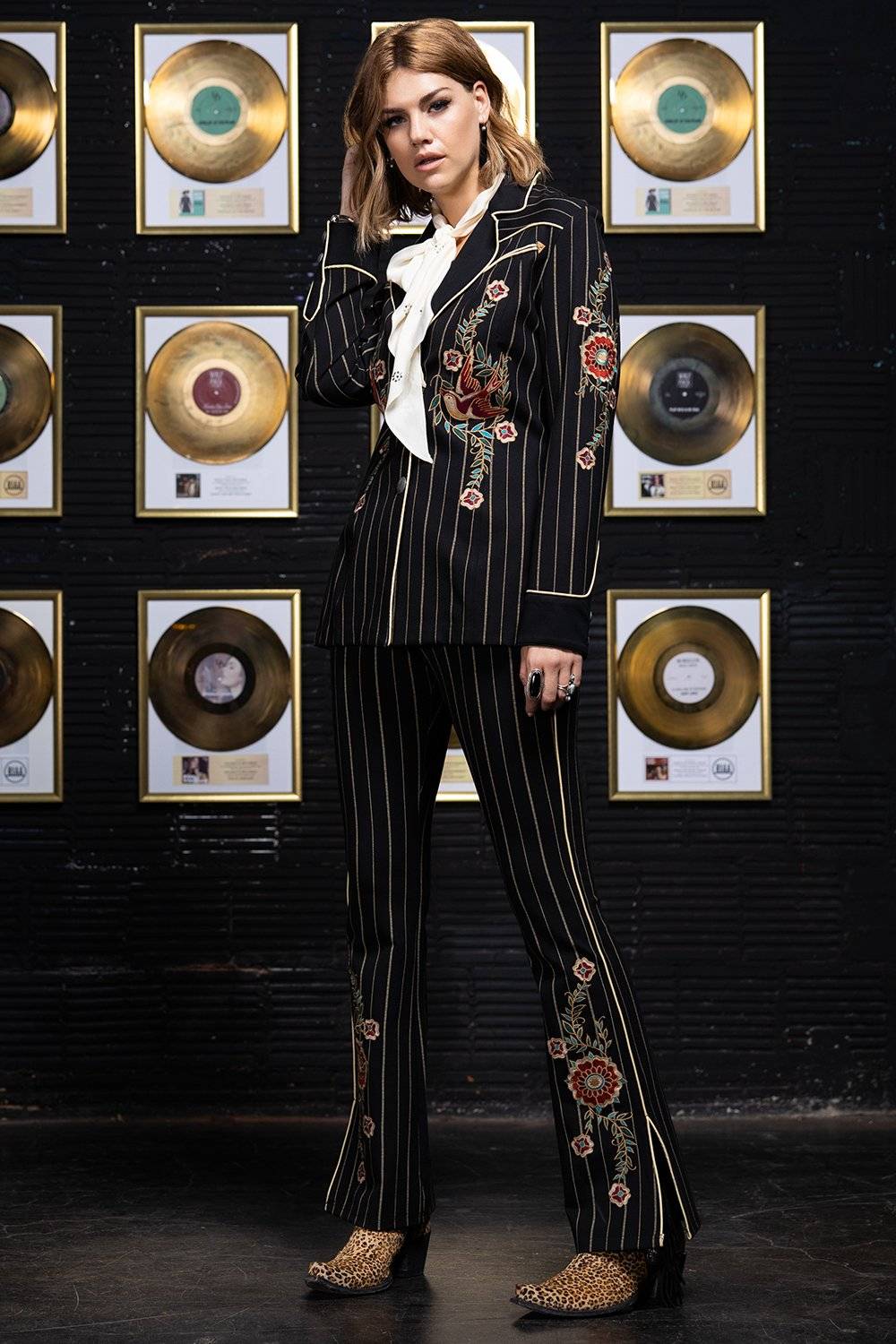 Speaking of beautiful belts, we've got a bunch of them on sale right now -- Audrey let us mark them down as much as 50% on some styles! Obviously, they won't last long with discounts like that, so if you've had your eye on one, better hurry over there and see if you can snag it. (Or if you're like us when shopping a sale, you might just find a fabulous deal on something you didn't even know you needed.)