Behind The Scenes of Backwoods Barbie
BEHIND THE SCENES OF BACKWOODS BARBIE
This one was a doozy. Don't get us wrong – it was NOTHING compared to the Giant shoots. Never again will we shoot nine days in a row. Probably. And don't even get us started on all the weather west Texas threw at us. But still, Backwoods Barbie had its own challenges. It had its ups, too – there are always a lot of laughs on a photoshoot. Here are a few behind-the-scenes moments from the whirlwind (literally) that was Backwoods Barbie.
We lost a model. We lost Cheryl. We almost lost our minds.
Remember when basically our whole family got a stomach bug right before Thanksgiving? And how half of us spent the majority of vacation confined to our rooms despite being in The Happiest Place on Earth? Yeah, that all started here. Toward the end of Day 1 (when we were still in Austin shooting Midnight Cowboy), one of our models started to tell us she was feeling sick to her stomach. We hoped it was something she ate, but when it persisted the following day, we started to get a little nervous. By Thursday, Day 4, poor girl had had to quit the shoot and fly home. We scrambled to work with the talent agency to find a replacement model who was blonde and could be in Seguin THAT day. They found us Lexi, and the shoot went on. Whew, right? Crisis averted. Well, not really. That afternoon Cheryl started to fade. Understandable, photoshoot days are long, and this was the fourth consecutive one, perhaps she was just tired. She went from standing, to sitting, to laying on the ground out in the pasture. And eventually, she handed over the iPad and retreated to her apartment, where she was down for the count for three or four days. (Y'all have no idea how miserable Cheryl had to have been to walk away from a photoshoot – she is 100% hands-on and committed to every creative endeavor that comes out of Double D Ranch.) Fortunately, we have a fantastic team – and a "go by" book that Cheryl creates prior to a shoot that basically lays out her vision for each page – so we were able to finish the shoot without our fearless leader. But it was a feat.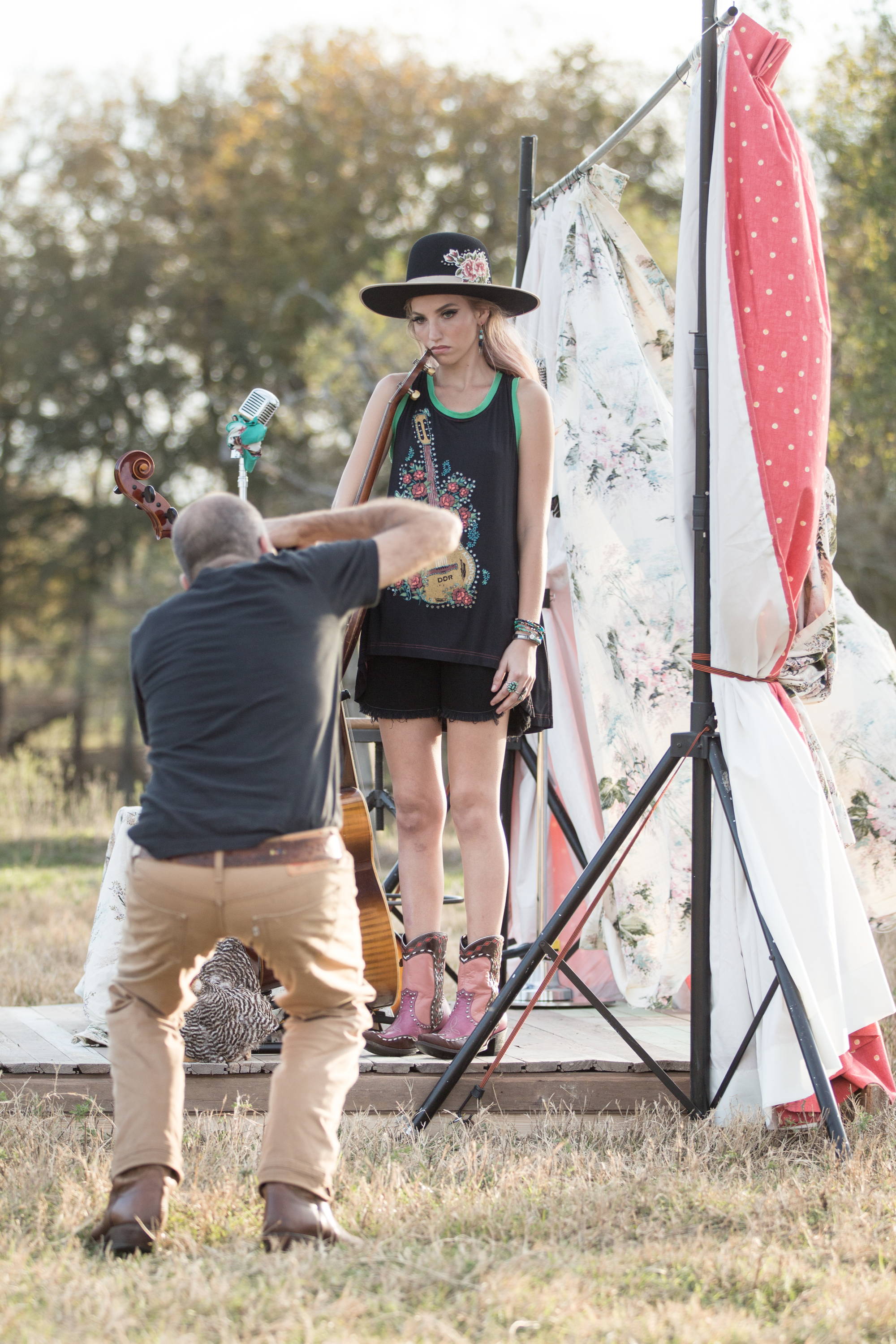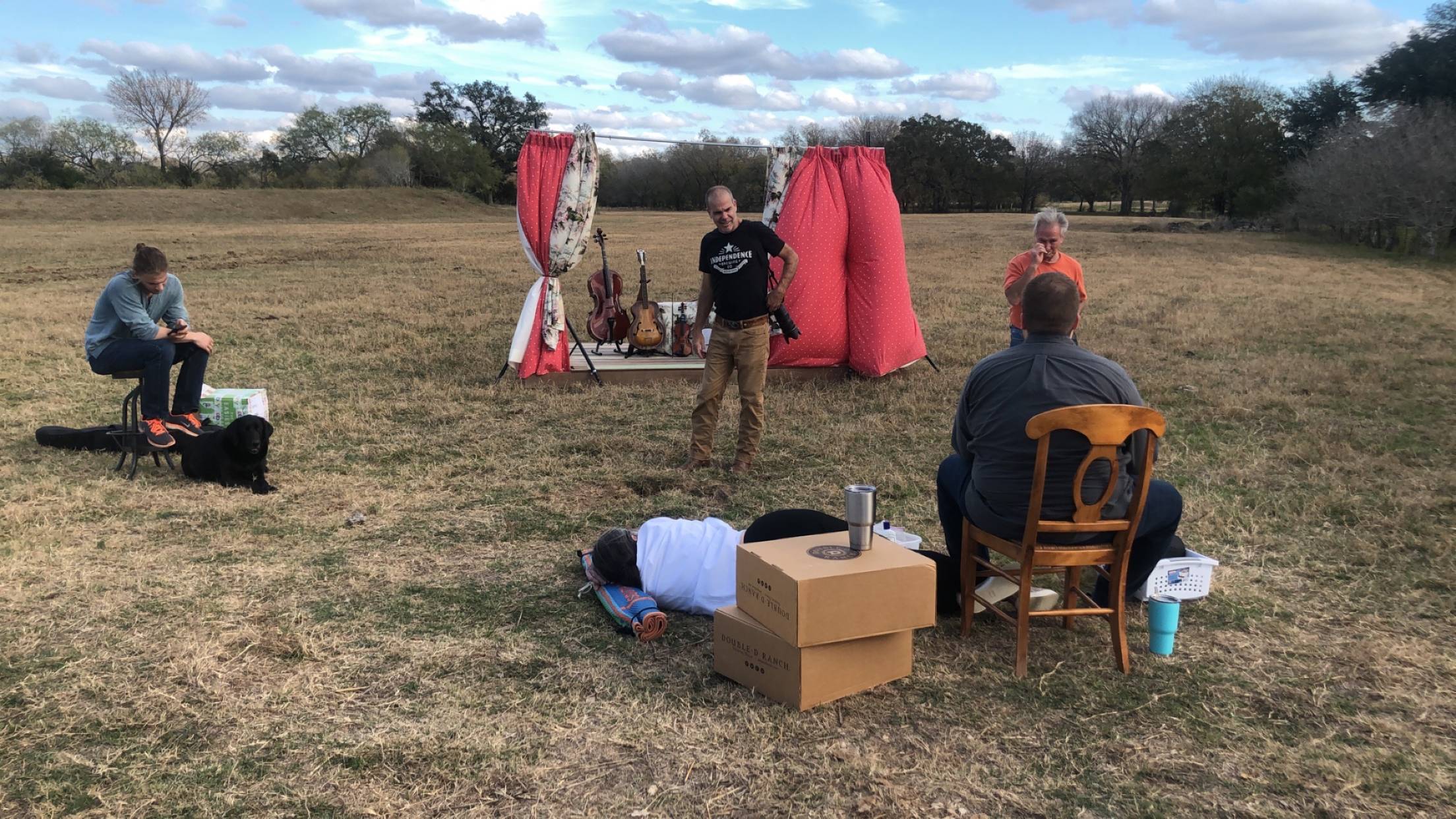 It was a whirlwind. Literally.
We've talked about this before – we talk about it pretty much anytime we write about a shoot – but weather conditions are always a battle. Backwoods Barbie was no different. The wind really antagonized this shoot. For starters, it thwarted our visions for the styling of the models. We wanted big Dolly hair with lots of height and volume. Yeah, that wasn't gonna happen. We couldn't make it last five minutes. (Speaking of hair, fun fact: Kaylin was wearing a wig. Wasn't it a good one? Very Loretta.) But fine, not the end of the world, we'll pivot and bring the hair down a notch. The real struggle was the stage. We built that "Opry" stage out in the middle of an open pasture behind Audrey's house, with absolutely no windbreak. It was a constant battle with the curtains, dresses, and keeping everything upright. Never a dull moment.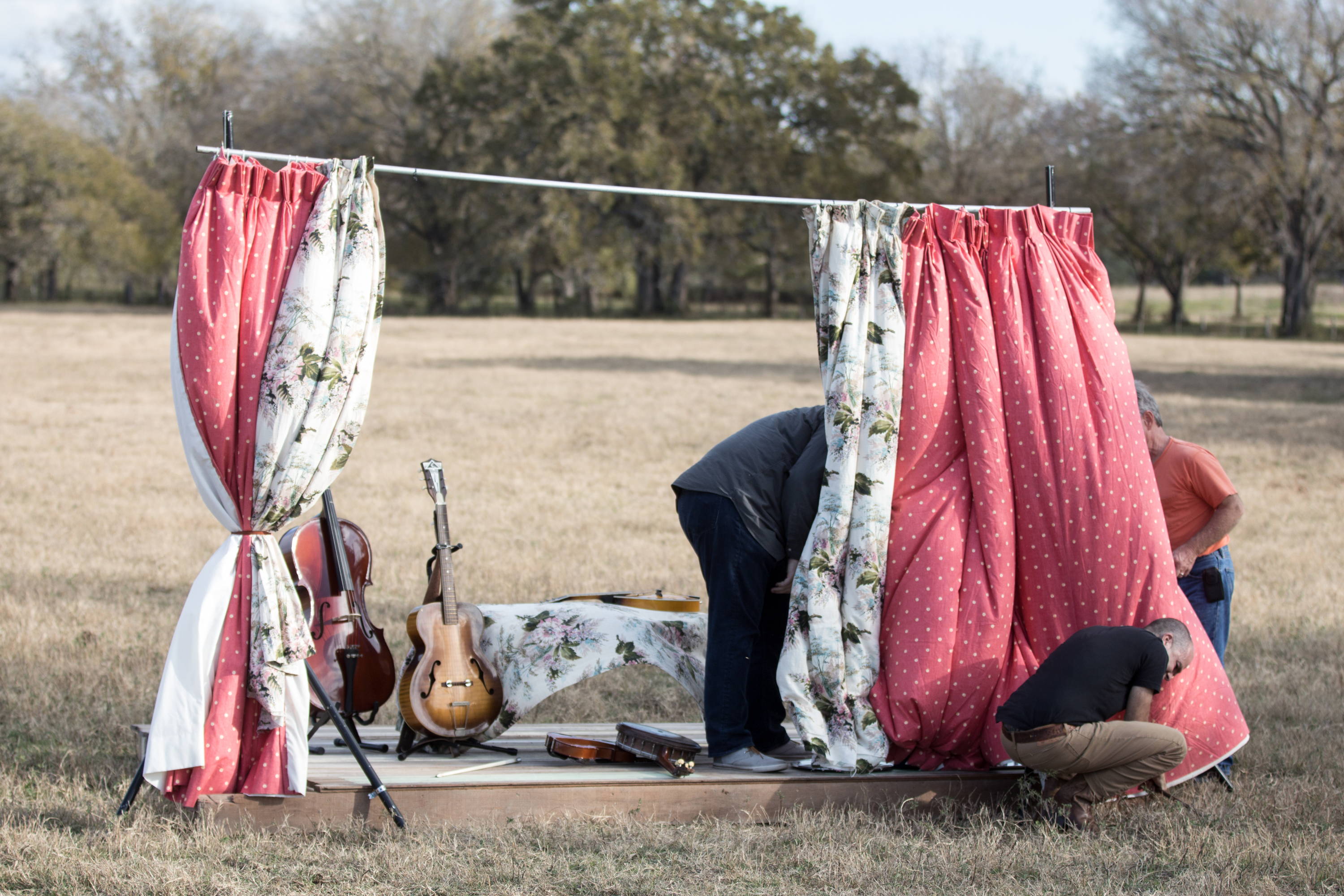 Internet issues. Always.
By now y'all are quite familiar with our internet woes. Between live line launches and Once Upon a Time, y'all have gotten a front-row seat to the struggle. Now imagine there are a dozen people all logged into it. It was almost comical. The design team couldn't get anything to download or upload, our marketing team couldn't access images or servers, and Halley never did get her laptop to connect and had to go back to the hotel to save anything to the Google Drive. Eventually, we would all just throw our hands up and laugh.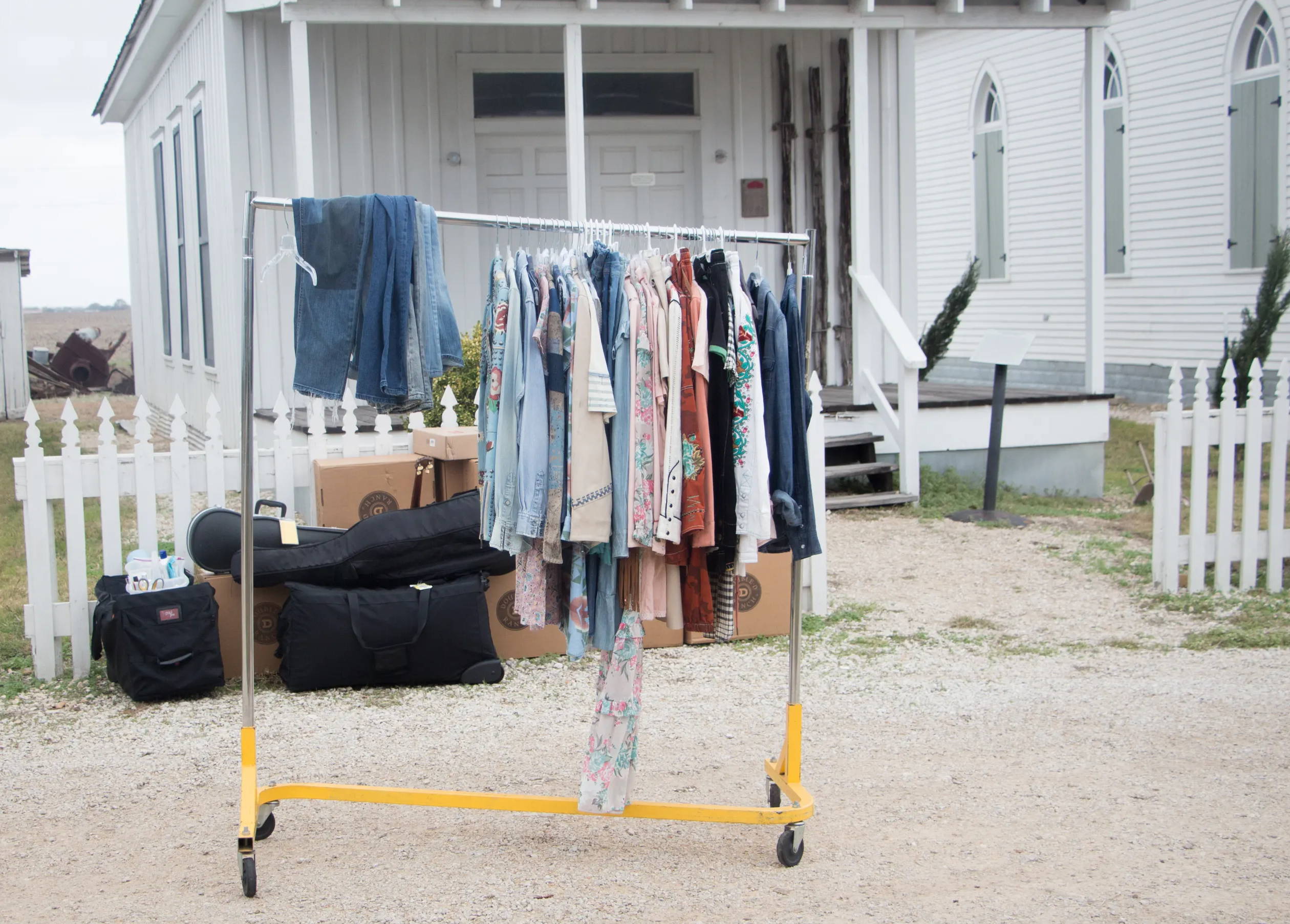 Music makes everything better.
It's easy to talk about all the obstacles on a photoshoot – a) because we really want to paint a picture of what goes into these catalogs, and b) there's nothing interesting about when everything goes smoothly. Plus, we're not afraid to laugh at ourselves and our strife. That said, we'd be lying if we said we don't have any fun on them. Life Hack: if you're faced with a task or project that's going to be long and arduous, have a soundtrack, and the more upbeat the better. On Days 2 and 3, we were shooting inside Audrey's living room on a backdrop. Mitchell was in charge of the music. Cue Pandora's Hip Hop BBQ station. And some hilarity. Let me tell you, nothing will divide people into generations like a Pandora station. This particular station is hip hop from around the early-90s to the mid-2000s, the usual suspects – Dr. Dre, 2Pac, Nelly, Snoop Dogg, Lil Jon, etc. So let's read the room, shall we? Nana doesn't particularly care for it. The McMullen sisters are familiar with it, but also fairly indifferent to it; they're intensely focused on their jobs anyway. On the other hand, Mitchell, Halley, and our image editor Nico are all around the same age (early 30s), so this is THEIR. ERA. Oh, the glee from those three. Every time a new song came on, a three-way glance happened like, "Ahhh! This is my JAM!", and we had two days of impromptu rap-alongs. Sometimes you just gotta stop what you're doing and Remix To Ignition. Oh, and our models? They weren't even alive for most of those songs.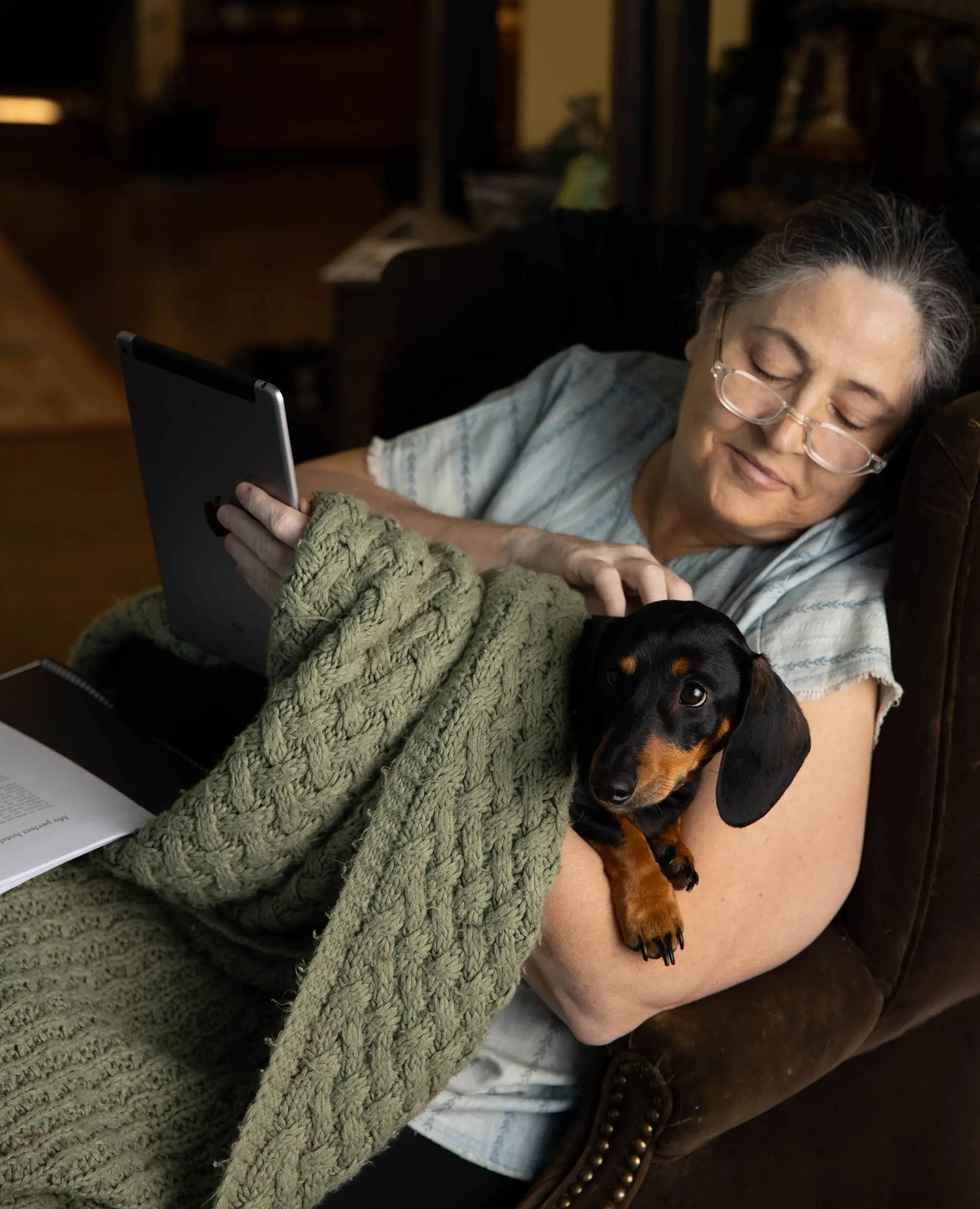 But that's just how a photoshoot goes. You adapt, improvise, and overcome. You pitch in, you help each other out and lift each other up. And when you get to your wit's end, sometimes you've just gotta dance it out. But when you hold that finished catalog in your hand, and you see all that vision and effort on paper, you almost forget what you went through to get there. ALMOST.
---