Stores We Love: Honeysuckle Rose
Stores We Love: Honeysuckle Rose
Say hello to the new kids on the block! Meet Cathy and Lauren Bell, the darling mother/daughter duo behind Honeysuckle Rose Boutique, the newest addition to the Double D Ranch family.
While the history of the boutique isn't a long one (they opened online May of last year), the origin story is a unique one.
"Everybody asks me that, and I always give the same answer, and I always get this bewildered look in return," Lauren laughed.
That's because Lauren is not your average business owner. The ambitious entrepreneur isn't even quite old enough to drink. (If you're doing the math, yes, she started her own business at the ripe old age of 19.)
"She's a college student at TCU," her mother Cathy explained. "She's going to school, she'll be a senior. She wanted to start this online, and so she did."
But it wasn't actually the career trajectory she had in mind at the time. Lauren wasn't majoring in anything fashion-related or even business-related, for that matter. The boutique was originally intended to be a stepping stone, more than a landing place.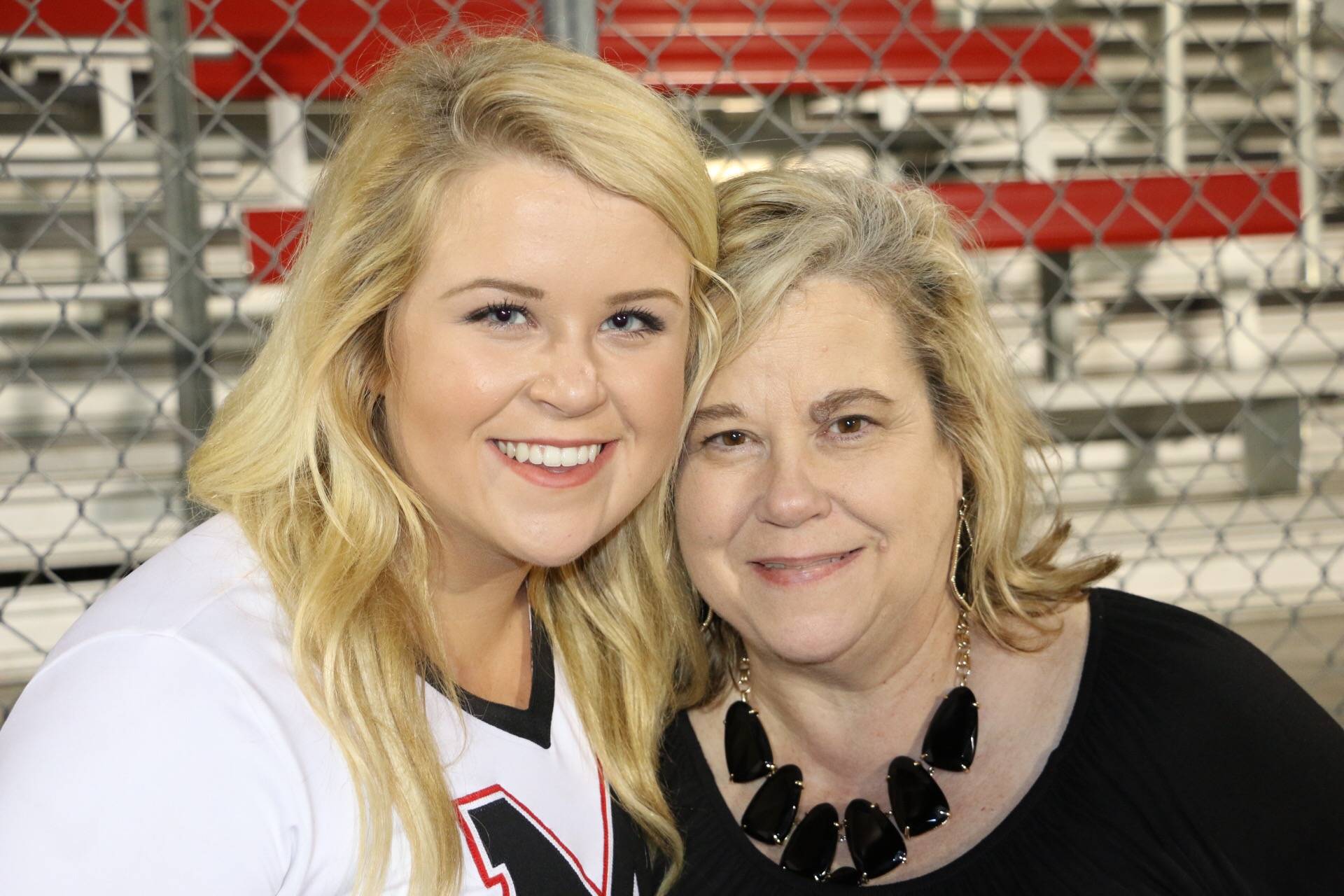 LAUREN & CATHY BELL

HONEYSUCKLE ROSE
"I was a criminal justice major, because I wanted to go to law school," she said. "That was like, my 'plan', and I had a meeting with my advisor about it, and she said I needed a job. So, I opened a store. I just decided that was going to be my job."
Well, that's one way to do it.
"Oh, and now I'm not going to law school," she laughed. "I'm staying. I changed my mind. I like this WAY better!"
Can you blame her? We'd take clothes over contracts any day.
"And that's what everyone told me, that I was not going to enjoy that life," she admitted. "Especially my dad, he said, 'you're not going to enjoy that' and I was finally like, 'yeah, you're probably right.' I'm just glad I figured it out when I did."
So, what was started as an online side-hustle has evolved into one of the cutest little shops in all of Van Alstyne.
"We wanted Double D Ranch," Cathy said. "And in order to carry the brand, we needed a brick and mortar."
"Right," Lauren went on. "We knew we needed a brick and mortar, and we have this friend who is a realtor who knew of a building that was going to be available. It was an old bank building that's been in Van Alstyne since I think like 1825, or something like that."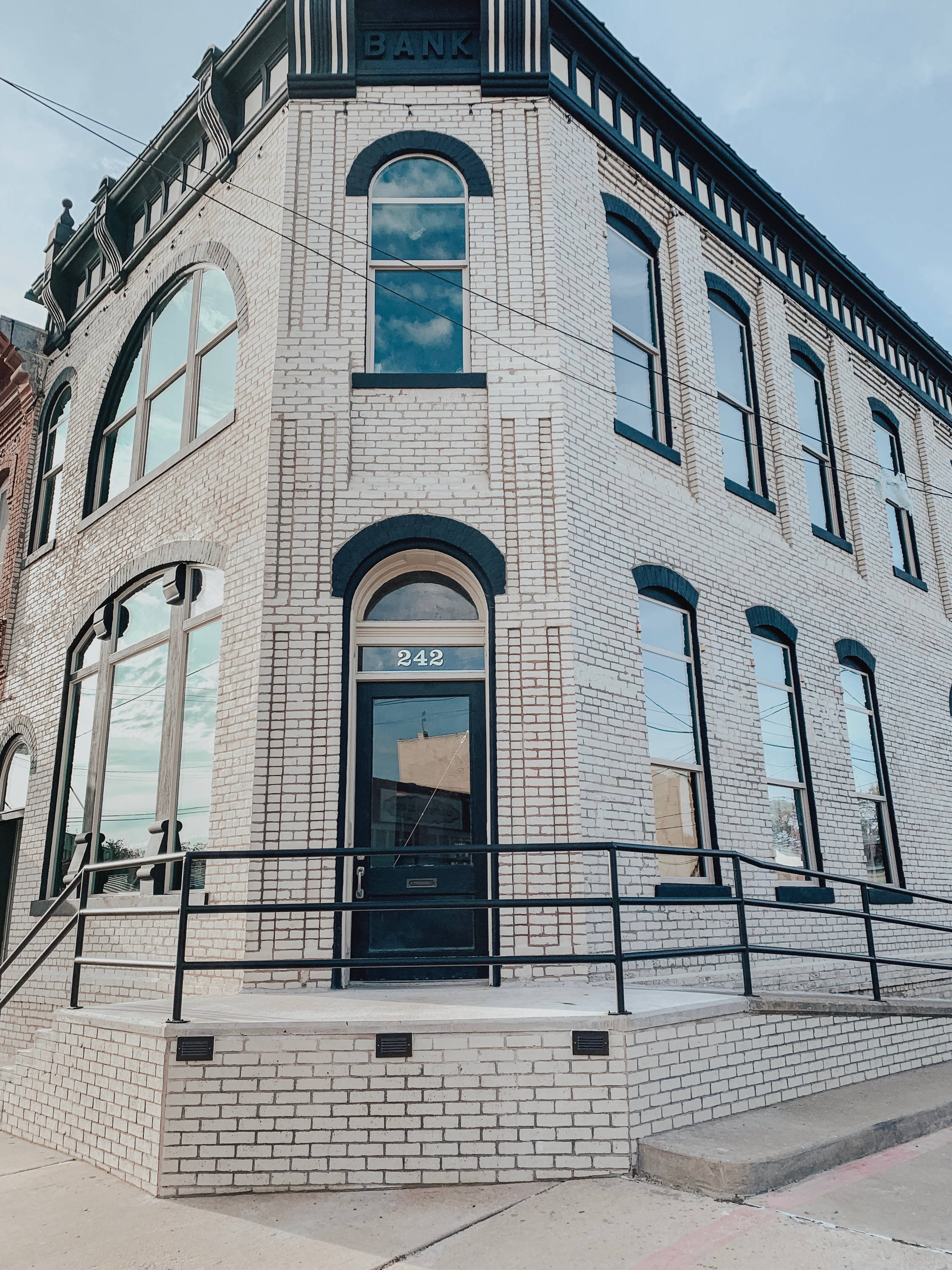 "It still has the original floors and ceilings," Cathy said. "The vault is our dressing room."
"That's our favorite part of the store, the dressing room," Lauren added.
Ok, now that's cool. The fortuitous find sounds like the perfect setting for a charming boutique. The Bells made a few cosmetic updates, like a fresh coat of paint on the exterior and taking the doors and window from a rusty red to a chic black, but for the most part, they embraced the integrity and character of the building.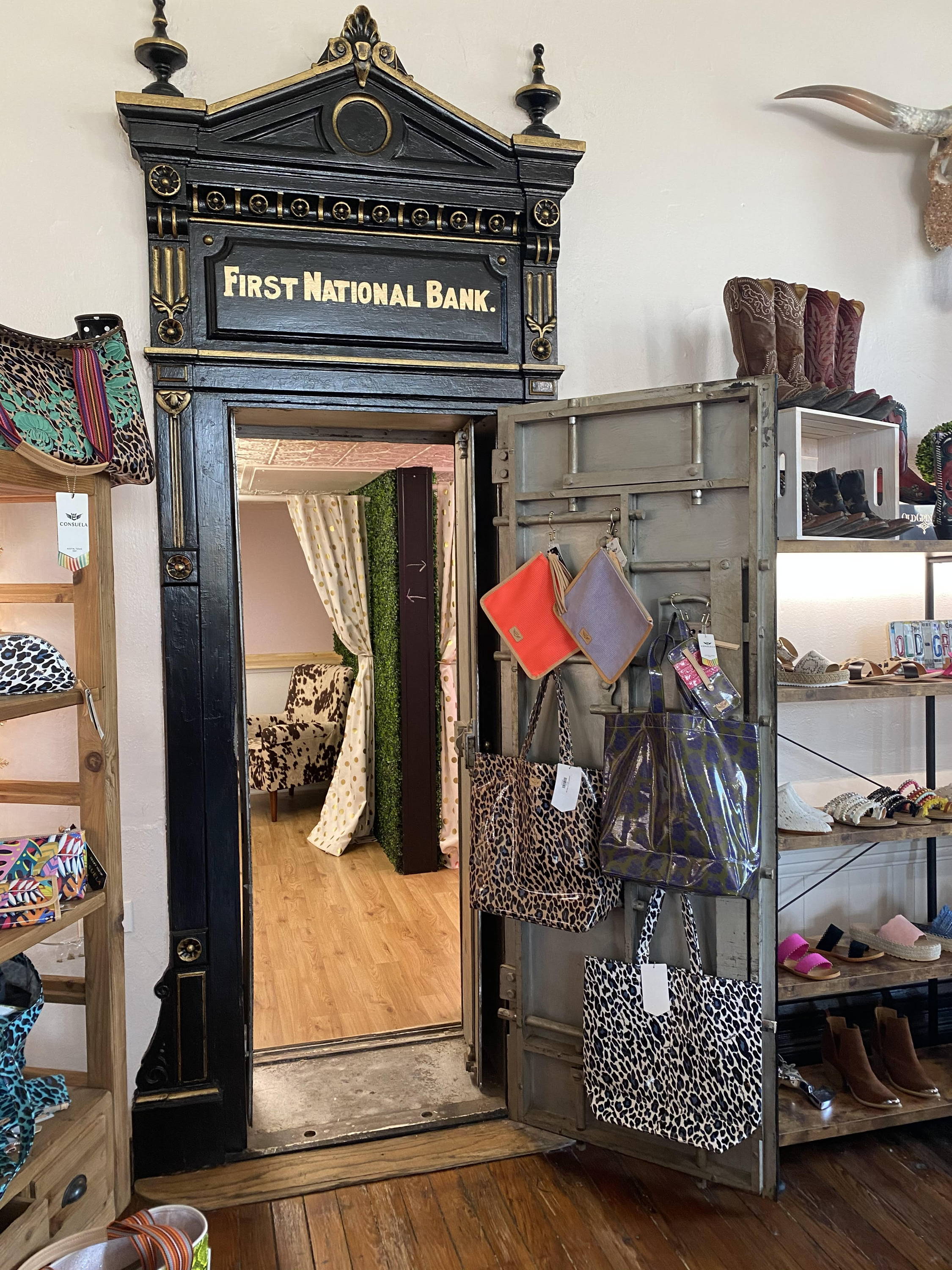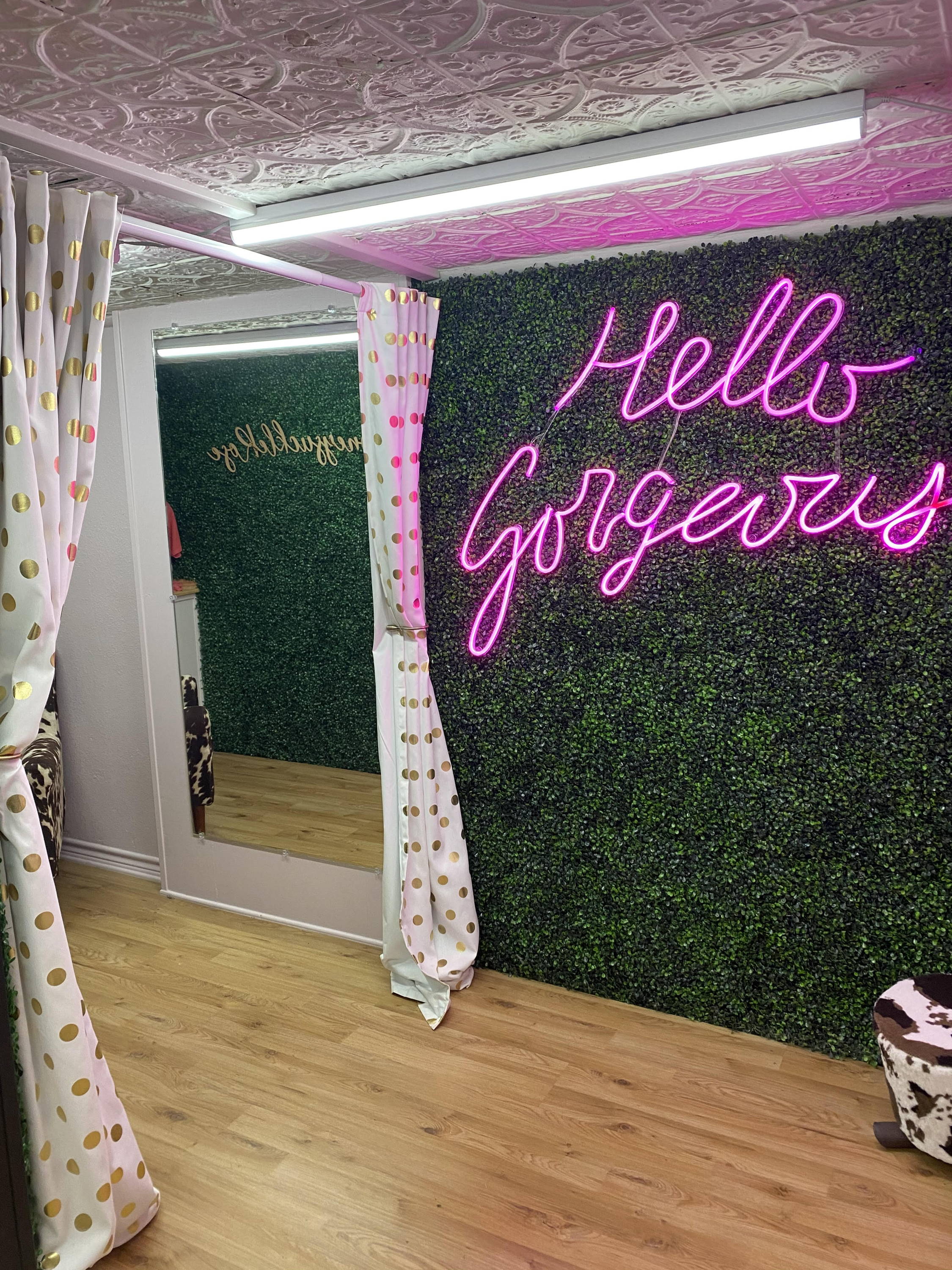 "They did a really great job of fixing it up and still keeping it as original as possible," said Lauren, adding a bit of humor about their internet woes. "We have the running joke that everything is original to the 1800s, even the internet." (Boy, can we relate.)
Honeysuckle Rose officially opened its doors on November 30th, right at six months after launching online. The boutique, which is open Monday through Saturday, is manned by Lauren's mom, Cathy, and her mom's best friend Marsha, when she's away at school. But Cathy, obviously a very proud mom, wants to be clear that Honeysuckle Rose is entirely her daughter's endeavor.
"It's really all Lauren, I just help out," she said.
"She says that, but she helps a LOT," Lauren interjected.
"I do some shipping, and I go to market," Cathy continued, humbly. "But Lauren is the one who picks everything out. She's the visionary."
Are they the sweetest, or what? We told them we thought so, and we were met with a laughing Lauren saying, "Until you're quarantined together for three months!"
Oh yeah. Then there's that.
"I think that was probably hard," Cathy said. "A college student used to being off at school in Fort Worth, and to go from having all the stuff Fort Worth has, to coming back to Van Alstyne, where there's… not a lot. And what is here's closed down! And suddenly back home with mom and dad."
"Hey, I've got a cool mom and dad, so it could be a lot worse," Lauren affirmed. "But I didn't even have a roommate in Fort Worth. I was just me and my Corgi and that's it. Now it's me, and THREE Corgies, and my mom and dad. And yeah, there's not a lot in Van Alstyne. Not gonna lie, there ain't a lot here. Love Van Alstyne, but it's a bit, uh, 'slower' than Ft Worth."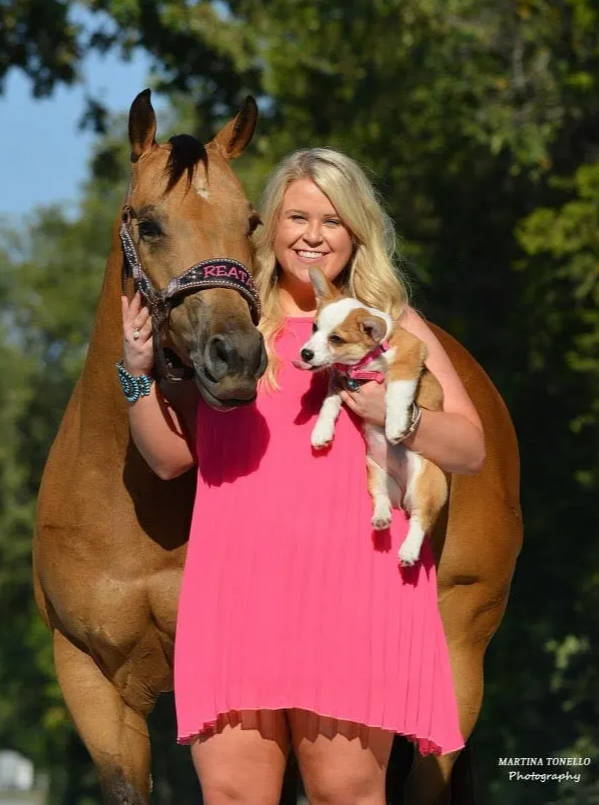 But there is one too-adorable-for-words benefit of being back in the tiny town where her family's lived for generations.
"My grandparents grew up here, Lauren's great-grandparents," Cathy explained. "And both sets of Lauren's grandparents are still alive, and they all live here. Her grandad drives by the store about twenty times a day just to check on us through the window, we won't let him get out during this, but he did get out and come in the store before we started all this. He drives by and looks through the window and just makes sure we're doing okay."
"He's cute," Lauren added. "He's a real cute grandpa."
He sounds like it!
While they seem to be embracing the current circumstances and Lauren's time at home, it's still uncertain where she'll be come next semester.
"Right now, it's working out good," Cathy said. "I don't know about school for the fall. We just don't know yet, but we'll figure that out."
And as much as she's enjoyed being home, Lauren says she's eager to return to her old life.
"I love school, I love TCU, and I love Ft Worth," she said. "I don't know what we're going to do with COVID, but I hope I get to go back soon."
Understandable. Quarantine can't be a fun time for a 20-year-old. (Not that it's fun for any of us.)
Incidentally, it didn't even occur to us when we decided to feature Honeysuckle Rose just how appropriate it was that their profile would coincide with the Willie's Picnic collection. As most of you probably know, but some of you may not, Honeysuckle Rose is also the name of a 1980s film starring Willie Nelson, and the accompanying soundtrack which featured some of Willie's biggest hits, like "On the Road Again", "Whiskey River", and "Bloody Mary Morning".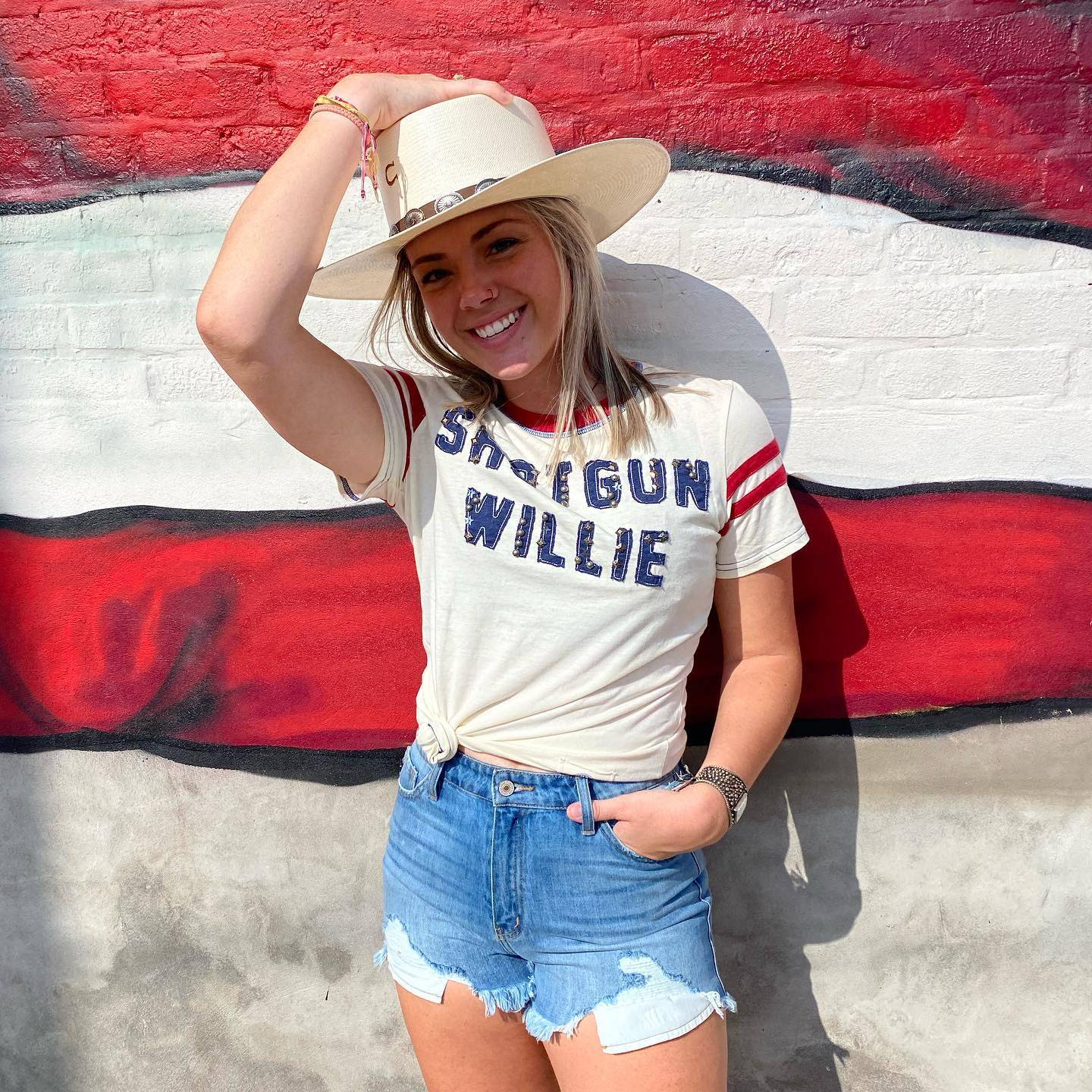 nd that's exactly how the boutique's name came to be.
"My dad and I were sitting at dinner one night," Lauren recalled. "We were in Austin, I was going to a Willie Nelson concert the next night in New Braunfels. So, we were sitting at Matt's El Rancho, my favorite place ever, and my dad said, 'You should name it Honeysuckle Rose' and I was like, 'Yeah. I should.' I love Willie Nelson, so I was on board, like 'Yep, sounds good.'"
But the story gets even cuter.
"Well, and also, I wanted something with 'honey' in it," Cathy added. "Because Lauren has always called herself Honey."
"Yeah, when I was little that's all I would answer to," Lauren admitted. "Not a legal name or anything, it's just all I would answer to."
"She thought her name was Honey Faith Bell," Cathy laughed.
"And people still call me that," Lauren said. "I'm about to be 21 years old and people are still calling me that."
"Lauren didn't want to name the store after herself," Cathy explained. "She didn't want to do that, so we decided to use Honey, and we got a little bit of 'honey' in there with Honeysuckle Rose. We checked to see if anybody had the domain, and it was available, so we grabbed it."
Anyone who has ever opened a business or tried to name one knows that having your first choice of names available is an incredible stroke of luck (or "a God thing", if you believe in those like we do), which seem to keep on coming for the Bells and Honeysuckle Rose.
"Honestly, location, timing, everything, it just kind of all… happened. Really conveniently," Lauren laughed. "We've been really lucky."
Speaking of little "Honey Faith" and her childhood, that's when she first developed her love for Double D Ranch.
"I've been obsessed with it since I was 8 years old!" she exclaimed. "I was too young to really wear it, but my mom and both my grandmas always wore it. My mom always had it on, she's always worn it. And then I would put it on and dress up in it. That was my form of playing dress up as a kid, was putting on my mom's Double D Ranch."
Who needs a tutus and tiaras when you have cowboy boots and leather jackets, am I right?
So, when grown-up Lauren decided she was going to open a store that sold clothing, it was never a question that she wanted to carry Double D Ranch.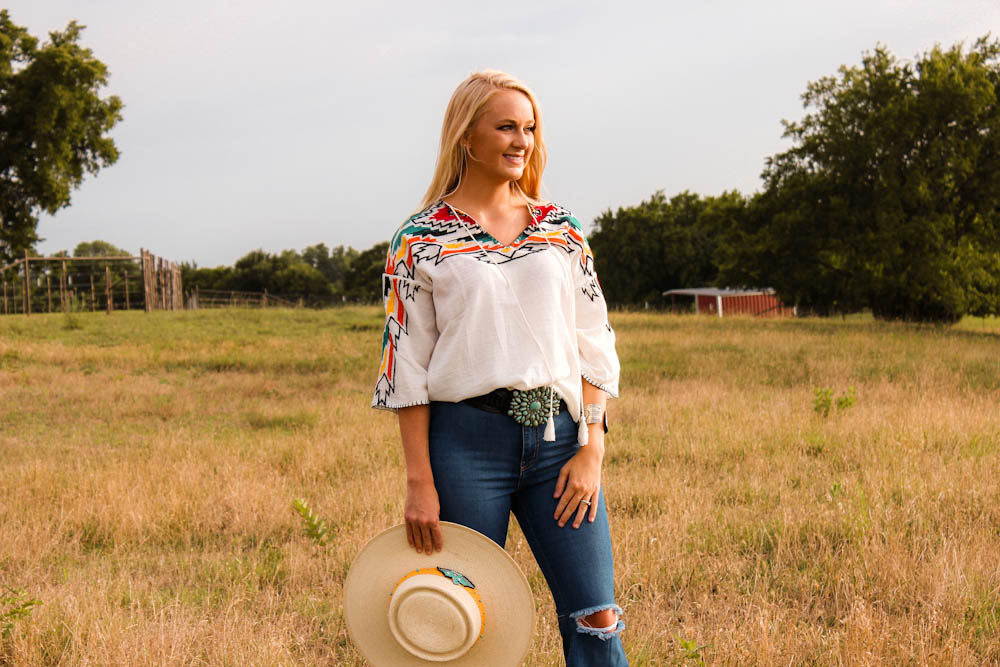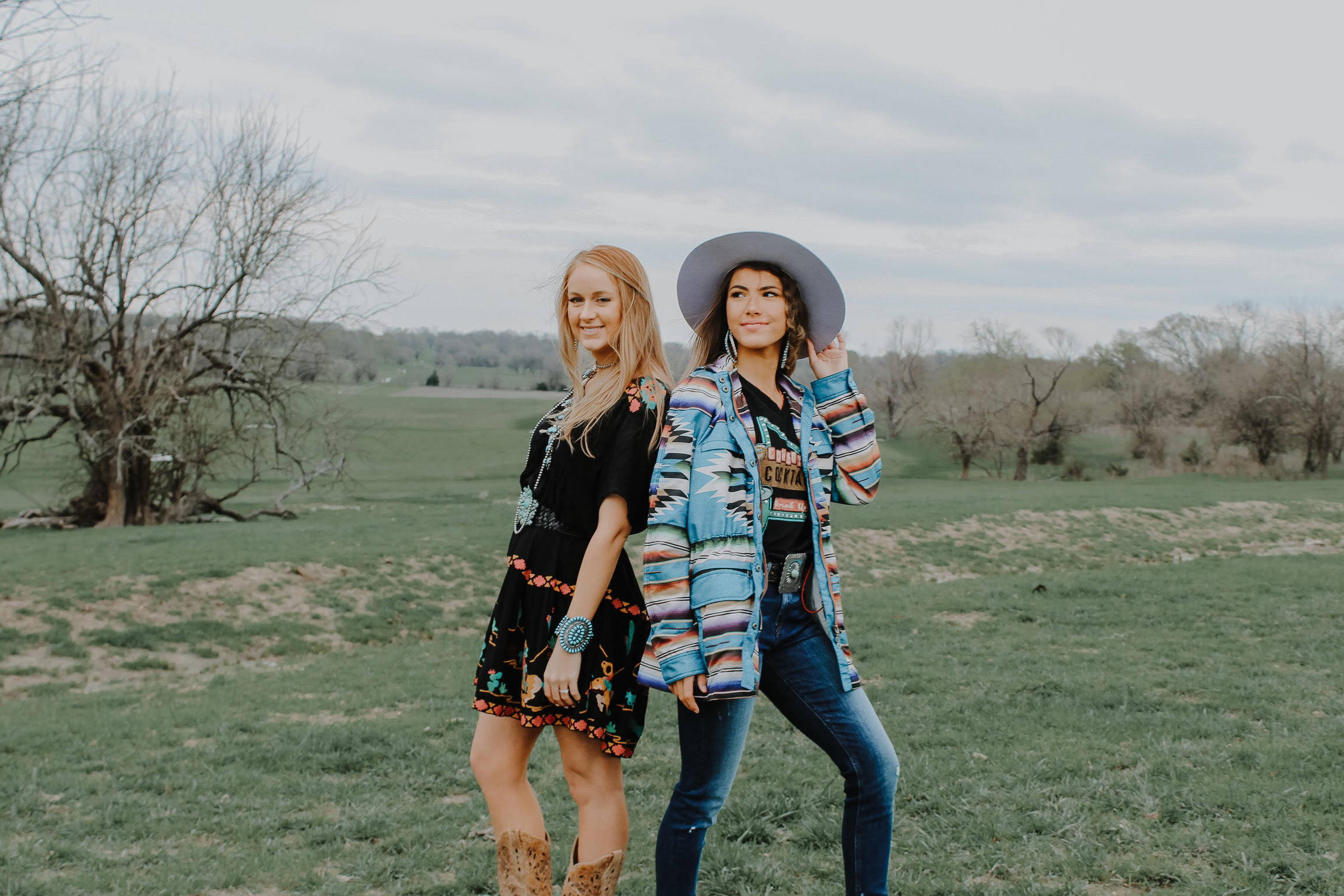 "We were really excited to be able to get the line," Lauren said. "That was really exciting. And now we just love it even more!"
"Every market gets better and better," Cathy added. "It's just fabulous. I always think it can't get better and then [Cheryl] just blows me away.
"Yeah, I say that every time!" Lauren agreed.
"Me, too!" Cathy laughed. "Everything is just amazing, the pictures, everything, just all of it. Is just incredible, and like we said, it gets better every market. We love the upcoming fall lines, we just left market for that. Especially the Nashville and Taos collections. Lauren thought she was going to love Nashville the best, and then we saw Taos, and it was like, 'Ohhh my gosh!'"
"And those are my two favorite places," Lauren said. "So, I'm really pumped for that. We went a little crazy buying fall."
They may be excited about fall, but unsurprisingly as a Willie Nelson fan, Lauren is currently loving Willie's Picnic.
"Oh, yes!" she said. "Of course, the Shotgun Willie Tee. The One Nation Vest, the Picnic Bandana Dress, the Heritage Head Jacket and Tee. It's hard to pick!"
Well, we know they love the new stuff, but as longtime fans, we were curious if they had some all-time favorites from the old stuff.  
"Mine changes every year," Cathy said of her own favorite, but she had a definitive answer when it came to her daughter. "But I love the jacket you got, the Midnight Cowboy Jacket. Well, I love YOU in that jacket."
"Awe, well that was cute, thanks, Mom!" (Again, precious.)
"Yeah, that's probably my favorite right now. On Lauren. And there's one coming up that I really love, the one with all the rhinestones, but that's not out yet. That will be a favorite."
Alright, so we're still batting a thousand on no one being able to single out ONE favorite.
Until Lauren.
"Midnight Cowboy Jacket is hands down, 100% my favorite piece ever," she confidently declared. "And for mom, she loves the Angelina Dresses." (Pssst! The Angelina is back online for a limited time AND on sale.)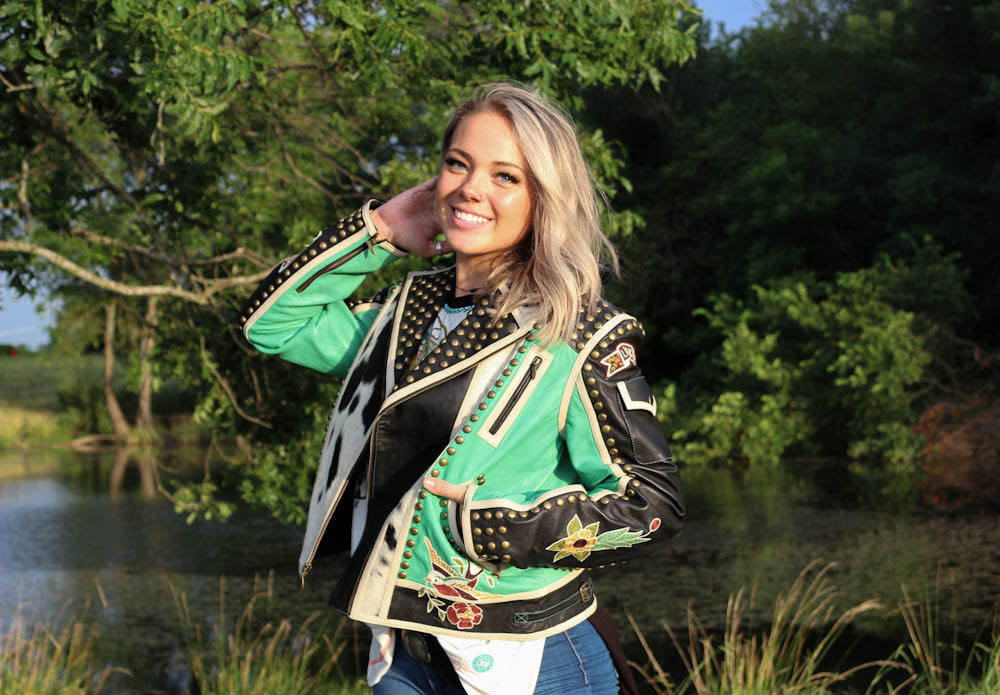 "I love ALL the velvet dresses," Cathy corrected. "I love all the velvet stuff. And I love all the boots. I love the… I can't even remember what the pair of boots was I got last year, that [Lauren] took away from me."
Oh, now we're getting into the real mom/daught dynamic!
"Yeah, before we had the store, she'd buy boots and then they'd just suddenly… not be there!" Lauren laughed. "They just suddenly disappear!"
"We wear the same size shoe, so I lose all my boots. To her closet."
"They end up with me really quick," Lauren admitted. "We swap boots a lot. I usually get to keep it all. She buys most of it."
"And she makes me pay full price! I don't get a comp OR a deal!"
"No family discounts around here!"
"Yep, no matter how much I beg," Cathy cajoled, before sweetly adding. "She's a good one, though."
As we've often found to be the case when we talk to our customers and retail partners, the Bells seem to be as drawn to the DDR culture as they are to the DDR clothes.
"I think it's really cool," Lauren said. "Because there's not really anything else out there like it. No other brand has that. That following that it is, the community that it is. Nobody else has that. That's why I ask everyone that comes in the store, 'Have you joined Double D Addiction?' And I tell them all about that, I'm like, 'you get more than just a jacket or a shirt, you get a lot more than that with this brand.'"
"There's no other brand that equals to it, or that you can even compare to it," Cathy agreed. "There's absolutely nothing like it. And you know, I think a lot of other brands have tried to copy them, but—"
"You can't." Lauren interjects. "You see it attempted, you never see it copied. You can't copy it, you can't. The best word for it is authentic. And that's really the best part of it. They're not just selling clothes."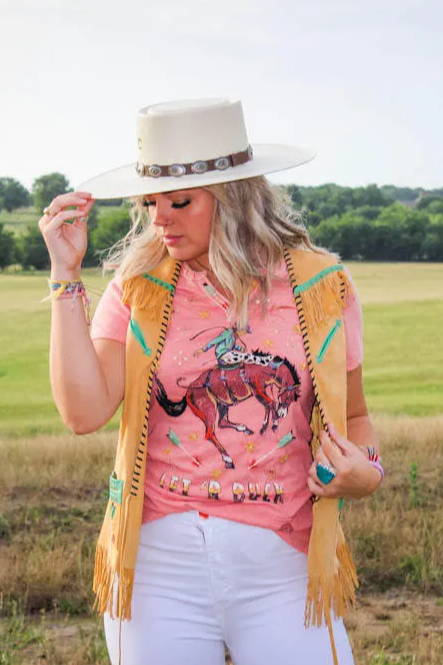 We will never get tired of hearing how much people enjoy the Wolf Pack, but we're not sure we can take credit for that. We made the clothes, but y'all made the community. However, we can – and do – take pride in our team and the experience they provide to our customers and our partners.
"All the people have been so nice to us," Lauren said. "Literally, every single person is the nicest person. It's fun to work with everybody there."
"Yeah, because they want you to succeed," Cathy added. "They go out of their way to help us. Especially when we're overwhelmed at market."
Hey, it happens to everyone.
We have really enjoyed getting to know and work with the Bells. We're impressed by the ambition, outlook, and attitude that's behind Honeysuckle Rose, and we appreciate what they stand for, "We love empowering women to embrace their style whatever it may be."
I mean, we'll go ahead and say it: these two are #goals.